Berenjenas Fritas con Miel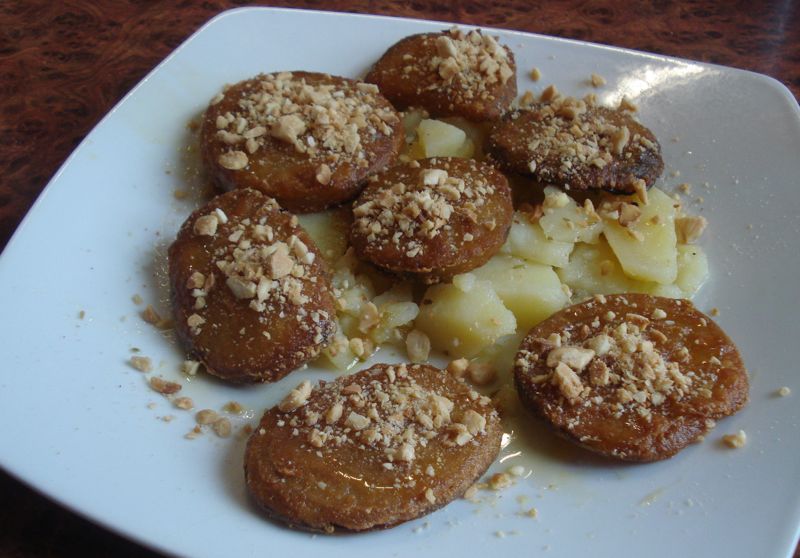 I miss the tapas in Seville every day. No matter what anyone tries to tell me, the tapas culture just isn't the same here in Madrid! Sure, I know where to find a decent tapa, but I find that they are much more expensive and the good places are usually packed.
There are also some tapas that I just do not see being served here in Madrid. One of them is a favorite of mine, crispy fried eggplant with honey. This tapa is quite popular in Seville and is one of the few vegetarian tapas available. Luckily, it isn't difficult to make at home. Here is the recipe I learned from my mother-in-law, Antonia.
See also: 8 delicious fried tapas recipes from Spain
Fried Eggplant with Honey
Recipe: Fried Eggplant with Honey
These delicious fried eggplants with honey are a typical Spanish tapa. Easy to make and even easier to eat, try them today!
Ingredients
2-3 small eggplants
Milk
Salt
Pepper
Flour
Olive Oil
Honey or molasses
Instructions
Cut the eggplant in round slices or in matchsticks, depending on your preference.
In a large bowl, cover the eggplant with milk and add a pinch of salt. Allow the eggplant to soak for about an hour (this is to draw out any bitterness).
Drain the eggplant and coat the slices in the flour, which you can season with some salt and pepper if desired.
Fry the slices in a deep, heavy pan with abundant olive oil. (Make sure the oil is very hot before adding the slices and fry in batches as to not overcrowd the pan!)
Remove the eggplant and drain on paper towels. Season with a pinch of salt. Drizzle with honey or molasses before serving.
This is only one of the many
Spanish tapas recipes
I have had to ask Antonia for since
moving to Madrid
. For me, Andalusia will always be my favorite place in Spain for hearty, homemade tapas. I'm hoping to be able to head north this summer and try Spain's more innovative, world-renowned tapas too. But for now, I am here in Madrid, testing out  Antonia's homemade tapas recipes in my tiny kitchen, and enjoying Madrid's international eateries (like
amazing Italian
or
great Greek
) when I go out.
Where have you tried Spanish tapas?
Professional eater, writer, cook, food tour operator. Fascinated by food and its history. Loves: a gooey slice of tortilla, fish markets, homemade cocktails, train travel. Hates: Overhyped restaurants, wine snobs, long menus, mediocrity. Check out my food tours at www.devourtours.com.
Latest posts by Lauren Aloise (see all)