La Boqueria: Where I Fell In Love With Spanish Food
Barcelona's Boqueria food market is one of Spain's most impressive and historic food markets. Colorful and alive, it is a must see stop for anyone visiting Barcelona. It is also the place where I began my fascination with Spanish food.
Tour the market: Join Devour Barcelona on an early morning adventure– the Early Morning Boqueria Market Tour. You'll learn how the market really works before all the tourists come. The tour includes lots of tastings, a full breakfast and getting up close and personal with local vendors and an expert foodie guide!
It was 2007 and I was studying abroad in Granada. Granada was amazing, but as a student, I was surviving mostly on the free tapas served with drinks in most of Granada's bars and restaurants. Although there were certainly exceptions, most bars offered something inexpensive to make– marinated olives, fried potatoes, Spanish omelet… not Spain's most impressive cuisine for sure!
Learn More: Where to eat in Granada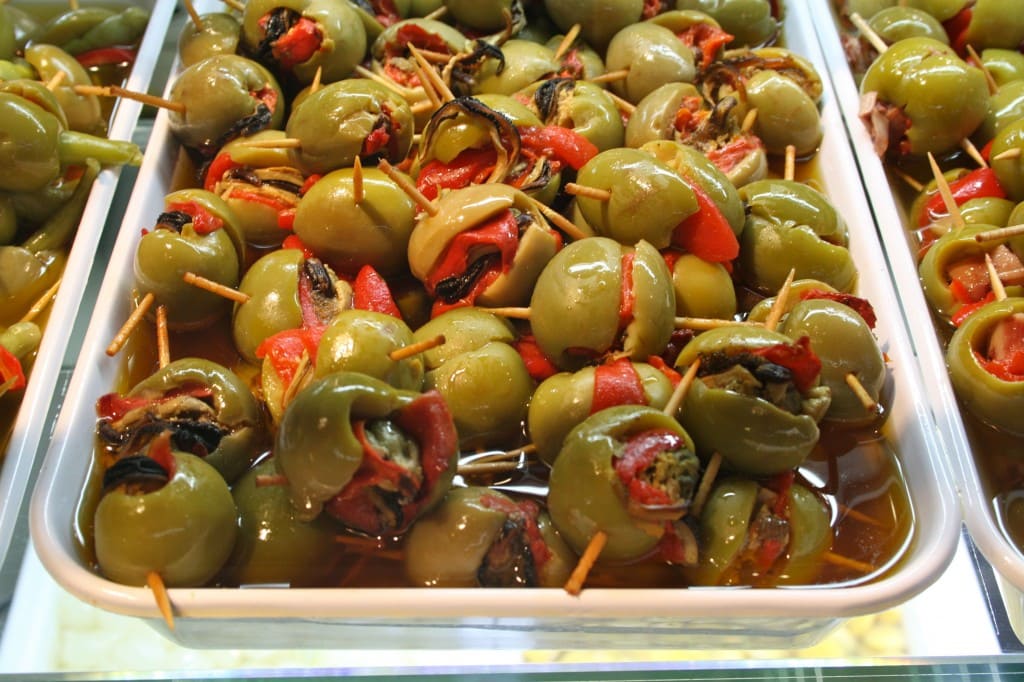 Luckily, there were various flights to Barcelona, and I took advantage to visit the city for the first time in November 2007. On my very first day in Barcelona, I realized that Spanish food was so much more than what I had been eating! I walked into the Boqueria market completely by chance, as it was located near the hostel I was staying at. I was amazed by the displays of fresh juices at the entrance, and I quickly bought two!
I continued to walk around La Boqueria, admiring Spain's fresh the produce, varied fish, and the dangling poultry. I tried some of the best tortilla de patatas I've ever had, made right before my eyes at one of the little bars among the market stalls.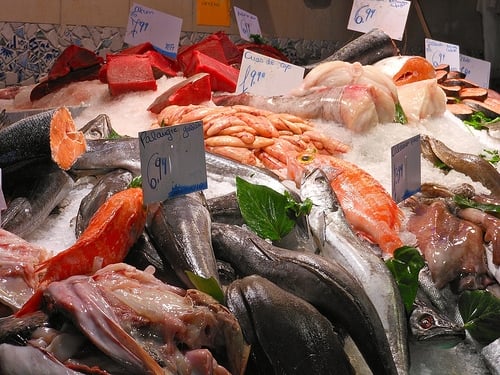 La Boqueria (officially called Mercat de Sant Josep de la Boqueria) is centrally located right on Barcelona's main tourist street, La Rambla. It dates back to 1217 and has been in its current location since 1853! It is worth visiting for the history alone, but everyone should make an effort to have a tapa or a drink inside the market as well.
Update! Boqueria Market Tour with Devour Barcelona
Inspired by my love of the Boqueria Market many years after this place changed my outlook about Spanish food, I decided to design a food tour of La Boqueria Market. By this point (2017) the market has become too touristy– the crowds have gotten out of control and the authenticity of the market is at risk. Our tour visits the market in a sustainable way– our groups are limited to only 6 people who visit right as the market is opening up. This allows us to learn about the market's history, meet its vendors, and taste its best bites before it gets too crowded. We also support the market with our business, instead of treating it like a monument that's only made for photos! If this sounds like something you are interested in, please book in advance here!
Tips for Visiting La Boqueria Market
La Boqueria Market Hours
The hours of La Boqueria market are Monday- Saturday from 8:00 a.m. to 8:30 p.m. but the market is most lively in the morning, before 2:00 p.m. I would recommend that visitors plan to arrive around 10:00 or 11:00 in the morning (or earlier!) and have a big slice of tortilla (Spanish omelet) for breakfast at one of the market's various tapas bars. Wash it down with a fruit juice and take lots of pictures before leaving.
Since that first trip to Barcelona I have returned many times, and each time I make a point to go back to the Boqueria market. I'll always remember it as the place I truly fell in love with Spanish food.
Have you been Barcelona's La Boqueria? What did you think?
More markets? Check out my full list of must-visit Spanish markets! And all my favorite market tours in Barcelona here!
Photo Credits: dvemp, 1la, grut, Sarah_Ackerman, jaybergesen, melissadelzio
Professional eater, writer, cook, food tour operator. Fascinated by food and its history. Loves: a gooey slice of tortilla, fish markets, homemade cocktails, train travel. Hates: Overhyped restaurants, wine snobs, long menus, mediocrity. Check out my food tours at www.devourtours.com.
Latest posts by Lauren Aloise (see all)