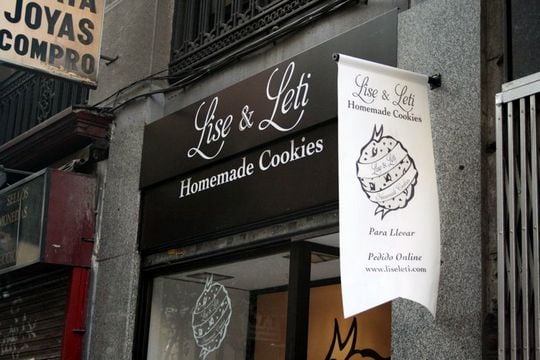 Time and time again, I've subtly made the point that I don't love Spain's desserts and baked goods. Sure, there are a few keepers here and there, but there are only so many polvorones one can eat and flan, rice pudding, and (if they are modern and daring) molten chocolate cake (usually not homemade, however) get old very quick.
Luckily, Madrid, unlike much of Spain, offers endless variety as far as food is concerned. There are fantastic choices for pastries, both Spanish and international, and carrot cake and cupcakes are "the thing" among young Madrileño foodies. So when Parisian friends Lise and Leti moved to Madrid, they were surprised that there weren't any cookie shops. Putting their skills together these young women opened Madrid's best (and perhaps only) cookie shop only a stone's throw from the Puerta del Sol. They called it Lise and Leti Homemade Cookies and put cookies in Madrid officially on the map!
I spent the summer walking the historic street of Calle de la Cruz because we visit several of its establishments with Madrid Food Tour. One day, I noticed something different. A cookie shop had sprung up overnight, and the cookies looked good! I didn't ever have time to stop (I was giving tours of Spanish cuisine after all) but it was on my list.
Fast forward to the Fall. I attended an event for Madrid Bloggers, and I was happy to see that Lise and Leti were sponsors. Armed with enormous trays of their delicious mini cookies, I finally got the chance to try their cookies (and lots of them). I was hooked, and although I make quite delicious cookies myself, I find myself stopping in for a small mini cookie to kill my sweet craving, or for an assortment of cookies when I'm too tired or busy to bake myself.
The shop is small, though you can certainly choose to enjoy your cookies there and Lise or Leti will be happy to make you coffee, tea, or freshly squeezed orange juice. The selection of American style cookies includes delicious flavors like their best-selling dark chocolate and raspberries, or the classics like Lacasitos (similar to M&Ms) and oatmeal.
If you find yourself craving something sweet in Madrid, definitely make a stop at Lise and Leti's Homemade Cookies. Not only will you be supporting small business and young female entrepreneurs, you are guaranteed to love their irresistible cookies.
Lise & Leti Homemade Cookies
Calle de la Cruz, 12
Madrid
Facebook
Cookies: 10 minis (100 g) 3.80€, Medium size 1.60€ , Large 3.50€
[mappress mapid="7″]
Professional eater, writer, cook, food tour operator. Fascinated by food and its history. Loves: a gooey slice of tortilla, fish markets, homemade cocktails, train travel. Hates: Overhyped restaurants, wine snobs, long menus, mediocrity. Check out my food tours at www.devourtours.com.
Latest posts by Lauren Aloise (see all)