My days lately have been filled with wine– lots of it. From big, full-bodied Spanish Rioja to crisp Chablis, and nutty sherry, I've been tasting as much as possible the past few weeks. And it's not just the fact that I love wine (which I do) but I'm actually studying for the WSET level 3 exam– a challenging feat that I hope to accomplish in July. So where have I been studying? Luckily my job allows me many opportunities for wine tasting in Madrid! Read on for my top picks…
Shops & Bars
While not really places to do a geeky, spitoon-ready wine tasting in Madrid (more like wine drinking or wine buying!) these are still great places to taste and buy Spanish wines.
Casa Gonzalez: Part shop part bar, I love visiting Casa Gonzalez to drink wine and then buy wine. Their small but curated selection features some great choices– I especially love their selection of white wines from Penedés. We feature Casa Gonzalez on our daytime Madrid food tour, where participants have a wine tasting of Monsant (a delicious Spanish red) and Albariño (one of Spain's most famous whites)
Dónde Sanchez: Nestled in the incredible Antón Martín Market, Dónde Sanchez offers a wonderful selection of wines by the glass, perfect for pairing with some of the country's best cheese or cured meats. Luckily, everything is available for sale– it's a great place to try before you buy!
Los Rosales: This is a beautiful, semi-new wine shop in Madrid in the gorgeous Literary Quarter. Their selection is excellent (though completely Spanish focused). They offer mainly mid-priced to premium priced bottles here, so don't come for a mixer for your tinto de verano!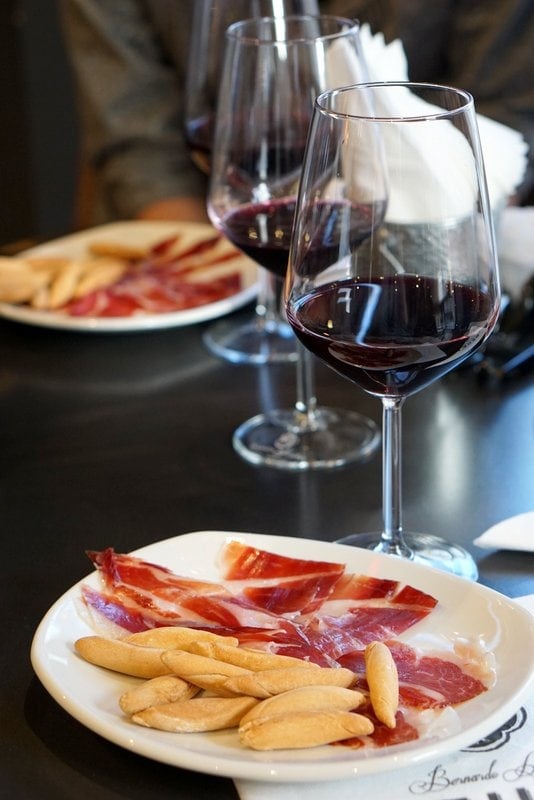 Restaurants
Madrid is filled with fantastic restaurants for tasting Spanish wines– international wines can be a bit more tricky. Here are some of my favorites!
Angelita Madrid: Brand new (as of spring 2016) this is a fantastic wine bar and restaurant only steps away from Gran Via (and 5 minutes from my house!). Their selection of 25 wines by the glass is constantly changing and includes some lesser-known Spanish regions as well as a few international wines (mainly French or Italian).
Palo Cortado: A wine bar in Madrid specializing in sherry wines– finally! This gorgeous bar near Madrid's opera house and Royal Palace is the place to go if you want to learn about and taste some of the world's most undervalued and incredible sherry wines.
Taberneros: This tiny tapas bar (and full restaurant) is a delicious gourmet experience. They serve yummy food and a great selection of wines by the glass. Get there early (about 8pm when they open) to get a spot in the bar area.
See also: 5 of my favorite wine bars in Madrid
Wine Tours and Wine Tastings in Madrid
Madrid is the perfect place for wine tasting, offering a huge selection of fantastic Spanish wines from all over the country! Don't miss trying some of the good stuff while here– resist the sangria! 🙂
What's your favorite Spanish wine?
Professional eater, writer, cook, food tour operator. Fascinated by food and its history. Loves: a gooey slice of tortilla, fish markets, homemade cocktails, train travel. Hates: Overhyped restaurants, wine snobs, long menus, mediocrity. Check out my food tours at www.devourspain.com.
Latest posts by Lauren Aloise (see all)