Christmas is Coming!
Braving the center of Madrid the weekend before Christmas isn't very fun, but when your in-laws are in town you don't have much of a choice! Luckily, this weekend was gorgeous and we spent the minimum amount of time in the center (staying just long enough to see the lights and the Christmas market before rushing back to our warm apartment). So what did we do for the rest of the time?
We shopped for food
We cooked the food we bought
We ate the food we cooked
It was a great weekend by my standards!
We started by doing our food shopping in the lovely Antón Martín Market, which we stumbled upon while walking up Calle Atocha towards Sol. It was a lucky discovery and is (so far) my favorite food market in Madrid!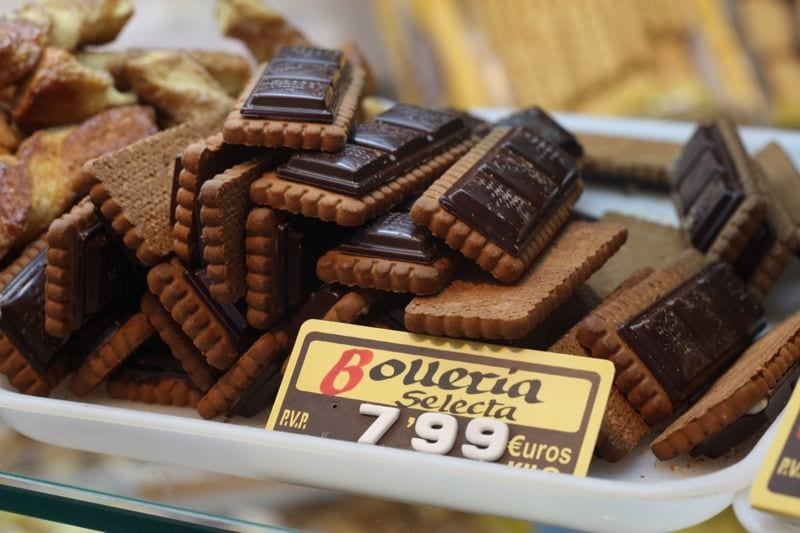 First, we admired the sweets. But I was making Nutella Cookies later that day, so we didn't buy any!
We made our rounds, buying fruit, vegetables, fresh eggs, and seafood.
But we decided again the sheep heads and chicken feet!
We made out way out of the market with plenty of produce and stopped for a snack. Garrapiñadas are delicious sugared nuts that street vendors sell all over the city. We chose the almonds and they were warm, sweet, and crunchy!
Our final stop before making lunch was Plaza Mayor for the Christmas Market. It was full of people and Christmas stands.
Finally, it was time for lunch! Master Chef Antonia whipped up a Paella in record time. It was delicious.
My pictures don't do it justice. (Recipe to follow one day soon!)
After Paella, we rested and I made my cookies for the cookie swap.
Then we set out to see Madrid's gorgeous Christmas Lights.
That night, we were to tired to make a big fuss out of dinner. But Master Chef Antonia and I made some quick tapas.
I realize there is no such thing as a small dinner when she is involved!
And now I'm home, packing procrastinating, and getting excited to go home for Christmas! Only two days left!
What are your plans this Christmas? Are you heading "home" (wherever home may be!)?