It's been two years since I was busy planning my American wedding and (even more importantly) our honeymoon to Playa del Carmen, Mexico. I was completely new to travel blogging at the time, so apart from a couple of posts, I largely ignored our time in Mexico on this blog.
But as our two year anniversary is just around the corner, I thought it would be the perfect time to share some of my favorite photos, foods, and experiences from our honeymoon in Mexico. We had a fantastic trip, and would recommend this itinerary to anyone who wants a mix of relaxation, sightseeing, and (of course) fantastic food!
Traveling to Mexico on holiday had always been a temptation, as friends and family often headed down to Cancún for spring break or a winter getaway. But I'd always opted for Europe, and the only time I spent a spring break abroad I went to El Salvador, a gorgeous country where there wasn't a tourist in sight.
After doing lots of research, Ale and I decided that basing ourselves in Playa del Carmen would allow for a the type of trip we were looking for– a mix of honeymoon relaxation and local flavors. While certainly a touristy city, Playa del Carmen isn't anything like the isolated, tourist filled hotel strip of Cancún, or the extremely remote resorts of the rest of the Riviera Maya. We'd have a mix of the tourist streets, the local markets, a gorgeous beach, and plenty of options for exploring the region.
The Hotel
We spent nine nights at La Tortuga Hotel and Spa, a small boutique hotel that doesn't allow children. It was an extremely peaceful place, with a small pool for cooling off, and plenty of lounge chairs and in-pool seats to relax on. The bartender at their adjoining restaurant made some of the best cocktails I've ever had (the spicy margarita and creamy piña colada were to die for) and enormous breakfasts that are made to order were also a part of the package. Located a ten minute walk from the beach, some may prefer beachfront, but I would stay there again in an instant!
The Food
As it was our first time to Mexico we barely bothered with fancy dinners while there, preferring instead to go where the locals go. For the most part, this was a great way of eating, although sometimes our stomachs didn't agree!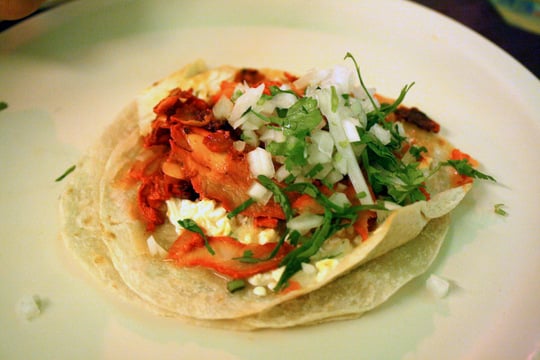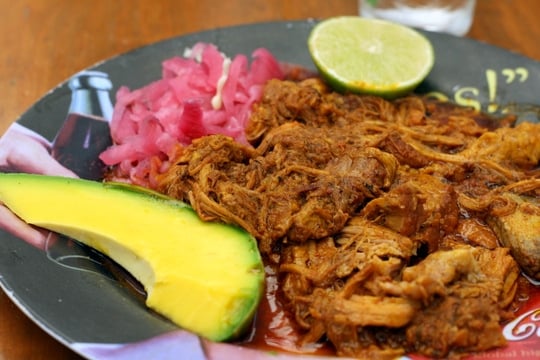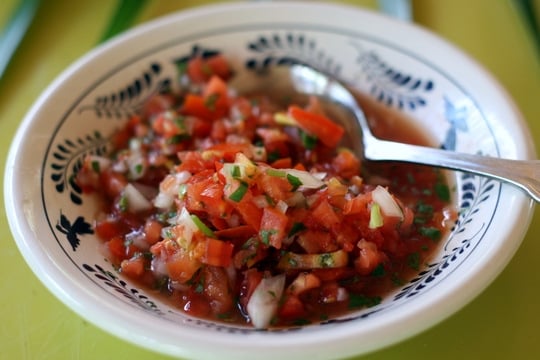 The Day Trips
Ek Balam
We wanted to see the ruins while in the area, so we took a day trip to Ek Balam and Chichen Itza. We arrived to Ek Balam early, and didn't have to share the grounds with anyone. We were even able to hike up one of the temples, which was worth it, although scary! On our way there we drove through some local villages, which were picturesque and surprisingly simple.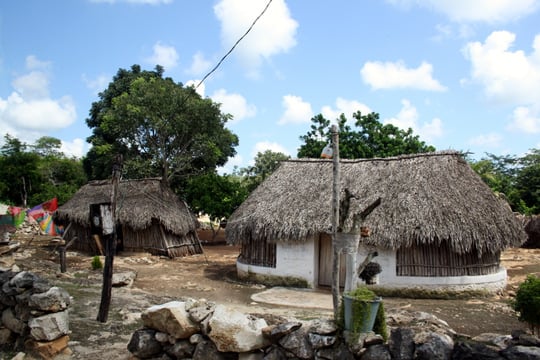 Chichen Itza
Being in the Riviera Maya and not seeing Chichen Itza is simply inexcusable. The ruins are incredible, and despite the occasional feeling of a tourist trap at the vendor's booths, they are well worth a visit.
Tulum
My favorite ruins were definitely found at Tulum. A striking contrast between ancient civilization and the Caribbean Sea, Tulum was simply paradise.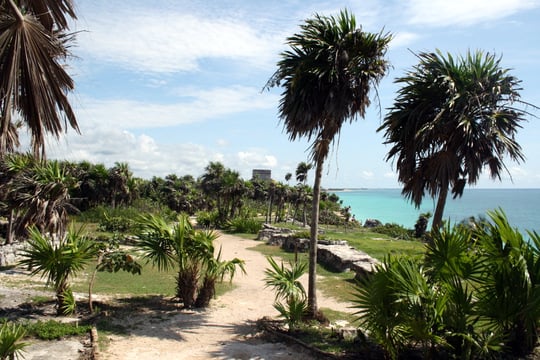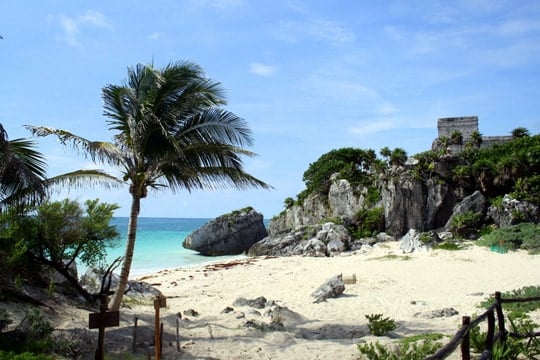 Akumal
To swim with giant sea turtles you should definitely check out Akumal, a short trip away from Playa del Carmen. It was one of the most incredible experiences of my life, and I can't wait to do it again one day. Luckily, our guide snapped this photo so we'd never forget the beauty of these creatures.
Cenote
Okay, so cenote is not a place. A cenote is actually a sinkhole that has filled with water over the years. I don't remember exactly where the cenote we visited was located, but it was an interesting experience.
Warning, if you are claustrophobic, snorkeling in a cenote is probably not for you!
I didn't mind it, but Ale (who also has some breathing problems) nearly died. You know the stalactites that take thousands of years to form and that you are never supposed to touch? Well, when you are gasping for air that's what you grab onto. Poor Ale!
Some really bad (but funny) pictures of us!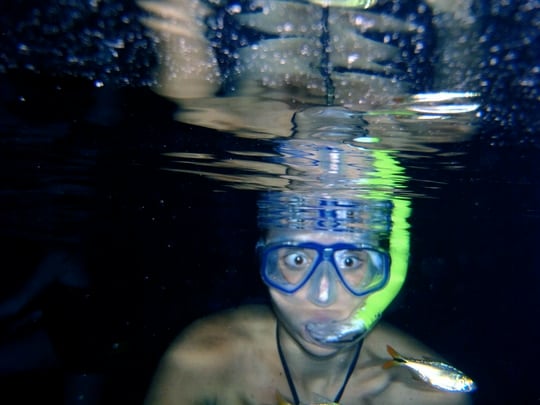 In addition to these trips, we also spent an incredible day on Isla de Mujeres, but I have enough pictures for a whole other post! Overall, Playa del Carmen was a great little town that made the perfect base for exploring the region. We will definitely be back one day soon!
Have you ever been to Mexico? Would you visit Playa del Carmen or would you prefer somewhere less touristy?