I'm in downtown Madrid and I just finished my morning food tour. Believe it or not, I usually don't eat more than a few bites on the four hour food crawl– I'm usually too busy talking about the differences among the many Spanish sherries, or explaining the secrets of sneaking home good olives. After a tour I'm often hungry– and I just want comfort food, something delicious, simple, and inexpensive that will fill my belly and put a smile on my face. In the US a good hamburger or sticky ribs do the trick for many, while I prefer to settle down with a bowl of hot chowder when in season. But in Spain there is nothing more comforting than eggs. Whether served as a tortilla (a Spanish omelet similar to the Italian frittata) or as the popular huevos rotos (literally, broken eggs), eggs are the Spanish comfort food.
When I was invited to try a new restaurant that had opened on Calle Preciados, in the midst of a sea of touristy restaurants and frozen yogurt chains, I must admit I was skeptical. The place is called La Tortillita, and specializes in (what else but) the Spanish tortilla.
Despite my misgivings, I accepted the invitation after seeing the fantastic reviews it has on Tripadvisor so far. I'm glad I did!
Now, not only is this restaurant in the middle of tourist land, it is also a franchise– something that usually means that the quality has been sacrificed somewhere along the line. Luckily, this wasn't the case and La Tortillita is the first of what its Galician owner surely hopes will become many. I'd say that franchises like La Tortillita might give super popular Spanish sandwich chain 100 Montaditos a run for its money.
A New Direction
The owners of the brand's first franchise location are a young couple, Marta and Daniel, who decided to put their previous careers behind them (Daniel was a psychologist and Marta studied law then worked as a financial director) to start something new. Young and excited, they may be a byproduct of the recession, but are also exactly the type of people who should be running a restaurant in this economy.
Despite their scattered experience working in the hospitality industry, they never even thought about building a restaurant concept from the ground up, and a franchise opportunity seemed like the safest investment. They studied countless options, but finally ended up taking a risk with La Tortillita, a place they said will offer the good qualities of fast food (quick and inexpensive) and also the good qualities of a small restaurant (home cooked food that's fresh).
La Tortillita offers over 30 different tortillas, in two different sizes. For picky eaters, no worries– you can also mix and match to create your own. Since everyone has a different opinion on how they like their tortilla cooked (runny, cooked through, or even dry) they'll ask you that too! And for those who aren't in the mood for the Spanish classic, they also have options like huevos rotos, hamburgers, croquettes, ensaladilla rusa, and chicken fingers. The prices are great, allowing you to spend between 7€ and 12€ per person and leave absolutely stuffed.
Our Tortillitas
We tried the Tortilla Gallega (with grelos (turnip tops), chorizo, and tetilla cheese), the vegetable tortilla, and the caramelized onion and blue cheese tortilla. We also had blue cheese and walnut croquettes and the chicken fingers with sauces.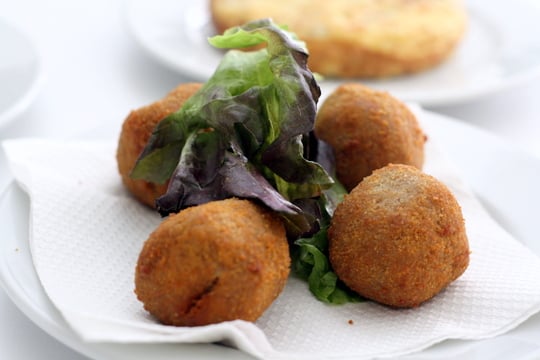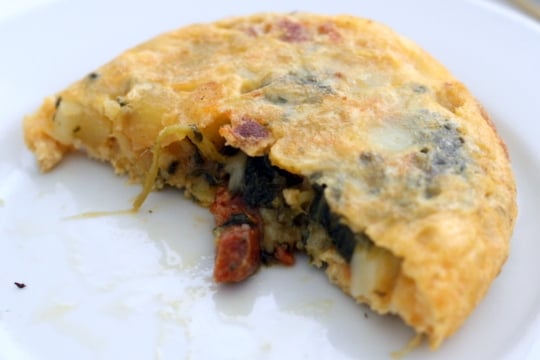 Everything was just right, especially the Gallega tortilla (4.70€). For dessert we tried a sampling of their flan, a cheese and quince jam semifreddo (a bit like a Spanish style cheesecake), and a sort of cookie and custard cake (Tarta de la Abuela).
Fast Good Food
La Tortillta is the type of restaurant that has the power to change the bad reputation on fast food. Owned and operated by enthusiastic people who are currently also two of the restaurant's most enthusiastic waiters, La Tortillita offers fast yet fresh food in an ideal location  and at fantastic prices. It would make a great stop for anyone in the center of Madrid who wants something bueno, bonito, y barato (a Spanish saying for good, pretty, and cheap). I would definitely recommend it.
 What do you think of this type of fast food concept? Would you grab a quick tortilla while shopping in the center of your city?
La Tortillita
Calle Preciados, 34
Madrid
[mappress mapid="21″]