La Berenjena is a small Madrid bar and one of those places that's tricky to figure out. It's tiny and uncomfortable, but at the same time friendly and delicious. It's the opposite of some of the very cute and trendy places that most Madrid bloggers are currently raving about (it's interesting how most of them tend to rave about the same place at the same time), which are often cookie cutter establishments that tend to be well-decorated, but quite mediocre when it comes to their menu offerings and execution. Then you have La Berenjena, a tiny bar (with two self-service tables) located on a nondescript side street in Antón Martín where no one ever seems to be eating– yet their menu is phenomenal and their Tripadvisor reviews are fantastic.
After attempting to eat at La Berenjena twice but deciding against it since the place was packed like sardines, we finally got lucky one Friday afternoon (as well as the following Sunday afternoon).
They serve generous raciones here, so for two people three plates are more than enough. Everything was delicious, and it's the only place I've been recently where I will definitely be back again and again.
What we tried
Oh my burrata. I don't know how long it had been since I'd enjoyed this Italian delicacy, but I promise I'll never let that much time pass again. I grew up eating creamy mozzarella cheese from the Italian deli by the handful– my grandparents would literally bring me a ball of cheese as a gift when I was as young as six years old. The burrata I tried at La Berenjena was one of the best I've had. Creamy and delicious, it is served over sweet and sour Kumato tomatoes, tossed with extra virgin olive oil, and topped with fried basil, black truffle paste, and black lava salt. It is nearly perfect, and the only tiny criticism I have is that it would be even better with a little less truffle on top (it can be overpowering).
The grilled skirt steak was served perfectly rare with sea salt and parsley on top (and a generous drizzle of olive oil, of course!) For only 5€ this cannot be beat in all of Madrid.
The leek croquettes were very good. They were perfectly breaded and fried, with a light and creamy bechamel sauce and crispy breading that made it easy to eat them one after the next. I would've loved some chunks of leek in there too, and look forward to trying their other combinations soon.
The Galican style clams were cooked to perfection, served with a flavorful sauce and a generous sprinkling of fresh and fragrant parsley on top. A few had a bit of sand inside, which was unpleasant, but didn't ruin the dish given the fantastic flavor.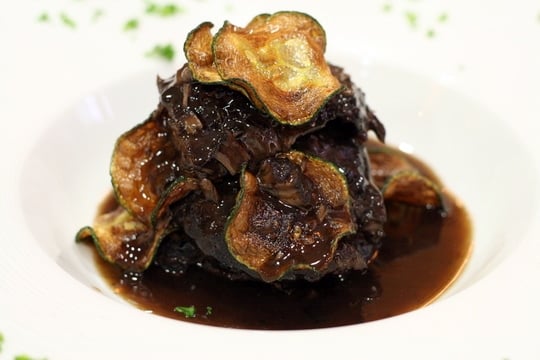 The carrillera (braised pork or beef cheek) is always a test of a restaurant's skill for Ale and I here in Madrid, and La Berenjena passed with flying colors. It was perfectly cooked, and enhanced with a touch of black licorice and fried zucchini to garnish. It did lack a little salt and the sauce was a bit thin, but it's by far the best I've had in Madrid in awhile.
The Highs: The burrata, I'll be dreaming about it! And the variety on their menu is fantastic– I can't wait to go back again.
The Lows: It isn't a restaurant and I wish it were! They only serve food at night and on weekends. Go early if you plan to eat.
The Verdict: Go early with a few friends so you can try a bunch of different things. One of my favorite recent discoveries!
 La Berenjena
Calle Marqués de Toca, 7
28012 Madrid
 [mappress mapid="45″]