This blog post was originally posted on April 4th, 2016 and was updated on May 18th, 2017
When we visit a new city, one of the first things we find out is what the best local dish is.
We are always game to try a new dish or drink in our travels, and if you're reading this, we're pretty sure that you are a kindred spirit! Malaga food lovers agree that this is a city that is full of unique flavors, sweet wines, delicious tapas and fresh fish. You might not have heard of some of the local dishes, but they are well worth trying! These five foodie things to do in Malaga are sure to please your taste buds!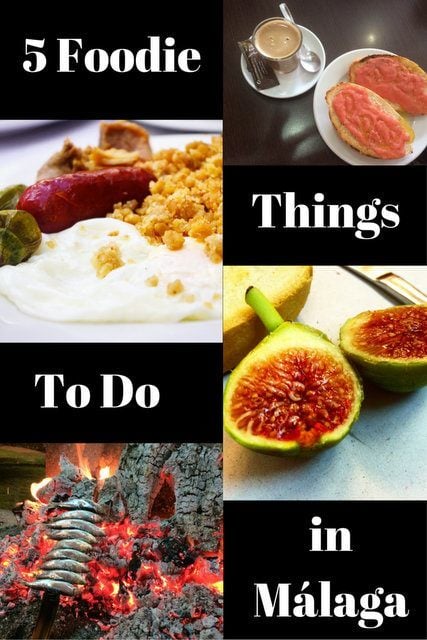 1. Explore Atarazanas Market
We always like to explore the local markets for the atmosphere, the hustle and bustle of people buying fruits, veggies and meats. It is interesting to see what is the same and what is different at markets around the world. Atarazanas is one of the best foodie things to do in Malaga, not only for the atmosphere of the historic market, but also because there are bars inside where you can enjoy a tapa! Head to the Bar Mercado Atarazanas and ask for the shrimp skewer! This is the first stop for food lovers visiting Malaga – you won't regret it!
Meet some of the vendors and learn about the market's story with us on our Tastes, Tapas & Traditions of Malaga Food Tour!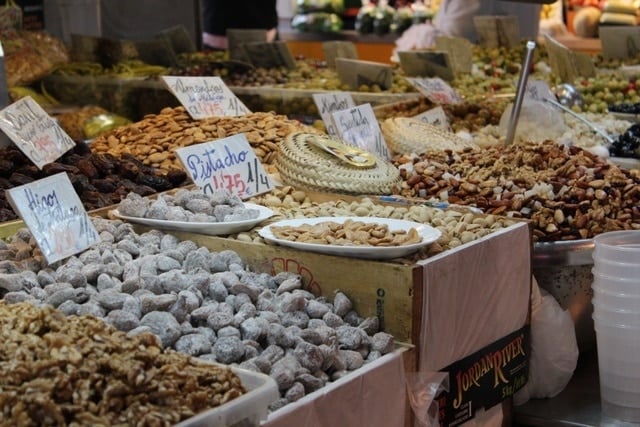 2. Indulge in churros and chocolate at Casa Aranda
You can't come to Spain (or Malaga) without trying churros and chocolate. It is one of the best sweet treats and it is well known around the world. Of course, that doesn't mean you can just get any churros! Every city has it's own tradition and in Malaga we always go to Casa Aranda (Herrería del Rey, 3) to enjoy churros dunked in delicious thick hot chocolate. They have been around for over 100 years and they truly make delicious churros.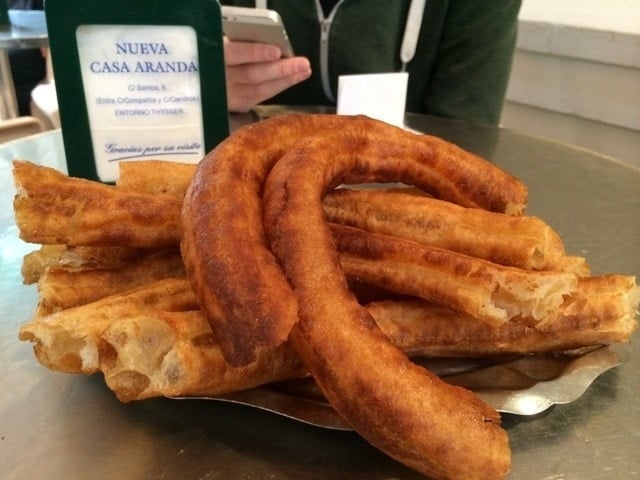 3. Try an espeto by the beach
Malaga is known for its sardine skewers known as espetos. The name comes from the Spanish verb espetar which means "to skewer". These delicious little fish are skewered and then cooked over a pit of coals on the beach. The only preparation following this is simply a little bit of olive oil and some salt. The result is delicious, and if you are a food lover, you cannot pass up an espeto while in Malaga!
4. Flag down your food at El Tintero
This is by far one of our favorite foodie things to do in Malaga. El Tintero (Calle Playa del Chanquete, 99) is a restaurant in the area of the beach called "El Palo." It is a huge seating area with tables that are less than fancy, however that's part of the charm. Why should you go?
Because the waiters don't take your orders, instead they walk around with plates of the day's fresh catch cooked any way you can imagine (fried, grilled, in a salad) and they shout the name of the dish. If you want a portion, you just flag them down. When you've finished, flag down the one yelling "Mira, mira, y YO COBRO." They will count the plates and tell you what you owe. Fun, chaotic and delicious all in one!
5. Taste the different Malaga wines
You are probably familiar with the wines from Rioja in the north, or sherry from Jerez, however you may not have heard of Malaga wine. It is a sweet fortified wine made from a special kind of grape called the moscatel grape. The wine might seem too sweet at first, but when paired with a delicious cheese or salty fried almonds, it is the perfect match.
Our favorite place to try the wines? They are definitely one of two places: Casa Antigua de Guardia (Alameda Principal, 18) and the Odisea Vinos de Malaga (Subida Coracha, 1). If you are a wine drinker, this is something not to miss while visiting Malaga– in fact, we have a wine tasting on our food tours to help you understand Malaga's unique wines even better!
Of course there are lots of other tips for food lovers in Malaga
If you have more time you can visit the nearby town of Antequera where the famous mollete bread comes from, as well as the variation on salmorejo called porra antequerana. If you are interested in olives and olive oil there are also various tours available. In the winter months, Malaga foodies usually choose to spend a day in the mountains and eat a classic plato de los montes, or visit a local vineyard.
Hungry for more? Join us on a food tour and we will share with you our favorite bites and sample local wines together all while learning about the fascinating story that has made Malaga the wonderful city that it is today.