This blog post was originally posted on September 22, 2015 and was updated on August 24th, 2017
When we travel (and when we're in our home town, for that matter) one of the first things we look for is a great café with a good vibe and free wi-fi.
Even when we're on vacation, we tend to check the internet for travel information or even to book train tickets for a spur of the moment destination. While it's true that you can always stop into Dunkin Coffee or Starbucks to use their internet, we hate the idea of going to a chain just because you need to check something online – and the good news it, you don't need to! There are some great little cafes with internet in Malaga that have that perfect vibe and a great cup of coffee to boot so with that in mind, we've put together this list of cafés with free wifi in Malaga.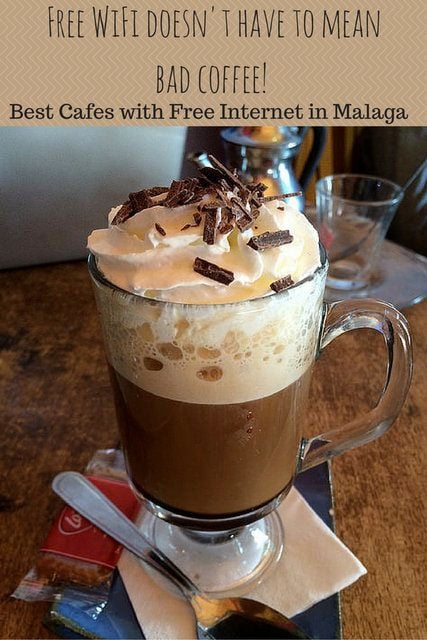 Recyclo Bike Café
We love Recyclo Bike for several reasons. It has a fantastic location – just a block away from Atarazanas Market, good coffee and smoothies, and nice music. It's a perfect place to spend a bit of time catching up on your email as you sip your coffee, and if afterwards you are planning to rent a bike next door, make sure that you let them know because you get a discount at the café. How can you go wrong with coffee, wifi and bike rental on your doorstep?
Hours: Monday to Thursday 9am-12am and from Friday to Sunday 9am-2am
Address: Calle Marqués Villafiel, 4
Café con Libros
Café con Libros is a classic coffee shop with internet in Malaga, and it couldn't be easier to find as it's located just down the street from Picasso's home in the Plaza de la Merced. Here they offer a delicious brunch, as well as a fun terrace where you can even sit on a swing as you sip your coffee.
If the weather isn't great, head inside to the cozy back room because whether you are sitting on the terrace or not, the coffees, teas and smoothies are well worth your time, and it's the perfect place to take a break in the center of Malaga.
Hours: Sunday-Thursday 9am-1am, Friday-Saturday: 9am-2am
Address: Plaza Merced, 19
El Ultimo Mono
El Ultimo Mono (which translates to "The last monkey") took us by surprise. Since it is found just steps away from the Plaza de la Constitución on the way to the Cathedral, we assumed it would be filled with tourists but we couldn't have been more wrong!
This unassuming coffee shop with free internet is serving up quality smoothies and juices – they will even let you pick the fruits right then and there – and if you are feeling peckish, make sure you try one of the delicious muffins or coffees. The eclectic decor might have you thinking of your favorite hipster hangout back home, but with a mix of locals, expats and travelers, it's the perfect spot to plan your itinerary for exploring Malaga.
Address: Calle Sta. María, 9
Hours: Daily 9am-9pm
Julia Bakery
With its delicious baked goods, artisan coffee and chill vibe, Julia Bakery is the perfect spot to get a bit of work done, check your email or upload a photo or two to Facebook. We suggest you try the homemade scones or the delicious cupcakes – the dulce de leche cupcake was simply too good to resist. This is a fantastic café with free wifi in Malaga, but is worth the visit whether you need the internet or just simply need a sugar fix!
Address: Calle Carretería, 44
Hours: Monday-Saturday 10am-2:30pm and 5pm-9pm
Dulces Dreams
Dulces Dreams is the café in the lobby of a boutique hostel in the historic center. We found it one day after relaxing at the Hammam Al-Andalus! With a creamy cup of café con leche, a delicious toast with ricotta and honey and the internet, we were happy to spend an hour or so catching up on email. We also love the simple decor and friendly service, so it's definitely worth a stop when you are looking for that perfect cafe in Malaga!
Address: Plaza Mártires, 6
Hours: Daily 8am-8pm
Join us for a coffee and breakfast on one of our Food Tours! Sure, there's no Wifi, but you have your expert guide to lead the way and tell you all about Malaga's fascinating stories, foods and wines!
Latest posts by DevourTour (see all)