Those of you who follow along on Facebook and Instagram know that I spent most of this summer living and working in Barcelona. The opportunity came about to focus on building and expanding our Devour Barcelona team, so my Devour Tours co-founder, James, and I spent the summer hiring new staff and working on a variety of new creative tours and activities in beautiful Barcelona.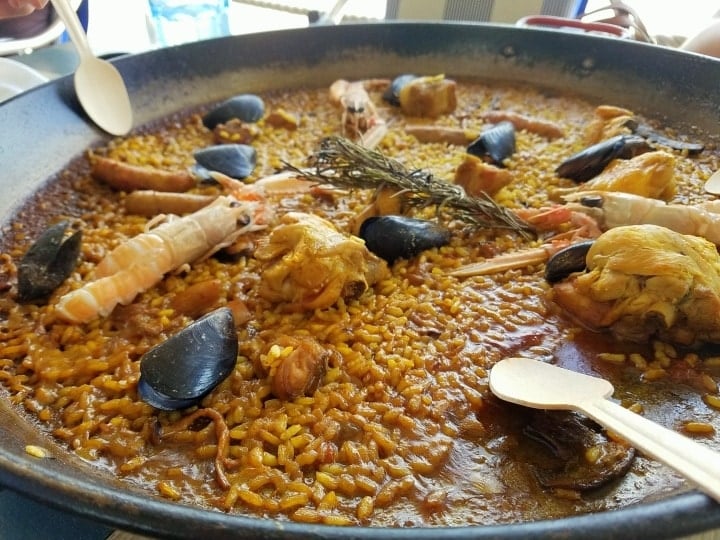 It was an odd summer– the decision to spend it in away from home was very last minute and the first of two rental apartments we stayed in was pretty depressing. It was hard being away from Madrid and spending so much time away from friends and family (including husband and cat!).
But our hard work paid off, as we've been able to launch two new Barcelona tours this month (a Barcelona Kids Walking Tour and our Early Morning Boqueria Market Tour— with more in the works!) and we have also hired three wonderful new team members who will keep Barcelona in top shape now that we're back in Madrid.
We've also made some great new Barcelona videos for our YouTube channel— check me out below showing off the Born neighborhood with James– including some of the places on our tours!
I also caught up with old friends and even made some new ones — I finally met Anjalina, the author of Soul Spices, who motivated me to make a big decision (announcement coming soon), and met again (after 4 years!) with Suzy from Foodie in Barcelona— we shared a great lunch together and snapped Instagram photos without fear of making our husbands wait too long!
I'm thrilled to be back in Madrid now but wanted to share some of my favorite places in Barcelona I've discovered this summer. Enjoy!
1. Poke Maoli
I've been drooling over Instagram photos of poke for years now, and this Hawaiian creation has finally hit Spain– hard. There are poke places popping up all over Barcelona and Madrid, but unfortunately, most don't do justice to what can only be a delicious dish. Of all that I've tried so far, the only I'd ever recommend is Poke Maoli— a tiny poke shop in the Barceloneta neighborhood, right by the beach. Here the fish was fresh, well cut, and paired with delicious toppings and marinades. Now they just need to open in Madrid!
2. Xiringuito Escribá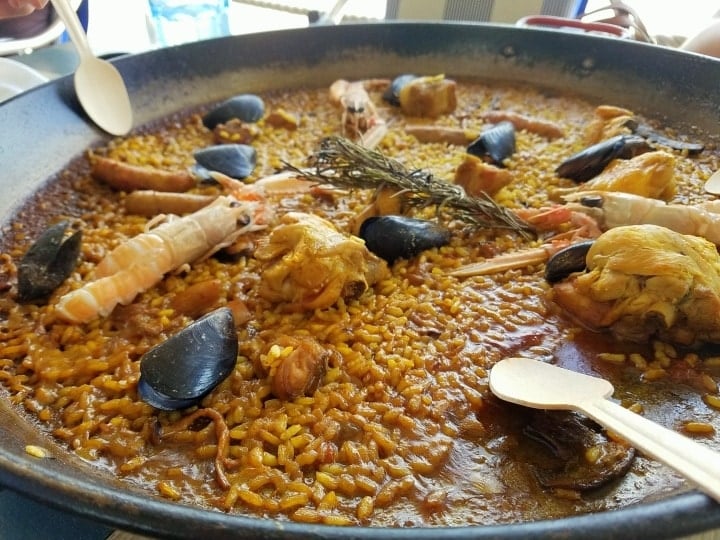 I've been searching for good paella in Barcelona for awhile… with very mediocre results! But I really enjoyed Xiringuto Escribá— from the ambiance to the service, I visited twice and left happy both times! Their rices are all well made, there's a lot of flavor to the stock, and the dry rices do have socorrat (that slightly burnt bit at the bottom that makes Spaniards' hearts melt). Given the beachside location, I'd say it's definitely on the list of my favorite paellas in Barcelona. If you go, get the "Sea and Mountain Paella" (mar y montaña or surf and turf) which includes both shellfish and meat– so much flavor!
Tip: Try another of my favorite paellas on our daytime Tastes, Tapas, & Traditions of Barcelona Food Tour!
3. Adamah Juice Bar
Our second rental apartment was located in Gracia, one of my favorite neighborhoods in Barcelona and where we started our first tours in the city– our Gracia Neighborhood Food & Market Tour! I loved being back in this part of town and was happy to find a delicious new addition to the neighborhood, Adamah Juice Bar. Their fresh juices and smoothies are some of the best I've had in all of Spain, and the man working there was always super nice. A must if staying in Gracia! Try their "hangover" juice (I was embarrassed each time I ordered it) but it was delicious.
4. Bodega la Palma
I'd been here once before when we were investigating stops for our Barcelona tapas tours, but I hadn't been back since they updated their menu. This old-fashioned Barcelona bodega is nestled away in the Gothic Quarter and is now one of my favorite stops for a vermouth and some tapas– try their green pea croquettes and pickled anchovies– heavenly!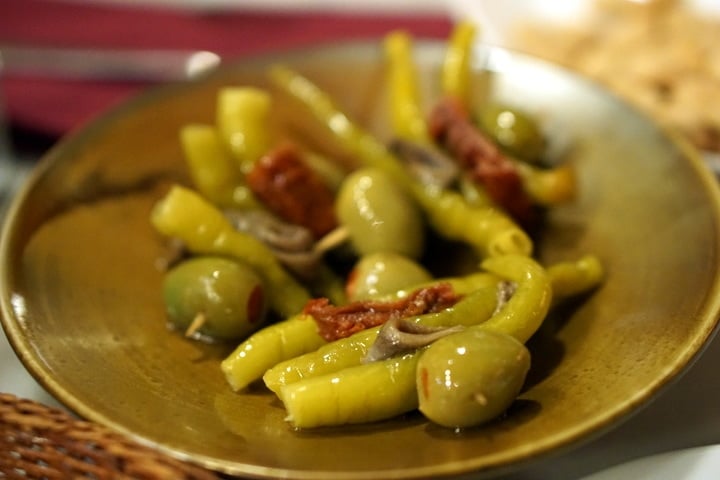 5. Masala 73 Curry Bar
My friend Suzy recommended Masala 73 for a fantastic Indian meal made with local Catalan ingredients. I ventured out by myself and ordered their vegetable korma, and wow– an explosion of flavor! I've never had a korma like this one. Started as a food truck originally, I wish this business lots of luck. The food was excellent and I only wish they'd also expand to Madrid!
6. Elche
Another famous rice restaurant in Barcelona (dating back to 1959!) is called Elche and it's located unassumingly in the Poble Sec neighborhood– no beach views I'm afraid. Luckily, the ambiance and cooking make up for it. James and I decided to go for lunch one day and enjoyed excellent quality classic Catalan entrees before diving into the main dish– a delicious fideúa (paella's cousin, made with buckwheat noodles instead of rice!). Worth a stop!
7. El Sucursal Aceitera
Another find in the Sant Antoni area is El Sucursal Aceitera. An old oil factory, the recent owners have converted the space into a comfy and cosmopolitan restaurant space. I went twice and each time the menu had changed– so it seems they're still figuring things out– but both times the food was great. I preferred their small plates options, which the second time seemed to disappear in favor of bigger dishes. Either way, the food is good, service is friendly, and the surrounding area is becoming one of my favorite parts of town!
8. Onna Café
I'd been told that Onna Café was one of Barcelona's best coffee shops, and luckily it was located on the walk from our Gracia apartment to the Devour office. Onna is tiny and popular, so service can be slow, but the coffee is excellent and their cold breakfast sandwiches are a notch above anything served at other nearby cafés.
9. L'Estupendu (Badalona)
You'd think that spending the summer in Barcelona would mean lots of time at the beach, right? Wrong! I barely saw the beach while living in the city, and unfortunately the few times I ventured over I found the water and shoreline filled with trash– I could not bring myself to go in. When I asked our team of guides where to go, the easiest beach near Barcelona to get to was Badalona, only 20 minutes by train! While Badalona is still an urban beach, it's much nicer than the ones in Barcelona proper. And there are some awesome restaurants nearby! L'Estupendu was one of my favorites– great ambiance, yummy food, and a nice terrace for drinks. Worth the trip!
10. Can Soler (Badalona)
If you make the trip to Badalona, skip the dessert and head straight to Can Soler for ice cream. I'm not the biggest ice cream lover, but this stuff was delicious (and worth the wait!). The hardest part is choosing a flavor…
Bonus: Maestrazgo Wine Club
I'd been dying to go to one of my friend Fintan's wine tastings for years now– Fintan is the person who co-designed our Barcelona Tapas & Wine Tasting Tour and he is probably the most passionate person about wine I've ever met! His website is called Wine Cuentista, and he offers bi-monthly wine tastings for people who live in Barcelona. The tasting I went to featured his favorite summer discoveries from the "old world". The biggest surprise for me was a delicious Beaujolais (Foillard Morgon Cote-du-Py).
I still have so many places on my Barcelona list– but next year should be able to check a few more off! Have you discovered any great places to eat in Barcelona lately? Leave me a comment!