My Spanish style Thanksgiving stuffing is basically my take on a popular Spanish dish called migas con chorizo. Because what dish isn't better with perfectly grilled chorizo added to the mix?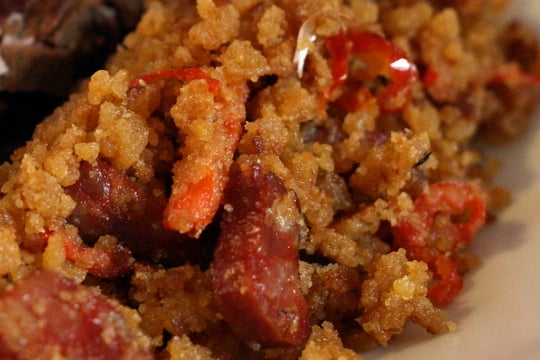 Migas is the Spanish way to take advantage of stale bread, and the most basic version is a simple dish made by frying stale bread chunks in olive oil seasoned with garlic cloves. People dampen the stale bread in water first, and once fried to golden perfection, they remove the bread and mix it with a variety of yummy extras– from fresh chorizo to juicy salt pork to fried eggs and roasted red peppers. Final additions to Spanish migas may include sweet bites, such as grapes or pomegranate seeds.
It's important to note that here in Spain, migas are usually served as a full (and heavy!) dish. But of course, as a part of your Thanksgiving meal, they aren't meant to steal the show. I recommend making this simple version, which I call my Spanish style Thanksgiving stuffing, to accompany your heaping plate of Thanksgiving goodness.
See also: Thanksgiving recipe ideas from Spain

Best Spanish Style Thanksgiving Stuffing (Migas con Chorizo)
A Spanish style Thanksgiving stuffing recipe based on the Spanish dish called migas con chorizo.
Ingredients
1 large stale baguette
2 fresh links of Spanish style chorizo, roughly chopped
1 piece of salt pork (pancetta or bacon will also work), chopped into small bits
½ red pepper, diced
½ green pepper, diced
1 head of garlic
1 bay leaf
1 teaspoon of smoked Spanish paprika (sweet)
Extra virgin olive oil (Spanish of course!)
Salt
Instructions
Rip the stale baguette into chunks and put into a food processor (if you prefer, you can also do this part by hand). Pulse a few times until the bread becomes half breadcrumbs, half small chunks.
Place the breadcrumbs in a large bowl and drizzle about ¼ cup of water on top. Mix everything together with your hands. The bread should absorb the water and be damp, but not saturated or soggy (or dry!). Add more water if necessary.
In a large frying pan over a medium heat, add two generous tablespoons of extra virgin olive oil and add the cloves (with skin on) of one head of garlic and the bay leaf. Fry over medium heat, browning the garlic cloves.
Add the chorizo and salt pork, cut into rough chunks. I like my chunks small, but you can cut large chunks if you prefer. Stir and brown.
Once browned, remove everything from the oil with a slotted spoon.
Add the diced peppers to the seasoned oil and fry until golden brown.
Add the paprika and saute for 10 seconds. Then add back the garlic and chorizo and season with salt.
Add the rehydrated bread crumbs and saute with everything for about 5 minutes, allowing the bread to absorb any oil and become golden. The result should be a very dry stuffing.
Right before serving you can optionally add a spoonful of cooking liquid from the turkey. And I love to mix in pomegranate seeds for a sweet and savory rendition (here in Spain people also add grapes!).
What do you think? Will Spanish style Thanksgiving stuffing (migas con chorizo) grace your Thanksgiving table this year?