This blog post was originally posted on July 20, 2015 and was updated on July 5, 2018.
There are lots of things to do in Malaga in August!
August is a popular month in Malaga. The beaches are filled with brightly colored umbrellas and towels, people stay out late into the night and; of course, it is the month of Malaga's fair! With so much going on in Malaga this month, we thought we'd give you a list of our insider's tips for things to do in Malaga in August.
Go to the Feria!
Malaga's yearly fair happens in the third week of August. This year it runs from August 11-18. It kicks off with fireworks on the beach at midnight on Friday the 10th/Saturday the 11th. We suggest you have dinner at a chiringuito (a bar/restaurant on the beach) and then watch the fireworks to kick off the week!
It's also important to note that there are two different parts to our feria. We have the feria de día (the daytime fair) which is in the center of town. You will see people basically having a street party. The bars open early and many people meet in the center to have an aperitif or to eat lunch. The drink of choice? Ice cold Cartojal (a sweet wine from Malaga) that comes in a bottle with a bright pink label. Grab a glass and share it with your friends. At night, take the bus to the Real. This is the classic Andalusian fair with casetas to dance, tapas, and rides. It is one of the best things to do in Malaga in August! We are already counting down the days!
See a movie on the beach
Like many other cities on the coast, Malaga has a summer film festival where you can watch a movie under the stars. With hot summer days, this is a great way to cool off in the evening and enjoy an outdoor movie. Make sure to check the schedule, as there are several different locations and different movies playing each day. It's no wonder why this is one of our favorite things to do in Malaga in August.
Swim at the beach
One of the best things to do in Malaga in August is take a picnic lunch and head to the beach. You will see all the people from Malaga with their coolers and Tupperware containers, cold drinks, and sometimes even a little picnic table. When we go to the beach, the whole family comes with us! Join in the fun and cool off in the ocean. If you have a car we recommend you head to the Peñón del Cuervo or to Los Alamos. Torremolinos also has a great beach. If not, you can ride the bus to the Malagueta or Sacaba Beach. Regardless, you are sure to have a fun day on the sand.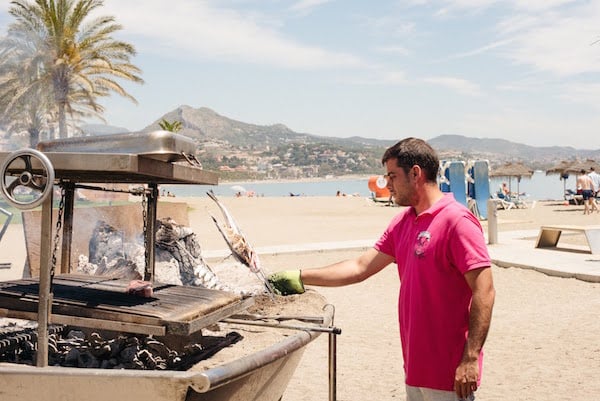 Have a drink on ice
If you really want to cool off, one of the best things to do in Malaga in August is head to the Ice Bar at the port of Benalmádena. The port itself is rather touristy, but if you head to this bar you can have the unique experience of needing a winter coat in August on the Costa del Sol! Your drink is guaranteed to be cold and it's a fun way to start your evening by the water.
Address: Pueblo Marinero, Local C1-C5 y C-6, Benalmádena
Take a trip to Puerto Banus in Marbella for a fancy dinner
If you have access to a car, one of our favorite things to do in Malaga in August is take a drive down the old highway along the coast towards Marbella. The ride is beautiful in the cool night air and when you arrive in Puerto Banus there are a good number of nice restaurants right along the water. It's the perfect spot for a romantic dinner, or as a special treat for your family.
Go on a food tour!
Take a few hours of your day and come along with us on a delicious adventure to learn all about Malaga's wonderful gastronomy!
Learn the art of a true malagueño-style tapas crawl when you join us on our Tapas Like a Local Tour. This exclusive evening experience will take you off the beaten path and into the tapas bars locals know and love most. Skip the tourist traps and learn what it truly means to eat like a local as you meet our friends who proudly carry on their families' culinary traditions!
[insert-products-horizontal product_ids=29]