You don't need to go to a gallery or museum to see some of Granada's best art!
That's because some of the most impressive masterpieces in the city decorate the outer walls of shops, hotels and more! Street art in Granada is as common as free tapas are. Talented artists have used the city as their canvas, transforming plain white walls into especially colorful murals and works of art. If you want to find the best street art in Granada, it's best to simply let yourself get lost. As a result, you never know what treasures you'll discover. However, this guide will serve as a starting point and provide context into the city's incredible works of art.
Photo Credit: @pepemartinguia on Instagram, Text Overlay: Devour Granada Food Tours
Realejo
Without a doubt, Granada's old Jewish quarter holds some of the city's greatest gems in terms of street art. The barrio is home to the city's most prolific artist: Raúl Ruiz, better known as "El Niño de las Pinturas" ("the kid with the paintings"). Now an internationally known, award-winning artist, Ruiz still remains true to his roots. His work can be found all over Realejo. It has become a reference for stunning street art in Granada. His website includes a map showing where to find each of his paintings, but here are a few of our favorites!
Colegio de Santo Domingo
One of the largest and brightest murals in Granada adorns the walls of the school Colegio Santo Domingo. The work is so enormous that Ruiz enlisted the help of some of his artist friends from as far away as Portugal to help complete it. Artists update the images regularly, so it's possible you'll never see exactly the same thing twice when you walk by this mural. You might get a glimpse of cartoon animals, pop culture icons, cherubic angels and more!
Address: Calle Vistillas de los Ángeles, 1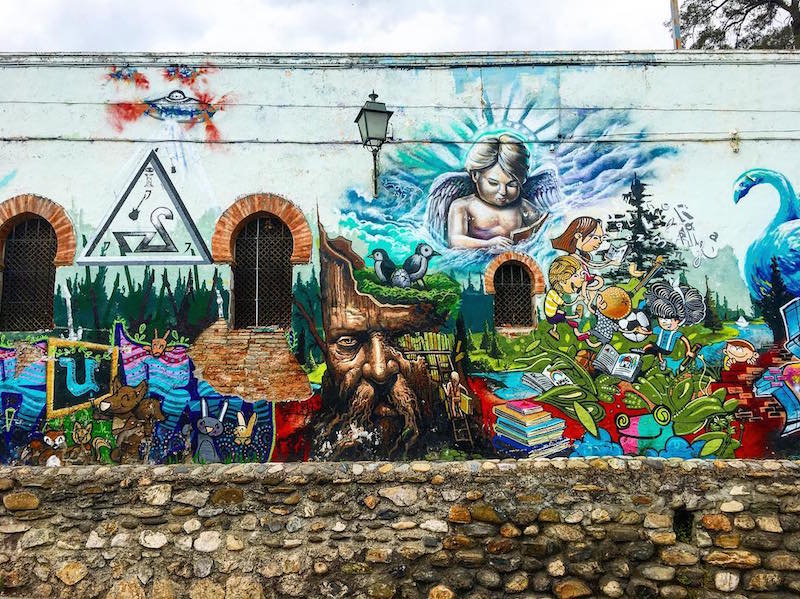 Plaza Joe Strummer & Cuesta Escoriaza
Music fans probably know Strummer from The Clash, but might not be aware that the rock icon was a huge admirer of Granada! The city named a small plaza after him in 2013. Then, Ruiz christened it with a spray-painted mural featuring Strummer himself. Head up the street Cuesta Escoriaza behind the plaza. There, you can admire more of Ruiz's work adorning the walls.
Calle Molinos, 44
One of Ruiz's most emblematic works adorns the lemon-colored walls of his former home. This mural includes dozens of hidden images, but several will immediately catch your eye. There's a wise owl, a woman in hijab, a pianist, and more. What other details can you find?
Hotel Molinos
Continue along the same street as the above-mentioned mural and you'll eventually come to a familiar sight: Rodin's The Thinker. Except this version, unlike the original bronze sculpture, is two-dimensional and spray-painted on the wall outside Granada's Hotel Molinos. As one of Ruiz's most popular works, the especially incredible attention to detail makes it seem like the giant mural was rendered by careful brushstrokes and not a spray can!
Address: Calle Molinos, 12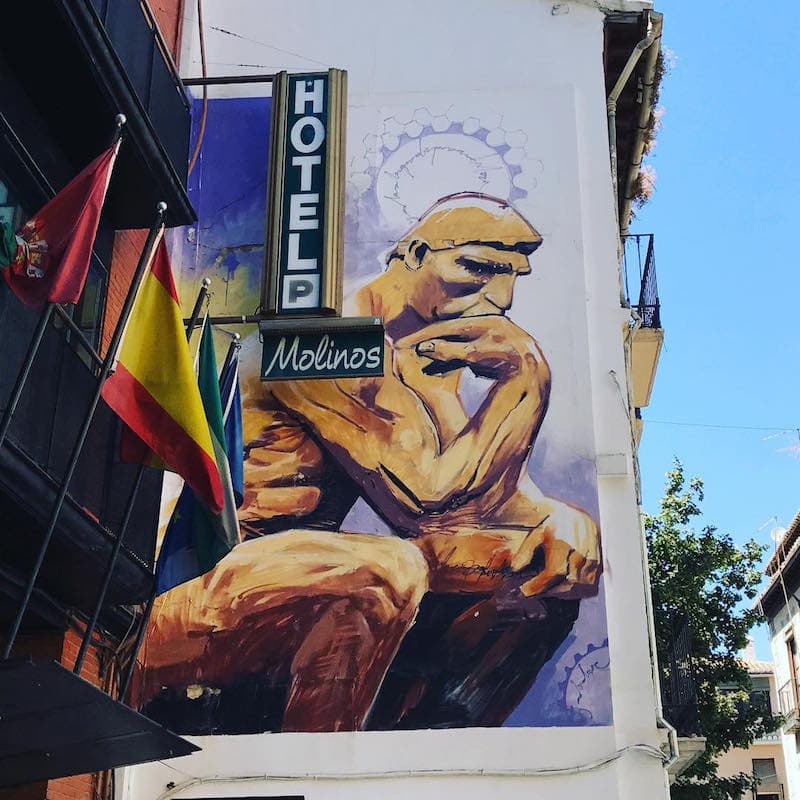 Albayzín
The idyllic whitewashed houses of the Albayzín may look like an artistic masterpiece themselves, but the neighborhood also holds some of the best street art in Granada! Unlike Realejo, there's no one artist who deserves most of the credit here. While different from Ruiz's characteristic style, the murals brightening up the streets here are painted by other talented local artists. The bursts of color and beautiful details make this iconic barrio a must-visit for graffiti fans as well.
After exploring Granada's modern backstreets, it's time to go back to the past! Join us for a trip back in time on our Tapas, Taverns & History Tour. Uncover the city's centuries-old secrets as you hop between tapas bars. Finally, you'll cap the whole evening off with an exquisite gourmet meal. Without a doubt, foodies and history buffs alike will love this experience!
[insert-products-horizontal product_ids=7]
Life is too short to speak one language and stay in one place. Three years ago, this philosophy took me from familiar Ohio to sunny southern Spain. Usually drinking tinto de verano, reading Lorca, or attempting to dance flamenco (not all at once). Follow my blog, Viatic Couture, for more.
Latest posts by Lindsey Zimmerman (see all)