This sherry spiked pecan pie recipe adds nutty oloroso sherry to the mix for an unforgettable depth of flavor. This is the perfect pecan pie recipe for Thanksgiving.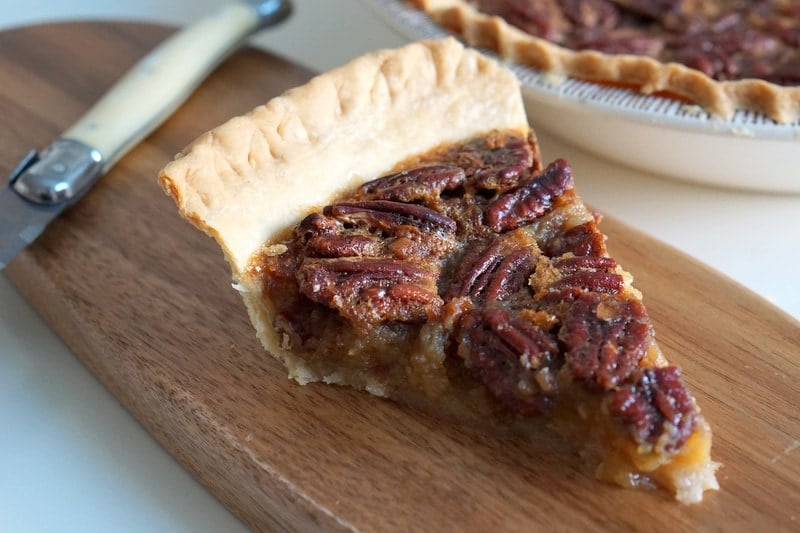 I know what you're thinking — wine in my pecan pie? But this is not just any wine here — this is oloroso sherry, a dry and complex sherry wine with hints of walnut and spice. In my opinion, it's the perfect alcohol to add to a pecan pie (with bourbon coming in close second), and I can't believe I never tried it before!
If you're looking for a new and creative pecan pie recipe, you absolutely must try this. It's quick and easy, and a true crowd pleaser at any holiday table. Make sure to serve it alongside the oloroso sherry you made it with — I highly recommend Lustau's Don Nuño oloroso.
See also: Spanish Inspired Thanksgiving Recipes
Sherry Spiked Pecan Pie Recipe
Sherry Spiked Pecan Pie Recipe
This delicious sherry spiked pecan pie recipe is a perfect addition to the Thanksgiving dessert table.
Ingredients
½ cup white sugar
½ cup soft brown sugar
3 tablespoons melted butter
½ cup light corn syrup
3 eggs, lightly beaten
2 tablespoons oloroso sherry
2 cups pecans, roughly chopped
1 pie crust (unbaked)
Instructions
Preheat the oven to 375°F (190°C)
Mix the sugars and melted butter together in a large bowl, then stir in the corn syrup, eggs, and sherry.
Place the pecans on top of the unbaked pie crust. If you want a decorative top, arrange them nicely and press them slightly into the dough. They'll rise when baking. I usually just pour them in (a messy pie is a delicious pie in my book!).
Pour the mixture over the pecans.
Bake for 10 minutes at 375° and then lower the heat to 350°F (175°C).
Bake for 30-45 minutes more -- until the pie is set in the center. It's important that it bakes enough, it should only be slightly jiggly when done. Check it midway through and cover the sides with aluminum foil if you worry they're getting too dark.
Remove the pie and cool completely before serving. If you are tempted to cut it earlier it will likely be a bit too liquidy in the center. Don't worry, once properly cooled it will have set.
More Delicious Dessert Recipes
What do you think? Will this sherry spiked pecan pie recipe make your holiday table this year? I certainly hope so!