I decided to round up some of my favorite family-friendly Spanish meals in the hope they'll be helpful to everyone trapped inside right now!
We're almost a week into lockdown here in Madrid and one thing is certain — mealtimes are a welcome distraction from the monotony. And while we are all stuck at home, people seem to be getting creative in the kitchen.
I wanted to share some of my favorite easy to make Spanish recipes. These perfect "quarantine cuisine" meals are healthy, easy to double, easy to freeze, and quick to prepare. They are perfect whether you're feeding a big family (you can double or even triple the recipes) or if you'd simply like to make extra to last a few days.
My Favorite Family-Friendly Spanish Meals
1. Spanish chicken with tomato sauce
This easy Spanish chicken dish can be prepared with ingredients most people have on hand. The slow-cooked chicken is perfect served with rice, potatoes, or even pasta. You really can't go wrong with this simple recipe.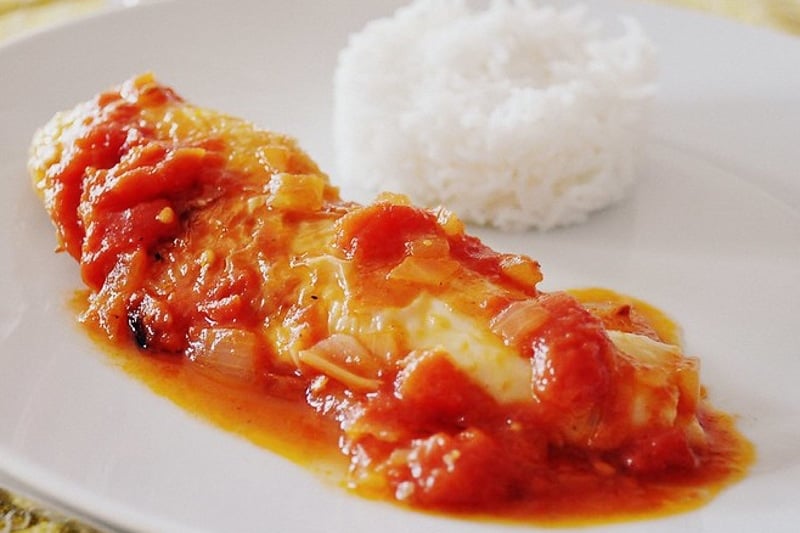 2. Meatballs in almond sauce
One of my favorite Spanish recipes to double and freeze is this one. These delicious meatballs are simmered in a saffron and almond sauce. If you can't find saffron – no worries – it's just as delicious without. These go quickly in my house, so definitely make extra!
Meatballs in almond sauce recipe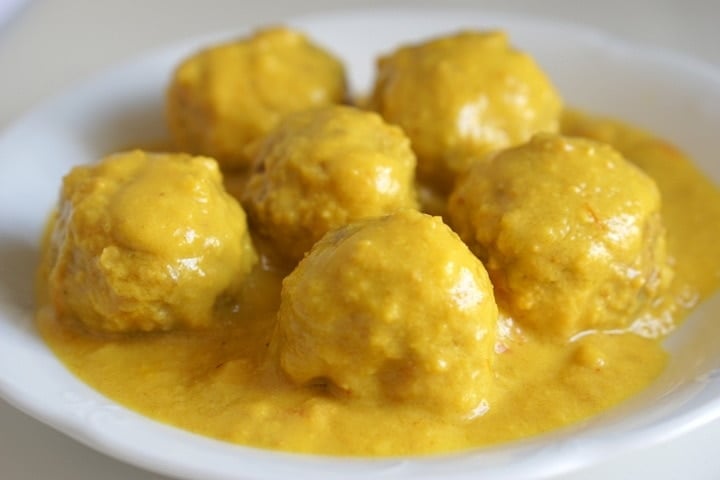 3. Spanish ratatouille (pisto)
One of my favorite Spanish comfort foods is pisto, Spain's answer to ratatouille. The slowly cooked vegetables develop a delicious flavor that can be enjoyed on their own or with a fried or poached egg. Pisto can be served for breakfast, lunch, or dinner — making it a great versatile meal for a hungry family.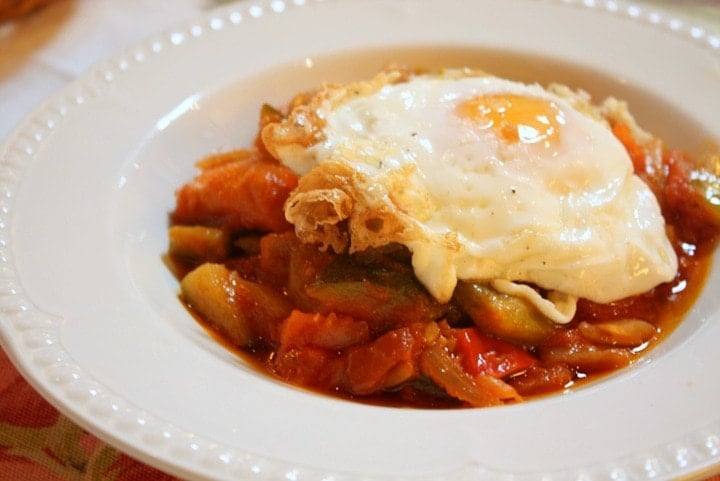 4. Baked tuna empanada
It's always a good idea to have a Spanish empanada on hand. These large Spanish pies are another food you can eat any time of day. One of the best Spanish empanada recipes uses high-quality canned tuna and roasted red peppers. It's easy to prepare (making the dough is best but you can also use store-bought) and delicious.
5. Spinach and chickpea stew
One of my all-time favorite Spanish meals is espinacas con garbanzos — a delicious chickpea and spinach stew that this recipe elevates with ground almonds. It's worth making a few batches of this one, it will disappear in no time!
Chickpea and spinach stew recipe
6. Potato croquettes
Croquettes are a family-friendly food no matter what ages you have in your household — but if you have young kids these potato croquettes are a guaranteed hit.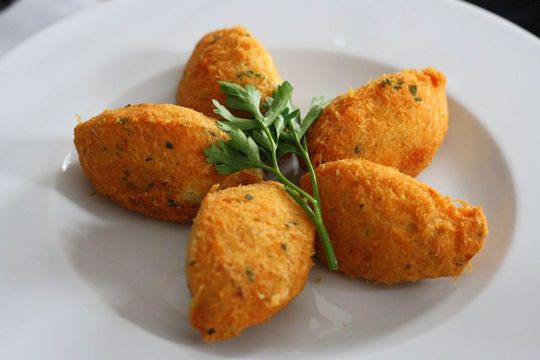 7. Stuffed eggplants
Spanish stuffed eggplant is one of my mother-in-law's go-to recipes. She makes hers with ground beef, but you can also substitute tuna, lentils, or keep yours strictly veggies. I love these because they freeze easily and reheat well. And anything topped with cheese is a winner in my book.
Spanish stuffed eggplant recipe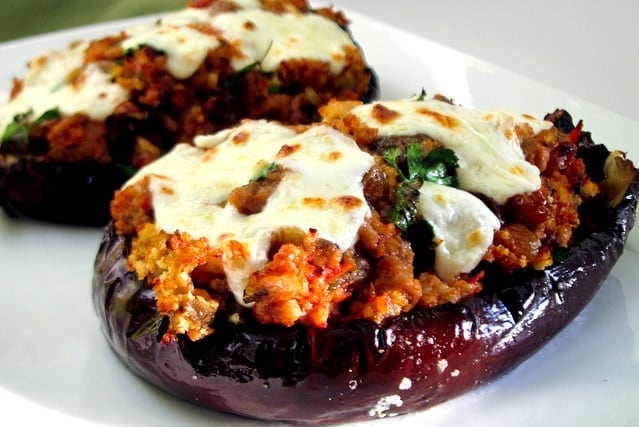 8. Spanish potato omelet (tortilla de patatas)
A Spanish tortilla is a staple of any family event. It's an easy dish to prepare, absolutely delicious, and another one you can eat for breakfast, lunch, dinner, or snack time! You can go for the classic version with potato and onion, or jazz yours up with chorizo, veggies, cheese… the possibilities are endless.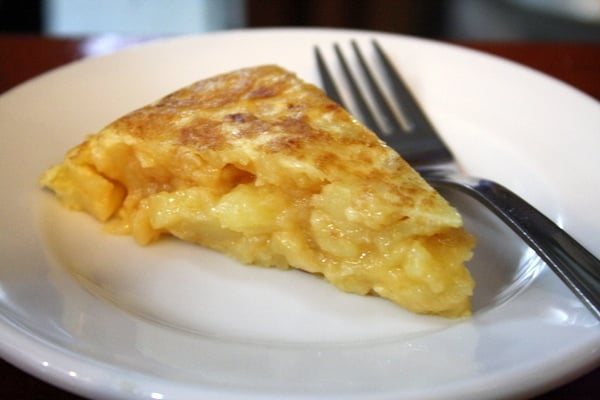 9. Spanish lentil stew
Another Spanish comfort food is lentetjas — a warm and hearty lentil stew. This is one of my favorite cold-weather dishes, especially when served with a crusty baguette. Lentil stew freezes really well, and tastes even better on day two — so make lots!
10. Stuffed peppers
This stuffed peppers recipe uses rice and cheese to make a hearty vegetarian meal. These are quick and easy to prepare and always a hit with the family.
Spanish stuffed peppers recipe
11. French fries with eggs and ham
Another Spanish classic is fried potatoes with eggs and either ham, chorizo, blood sausage… or simply more veggies. My mother-in-law makes this dish with fried potatoes, onions, peppers, garlic, and chorizo — and a fried egg on top. It's one of my favorite meals!
12. White bean and chorizo stew
Last but not least, this white bean and chorizo stew is a delicious dish any time of year. You can use any white beans you have on hand, and if you don't have chorizo your favorite sausage will do just fine. This stew comes together in only thirty minutes, making it a quick meal for any day of the week!
White bean and chorizo stew recipe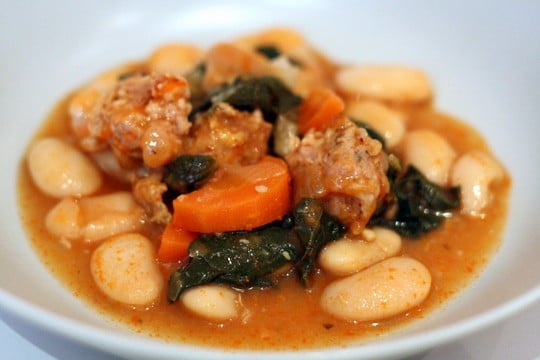 What are your favorite family-friendly meals? If you have any suggestions, please let me know in the comments! And if I'm missing any Spanish meals, let me know!