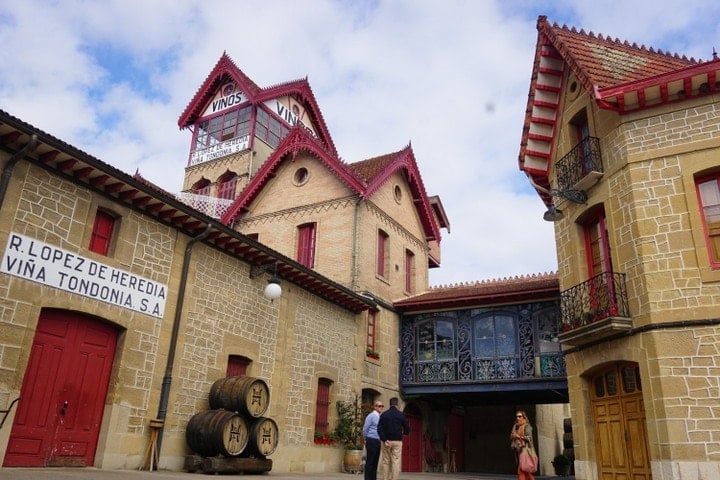 It took me seven years in Spain to finally explore the wineries of La Rioja— embarrassing, I know! The occasion was my 30th birthday, and my partners in crime were Alejandro and my mother, who had flown in to surprise me for the event. The irony? Neither are really into wine…
So began my weekend of accidental drunkenness, forced to finish off every bottle we ordered (tough life, I know!).
While La Rioja can be explored in only three days, I found myself wishing for more time. There are hundreds of bodegas in the region– we only visited about ten! Here are my personal tips for 3 days in La Rioja.
Where to Stay in La Rioja: Hotel Teatrisso
La Rioja is splattered with charming boutique hotels and luxury properties alike, and there are so many parts of the region to choose from. From the astounding Marqués de Riscal Hotel to the many country homes (casa rurales), there's something for everyone. We booked at a new-ish boutique property called Hotel Teatrisso, which was lovingly restored by owners Laura and José Ángel. The quirky rooms are all theater and arts themed, and the grounds and small village (Cuzcurrita del Río Tirón) was a perfect place to disconnect. Breakfast was also fantastic– filled with homemade pastries, cakes, and Spanish omelets.
What we did in La Rioja
We began our stay with a wine tour with Taste Rioja, where owner Jenny introduced us to the history of the region and took us on a tour of three different bodegas. When I heard we were starting at Campo Viejo, one of Spain's largest bodegas, I felt a pang of disappointment– but I was totally impressed by the excellent tour of the bodega and its incredible barrel room, home to 70,000 barrels.
Later in the day, we visited the medium-sized Baigorri where Jenny herself used to work. Since the harvest was in full effect, we watched the wine being made before our very eyes and then had a gourmet lunch on site.
We finished with a visit to La Guardia, located in a part of La Rioja called Rioja Alavesa that is part of the Basque Country. This tiny medieval walled town is home to countless former bodegas (wine cellars), all connected by underground caves. We visited one of the remaining bodegas (Bodegas Carlos San Pedro Perez de Vinaspre) and spent some time in the caves– quite the experience!
When Jenny heard I'd always wanted to see the Ysios bodega (I love the architecture) she made a special stop just for me! We didn't take a tour there, but did have a look around the property and took plenty of great photos. Well worth a quick stop in my opinion!
Food in La Rioja
The menu at every restaurant we visited in La Rioja was identical– lamb chops, artichokes, roasted peppers… But luckily the restaurant near Hotel Teatrisso, Asador Aker, was delicious. The family who owned it was also lovely– get the lamb chops, they're some of the best I ever had!
Haro
Next time I visit La Rioja, I would love to stay in Haro. Home to seemingly countless bodegas, all within walking distance of each other– I don't know how more people don't go here! It is seriously a wine lover's dream come true! We visited the tasting rooms at Bodegas Muga, Bodegas Roda, and Bodegas R. López de Heredia Viña Tondonia, each was fantastic in its own way.
Vivanco Wine Museum
On our last day, we spent the morning at the formidable Vivanco Wine Museum. An incredible property and building, this museum is known as one of the best wine museums in the world and I personally loved it.
Boasting four floors, one of my favorite exhibitions was about the art of barrel making. This is a museum you could spend HOURS in– so plan accordingly!
Afterward, we looked around the adjoining village of Briones and at lunch at Los Cuatro Arcos. Then it was off to Madrid, the car heavy with wine! While 3 days in La Rioja was amazing– we're already craving another trip!
Have you been to La Rioja? What should I put on my list for next time?