The process of planning an outstanding food tour is intense and, as you would expect, it involves tasting obscene amounts of food! While we were busy planning our new Barcelona food tours, we spent endless hours roaming the Gracia neighborhood, street-by-street, in search of any undiscovered treasures (and we found a few!). But despite how delicious some of what we tried was, it just didn't fit on our tours— it was too heavy, too light, too sweet, to exotic, or the business has odd hours, was too small/too big, too impersonal… you get the idea.
We ended up planning a fantastic food tour in Barcelona, highlighting the off-the-beaten-path Gracia neighborhood, a part of town that deserves to be visited and learned about.
But what about all of those runners-up?
See Also: An insider's guide on where to stay in Barcelona
5 Runners-Up for our Barcelona Food Tour
1. Buñuelos de Bacalao at La Xula Tapería
Salt cod fritters are a staple of Barcelona tapas restaurants, but we didn't come across any better than those at the cozy La Xula Tapería. These are big, hearty fritters, chock full of salt cod and surrounded by a creamy béchamel sauce. One may not be enough…
2. Patatas Bravas at Vermutería Lou
The Gracia neighborhood is filled with places claiming the best patatas bravas in town, and I was actually surprised to see how many places featured these Madrid-invented potatoes (or so the Madrileños say…). But while here in Madrid the best bars do a slightly spicy bravas sauce, the norm in Barcelona is half bravas and half alioli. The ones at Vermutería Lou stood out for their kick– Spaniards might need extra water!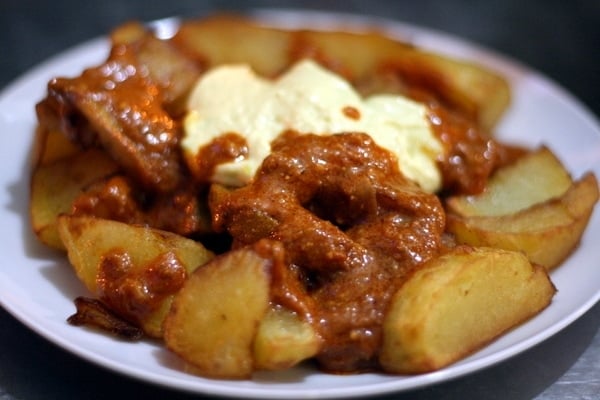 3. Greek Yogurt Donuts at Lukumas
We'd heard that Lukumas made some of the best donuts in Barcelona, which makes sense since their founder is a second generation donut maker from Greece! We would have loved to put these on our tours, but they just didn't quite fit into the route's path, and also strayed a little from our highlights of Catalan cuisine theme.
4. Almond croissant from Forn Baluard
We'd visited the flagship location for the Baluard bakery in La Barceloneta and fell in love with the fresh baked bread and pastries. When we heard there was a new location in the Praktik Bakery Hotel (if that doesn't sound like a dream I don't know what does!) we knew we had to check it out for the Gracia tour. The hotel itself is right outside of the Gracia neighborhood and very close to our meeting place. But after plenty of taste tests here, logistics just wouldn't allow what seemed like a match made in heaven. But we still advice you to try a buttery almond croissant, stuffed with sweet Spanish marzipan. You'll be hooked!
5. Vermouth and Canned Seafood at Casa Mariol
While our visit was focused on planning our tour in the Gracia neighborhood, we sometimes ventured out a bit further. Casa Mariol is a delicious Barcelona vermouth bar, well worth a visit after visiting the nearby Sagrada Familia. Barcelona is filled with some amazing vermouth bars (we visit one that is over 100 years old on our tour!) and Casa Mariol is a modern example of this Barcelona foodie destination. We recommend their house vermouth and some of their canned seafood (their mussels were delicious). Cheers!
And that's a glimpse at five almost-famous Barcelona bites. Do you have any others to nominate?
Book our Barcelona food tour, the Gracia Neighborhood Food Tour, for an insider's peek at one of the city's most interesting neighborhoods! Get off the beaten path with your local guide and learn about the local shops, restaurants and markets that few tourists ever discover. By booking a tour you'll be supporting these small businesses, many of which are struggling to survive in a very chain-friendly economy. Have a question about our Barcelona food tour? Email me!