Ni Hao Chinese Restaurant in Madrid
Chinese food in Madrid is almost always a terrible choice. I rarely order it, but every time a craving gets the best of me I regret it.  And while I did enjoy my meal at the famed parking garage Chinese restaurant in Plaza de España, the lack of ambience and space made certain I wouldn't be back often. It took a friend's invitation to have lunch with her at Ni Hao to remember to give Chinese food in Madrid another chance.
I realized that I had actually been to Ni Hao prior to last week's lunch. It was actually one of the first restaurants I tried in Madrid, as my blogger friend Lauren had invited us. When I went with Lauren and her friends I remember walking in the door of the very nondescript restaurant and being relieved to see a room full of Asian customers. If anything, I thought, we were going to eat some authentic Chinese food. That night we opted for their hot pot, a cauldron of boiling broth in which we would poach meat, seafood and vegetables. It was delicious, but a far cry from the Chinese food I was used to eating.
On my last visit to Ni Hao we ordered the things that sounded familiar: rice noodles, pork dumplings, Chinese eggplant, and Szechuan chicken. It wasn't the American Chinese Food we'd grown up on– it was far better.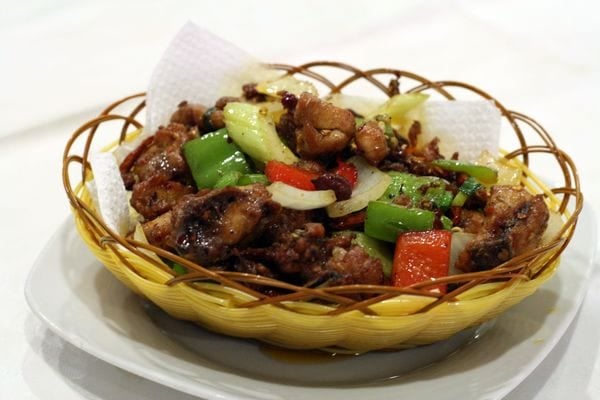 I can't say that Ni Hao makes the most authentic Chinese food in Madrid, mainly because I haven't been lucky enough to visit China yet. But I'll bet by seeing its happy Asian customers that it comes pretty close!
Apart from the delicious food, the ambience and service are passable. The waiters have spoken decent Spanish every time I've been there, and even helped us choose a chicken dish the last time I went. The restaurant is simple (not at all romantic) but clean, and the value is amazing. We've never spent more than €25 for two people (including beverages).
If you are looking for some authentic Chinese food in Madrid at great prices, I strongly suggest you go downtown and try Ni Hao– and if you order something really good please let me know in the comments! I am always looking to try new dishes there but the menu isn't exactly well explained!
Ni Hao Chinese Restaurant
Calle de Silva, 20 Madrid
Metro: Callao
[mappress mapid="5″]
Hot Pot Picture by: naotakem