Visiting Granada is an amazing experience, mainly because of the incredible blend of Spanish and Moorish culture that is still so palpable even after more than 500 years. One of the best ways to experience Granada's past is through its food. Almonds, eggplants, honey, puff pastry (hojaldre), and olives are only a handful of examples of the gastronomic influence the Moors had on Andalusia.
Nowadays, Granada is home to a sizable Moroccan population, and the streets leading up to the picuresque Albaicin are filled with kebab shops and tea houses. You almost feel as if you are somewhere in Marrakesh. But finding good Moroccan food in Granada is not as easy as it seems. In fact, on a trip to Granada in 2010, we ate at one of the "nicer" Moroccan restaurants and eight of the ten girls I traveled with (including myself) ended up in the hospital over the next week for severe food poisoning.
With that dark memory in mind, on my recent visit with my sister and brother-in-law, Moroccan food was not necessarily on the menu. I planned on eating a kebab (or two) but didn't feel the need to repeat my near death experience. Also, we quickly realized that things had changed. Upon arriving to the city my sister and I nearly ran over to a sweet shop selling dulces Árabes, flakey honeyed sweets including baklava and other delicious bites. We'd bought sweets here countless times when I was studying abroad in Granada, and each time was a crunchy, delicious explosion.
Not any longer. Mushy, stale, and possibly moldy– these were not the dulces Árabes of my college years. We were saddened to say the least.
But as we wandered from touristy shop to shop, looking for gifts for my sisters kids, we decided to have a tea. We were in front of a simple tea house, which was empty, but we were hot and tired and decided to sit down.
We ordered tea and it came as we remembered, burning hot and sweet as can be. But my sister wasn't giving up hope for her pastry, so she ordered one of their honeyed sweets. She took a bite and her eyes lit up– she'd found what she was looking for.
I immediately grabbed a bite, and understood her expression. It was perfect. Fresh, crisp, and perfectly covered in sweet honey, these were the dulces Árabes I remembered. The quality of their sweets coupled with the fact that we'd been joined in the restaurant by two Moroccan women who were ordering food made me realize we might have found a so called "hidden gem" of Moroccan restaurants in Granada.
Despite not being hungry, we had to put my theory to the test. We ordered a pastela, a flaky pie stuffed with chicken, almonds, and cinnamon. It is one of my favorite snacks, so I was hoping it was good.
It was delicious.
We couldn't possibly eat anymore at the moment, so we planned to come back the next day– it's not every day that you discover the best Moroccan restaurant in Granada on a whim!
Lunch at Tagine Elvira
To drink we ordered one of my favorite non-alcoholic beverages in the world– mint lemonade. I don't know why this delicious drink can't spread its wings and become commonplace in restaurants all around Spain!
We started with their hummus, which was very good. It was gone within five minutes!
Next we ordered their cous cous with chicken and caramelized onions– so delicious. I almost ordered another (but held back). We also tried a tagine, which was equally good. Each of these dishes cost about 6€ by the way– this place is a steal.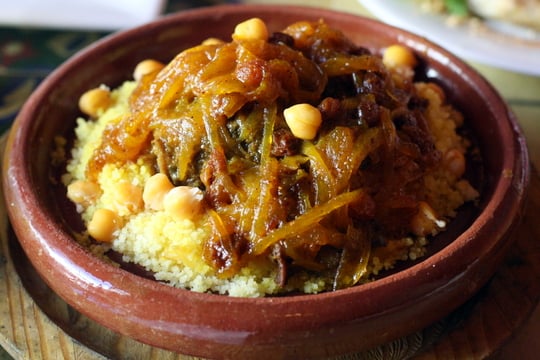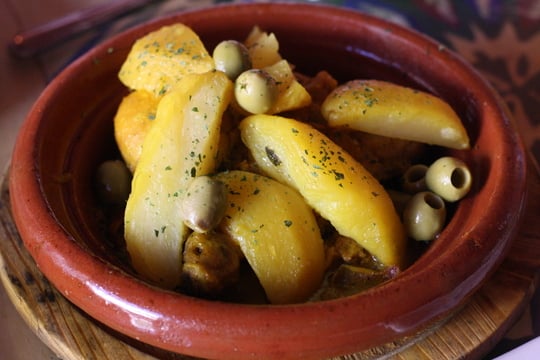 Of course we had to save room for dessert. More pastries and tea please!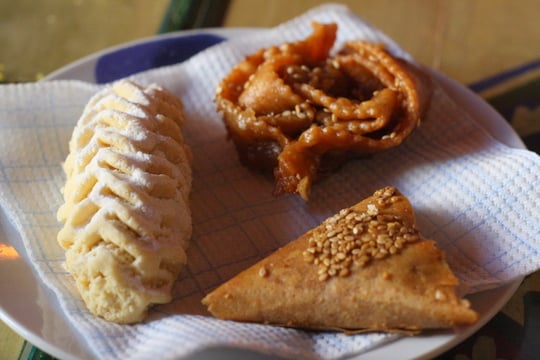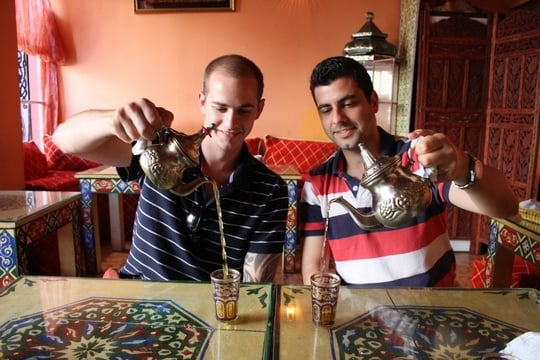 Tagine Elvira is a small and simple place– no glamor, no reservations. It's owned by a husband and wife team who cook their small menu in a tiny kitchen. If you are picky about ambiance, don't come here. But if you love great, homemade food at a very low price (around 12€ per person), please visit!
Devour Granada Food Tours: You can make a stop at Tagine Elvira to taste one of their most emblematic dishes on the Hidden Granada Food & Tapas Adventure! As one of six or seven stops on tour, you'll fill your belly as you find yourself going off the beaten path and discovering my favorite spots in the city! Check us out 🙂
Tagine Elvira
Calle Elvira