I have good news for all my fellow pizza and pasta loving people in Madrid…
I have discovered a hidden gem! Ti Amo Restaurante & Pizzería is a fantastic new Italian restaurant in Madrid that serves amazing homemade pasta, crispy brick-oven pizza, and doesn't charge you half your monthly salary for a dinner for two.
As someone who is constantly scouring Tripadvisor and Yelp to find cheap eats in Madrid, I'm excited to tell you that I think I may have stumbled upon one of the best restaurants in Madrid without even trying. Up until now all of the Italian restaurants in Madrid that I have tried have been either:
a) Overpriced and bad 🙁
b) Overpriced and good :/
This is the first time I have found pizza in Madrid that is both good and reasonably priced– if not downright cheap!
Alejandro says I'm picky when it comes to pizza, but I don't agree. As the granddaughter of Italian immigrants, Italian food has been a major part of my life for as long as I can remember. Here in Spain I often find myself homesick on Saturday nights, as I can picture my family enjoying some of the best Italian-American food around at one of many delicious local restaurants.
But I no longer have a reason to be jealous, as the best pizza in Madrid is only a metro ride away. 
I discovered Ti Amo Pizzería back in February, right when they were opening. Only a few doors down from the school I was working at in the Barrio del Pilar neighborhood, I was enticed one day when I saw this new restaurant with an open kitchen and an Italian looking man rolling pizza dough. So I ventured inside and ordered a coffee. Spain is known for its sub-par coffee and its use of torrefacto (grounds from beans glazed with sugar), so when Salvatore poured me one of the best lattes I have had in years, I was hooked.
Over the next few weeks, as the restaurant put itself together, I would spend my 30-minute breaks tweeting over a hot latte. One day, after having skipped breakfast, I inquired if they could make me a toast with olive oil and tomato. A few minutes later I tried some of Salvatore's incredible homemade bread with olive oil and crushed tomato. It was heaven and I realized that I really had stumbled upon a gem.
A week later I returned with Alejandro to test it out for lunch, crossing my fingers that my instincts were correct and that I had, in fact, stumbled upon one of the best restaurants in Madrid. I'm happy to say that they were completely on point. When we were greeted with a bit of parmesan cheese to start the meal, I knew we were in for a treat. We started by sharing the Ravioli Truffa  (12,90€) and it was outstanding– homemade pasta with a sharp truffle flavor, a delicious filling, and great sauce. I was smiling.
Next, we tried the pizza. We ordered the Don Corleone (10,90€): Asiago cheese, prosciutto, and arugula. Used to the terrible pizza in Spain that one finds almost everywhere else, I was amazed with the thin crust, brick-oven baked pizza that we were delivered. Why wasn't this place packed?!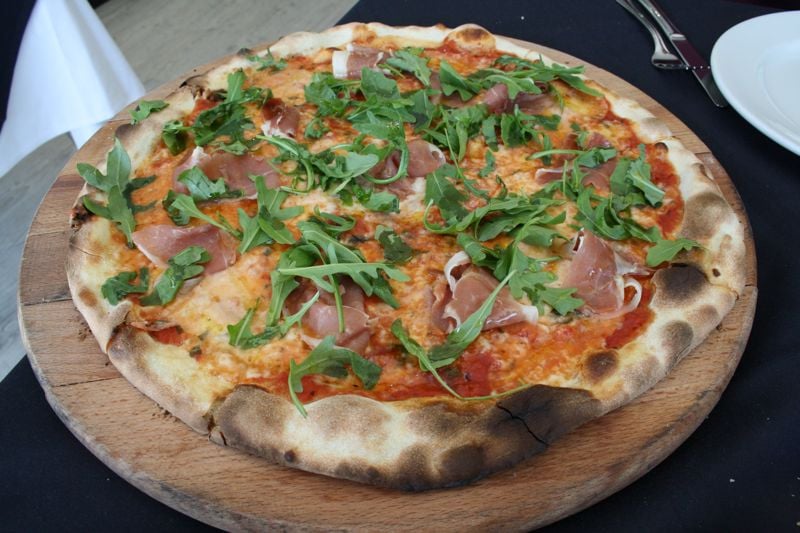 We finished our meal with a cappuccino and a cannoli. The dessert came from the company Bindi and wasn't anything like the delicious cannolis I tried in Sicily (or even what I can get in Boston) but it was good enough and the coffee was delicious as usual.
Finally, we had the pleasure of speaking with the chef, Salvatore. Both he and his business partner Augustino are from Sardinia, one of the islands of the coast of Italy. Salvatore was trained there before coming to Spain and honing his skills at various Italian restaurants in Madrid. When I asked him why set up shop in Barrio del Pilar as opposed to a more central location, he explained that he had been living in the neighborhood for a long time and saw the need for a nice, yet accessible, good Italian restaurant.
Since opening in February, the five person staff at Ti Amo Restaurante is still putting the final touches on things, and they haven't yet opened their terrace or even made a website. But despite a soft opening, their food is fantastic– no improvement necessary!
So the next time you are wondering where to eat in Madrid I highly suggest you jump on the metro and get off at Barrio del Pilar. Only a 5 minute walk from the metro stop you will find the best pizza in Madrid (perhaps in all of Spain!) and a nice, inexpensive alternative to overpriced Italian restaurants in Madrid's touristy center.
Buon Appetito!