"The best Mexican restaurant in Madrid!"
I saw those words and I had to investigate. I discovered an offer I couldn't pass up at Cantina Moctezuma: For only 15€ per person one could enjoy a lunch or dinner in "the best Mexican restaurant in Madrid" with more than 14€ worth of extras per person! 
This was the latest deal on the popular Spanish website Cucharete. If you live in Madrid, speak Spanish, and don't use Cucharete for restaurant recommendations, check them out ASAP! Although long winded at times, they go into every last detail of their meal, show many photos, and provide the establishments with a rating. From what I've tried so far, their reviews have been pretty accurate. The site also seems to partner with restaurants from time to time to bring their readers special deals (which you don't need to buy in advance like Groupons etc.).
When I read "the best Mexican restaurant in Madrid" I was intrigued. I'd only tried two Mexican restaurants in Madrid prior, but both were extremely mediocre. According to Cucharete, Cantina Moctezuma was about to change my mind about Mexican food in Madrid.
So what is this Cucharete deal?
Well, until March 21st anyone who makes a reservation and mentions Cucharete is eligible for the following offer, as long as they spend at least 15€ per person on food and drink:
– 2 Welcome Margaritas for free (worth 4,50€ each)
– Modelo draft beers at 1€ instead of 3€
– Cocktails at nearby Inuit Kafei for free (worth 7,60€ each!)
It sounded like a great deal so Ale and I met for lunch to try it out. The restaurant is located only a short walk from either Sol or Tirso de Molina on a small side street. We went Thursday afternoon at 2:00 and it was completely empty so we had our choice of tables. The decor was cute and our waiter was really nice, serving us delicious, crispy tortilla chips with two different salsas. The welcome margaritas were excellent– the perfect amount of tangy citrus and not too sweet, with a spicy rim (my favorite!). I ended up drinking both, while Ale took advantage of the 1€ beers, also refreshing in his opinion!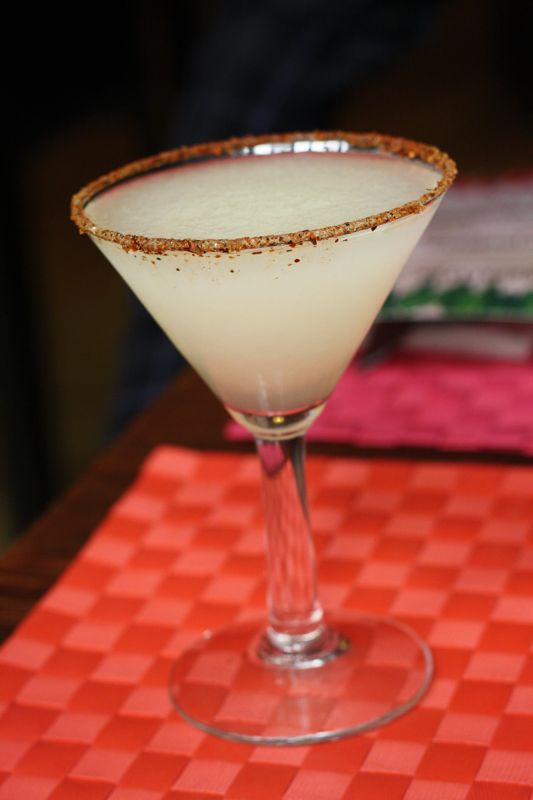 The menu was varied with dishes from all over Mexico represented.  We would have liked to have tried everything, but ordered only two main dishes, as we were saving room for dessert. I knew before coming that I wanted to try the Chile en Nogada— a typical plate I've been fantasizing about ever since reading Like Water for Chocolate (one of my favorite books). Ale ordered the Huarache de Cochinita Pibil, which is something we had tried a few times while in Mexico so we were interested in how it would compare.
When our plates came out the first thing that caught my attention was their size. I think that they were fairly small for their price (between 12 and 14 euros each). I was fairly certain that I might still be hungry after eating my lone stuffed chile!
Both dishes were very good. Mine was the unique mix of sweet and savory that I had expected, although there was too little stuffed chile pepper and too much cream sauce in my opinion! I wasn't full after eating it. Ale's huarache was not at all like those we had tried in Mexico, but it was pretty good anyway. Again, he also could have eaten more.
The hot sauces they brought out for Ale were amazing, however! There was a smoky flavored chile and olive oil sauce that (while perhaps not very Mexican) was delicious. We also tried a super spicy habanero sauce. I inquired about where to buy them and they offered to wrap some up for us to take home (for 3,50€!) Despite the steep price for a tiny container of hot sauce, I accepted (they were that good!).
After lunch we wanted to have dessert and it was between the tres leches cake and the brownie. Cucharete had said that the brownie was one of the best he'd tried in Madrid and I was in a chocolate mood so I decided to try it. It was good– but I think I've had better at just about any chain restaurant in the US :(. Next time we'll attempt the tres leches cake for sure!
Another star of our experience was the café de olla. It was black coffee infused with spices like cinnamon and clove and sweetened with brown sugar. It was a dessert in itself and a perfect way to end our meal.
Cucharete lists Cantina Moctezuma as a fairly inexpensive choice, but I'd have to disagree. We paid 38,00€ for the two entrees, one hot sauce to go, the brownie, and the two coffees. Given that the Margaritas were free it was a great deal, but at full price I'm not so sure… It would definitely be better to have gone with more people to have been able to order and share more things!
But if you take advantage of Cucharete's deal and go before March 21st it is an amazing offer. Not only do you get everything we've mentioned, but you can also stop by Kafei Inuit after lunch or dinner for two complimentary cocktails. We each ordered a caipirinha, which were mediocre at best, but their charming terrace in the middle of a narrow, old-fashioned street made it a refreshing and relaxing stop.
Would I return without the deal?
Probably. At full price it's a bit expensive for me, but I'd definitely like to come back with a group and try more things. I'd also come back for the margaritas, hot sauce, and coffee alone!
So thank you Cucharete for the great write up, suggestions, and deal! I encourage everyone in Madrid to make a reservation at Cantina Moctezuma today!
 Cantina Moctezuma
Open: Tuesday through Sunday from  1:00-4:00 and 8:00-12:00 (Closed Mondays and Sunday nights)
Calle Conde, 1 (on the corner of Calle Cordón)
Metro: Sol, Tirso de Molina, La Latina
Phone: 91 362 47 14
Read more about Chiles en Nogada at one of my favorite Mexican Food blogs: La Mija Chronicles