Luxury hostel may have once sounded like an oxymoron, but today it's becoming a common term as the luxury hostel sector is growing and thriving. Ale and I decided to check out one of Spain's best reviewed luxury hostels, the gorgeous Casa Gracia in Barcelona.
There are so many people who are still confused about the meaning of the word hostel– and with good reason! Hostels vary enormously in what they offer guests, and research is key when choosing the right one for your personal travel style and expectations.
I met Kash from BudgetTraveller.org at a blogging event and found out that he is the author of the Luxury Hostels of Europe ebook, a project that aims to highlight the luxury hostel options in different European cities. One of his personal recommendations in Spain was Casa Gracia— he assured me it was a great place to stay.
Luxury hostels you ask?
Yup! A place that has all of the amenities of a hostel (common spaces, kitchen facilities, optional group activities, a bar, etc.) but also has the option to go a bit more lux than the typical bunk bed rooms with shared bathrooms (which are also on offer for those looking for that experience/price).
Casa Gracia: A Modernist Hostel
Casa Gracia is located on the gorgeous Passeig de Gracia, one of the most expensive streets in Spain. It's neighbors with the famous Casa Fuster Hotel (where Woody Allen hangs out and plays jazz), and doors away from brands like Gucci and Valentino. It's definitely in the right place to brand itself as luxurious!
It's taken over a beautiful modernist building (six floors!) that's been changed as little as possible, keeping its charms like high ceilings and pretty crown molding. This was not the hostel experience I remembered from my college years!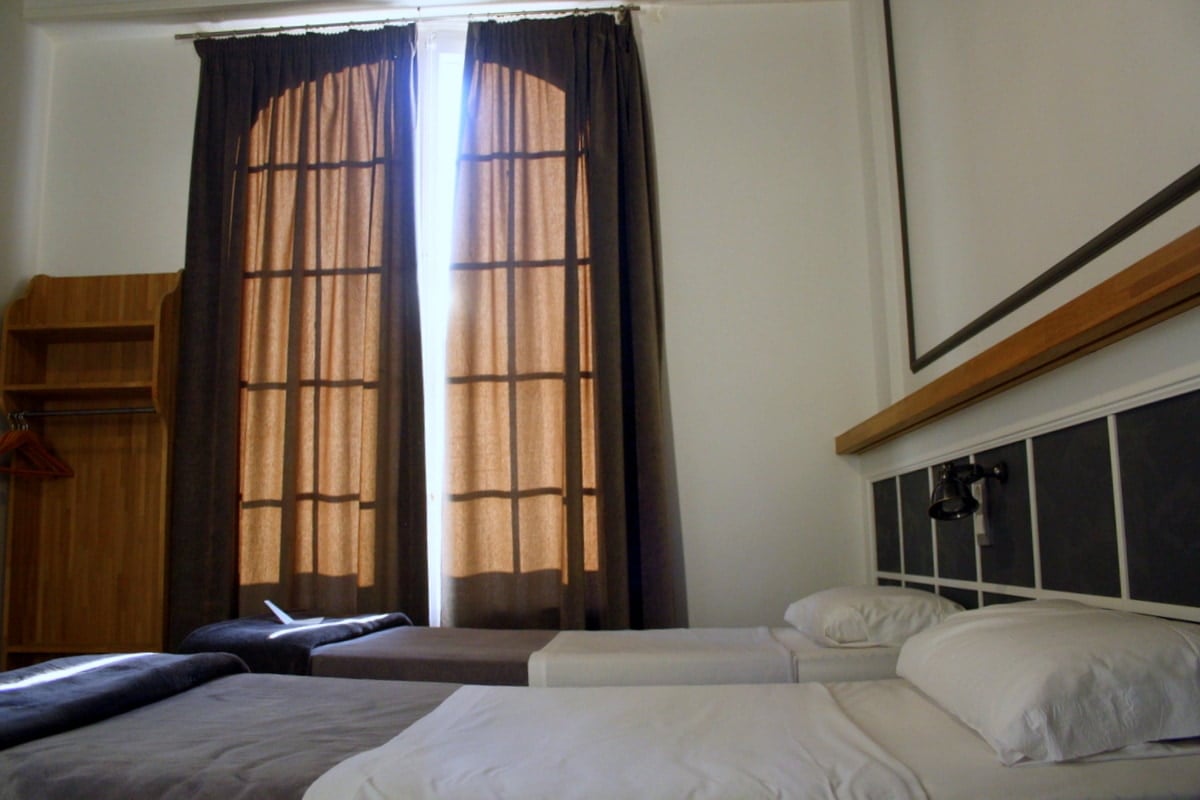 Upon checking in there was a booking snafu– no record of our reservation! But Angela and Elena at reception were total sweethearts and quick to solve the problem, and soon checked us in to a large three person private room. We were happy enough with the 6th floor views, when Angela came running back up the six flights of stairs (don't worry, there's an elevator too!) to offer us an even nicer room.
We accepted, and ended up in a gorgeous double room with great views of the Passeig de Gracia and a large bathroom with a spa bathtub. The room was better than many hotels I've visited, and the word hostel never would have crossed my mind.
Throughout our stay the staff was lovely, and as I overheard their interactions with other guests I realized how dedicated the Casa Gracia team is to customer service. As a hospitality professional myself I really found their attitude inspiring, and think that their core values that are proudly displayed on the walls are definitely being upheld.
Rooms and Amenities
We had the chance to see a private triple and private double room, and both were spacious and comfortable spaces. The terraces were lovely, and the bathrooms were stocked with toiletries and a hairdryer.
As guests we also had full access to the common areas and kitchen, also lovely spaces and very helpful when we wanted an evening in with some wine and cheese!
Location
The location is great, on the luxurious Passeig de Gracia, yet also right at the entrance into the Gracia neighborhood, one of the city's most authentic and fun areas. Far off the beaten track, Gracia is where we offer our Devour Barcelona food tours, and with good reason– the neighborhood is authentic as it gets, filled with local, family run businesses where the owners are always present.
Gracia offers great food (from tiny hole-in-the-wall restaurants to some of the top ranking in Barcelona on Tripadvisor), and plenty to see and do. The nightlife if pretty famous too! Apart from Gracia, you're near plenty of Gaudi's work, amazing shopping and close to bus and metros to get down to the old town (or you could enjoy the 20 minute walk).
Food tip: We tried a fantastic and super authentic Japanese restaurant on this trip called Wasabi– amazing spicy tuna rolls and only a short walk from Casa Gracia!
Our Stay
Our stay was short but sweet, made even sweeter by the surprise cava and chocolate they left us our last night.  I decided we will definitely check out private rooms in hostels for future trips, as they offer a fantastic way to have access to a kitchen and common areas, without having to rent a whole apartment.
Casa Gracia was a place we felt welcome from the start, true to their motto "your casa away from home" and we would recommend it to anyone wanting the amenities and atmosphere of a hostel with the luxury of a nice hotel room.
Have you ever stayed in a luxury hostel?
Casa Gracia
Passeig de Gracia, 116
[mappress mapid="57″]
 Looking for more tips on where to stay in Barcelona? Check out my insider's guide!