Christmas traditions can be hard to keep when living far away from friends and family. Sure, you can watch your family decorate the tree and bake cookies through Skype, but it'll never be the same (and will probably only make you feel worse and really jealous of the cookies…). That's why I try my best to create new traditions here in Spain. Whether it's something simple like going to the park on Sundays, or something more specific, like hosting a Christmas cookie swap in December, celebrating new traditions can definitely keep the holiday blues at bay.
Last year Ale and I started a Christmas tradition that I love, taking a long walk around the city in attempt to see most of Madrid's Christmas lights. Last year we still barely knew our way around without a map, but we somehow wound up taking a wonderful route. You can find it here: Christmas Lights in Madrid 2011.
This year I am proud to say that no maps were needed, and we actually ended up making our route into a mini food tour– fitting based on this year's business venture! We started our walk from our neighborhood near Las Ventas. If you are going to do the same, I warn you, we walked a lot! But it was refreshing to be outdoors, bundled up against the cold. And if it's too much, you can always try last year's route.
The 2012 Christmas lights in Madrid were actually really similar to last year's lights. This was expected, as Spain is in no position to be spending money on new lights. Nevertheless, the lights looked great and some streets had either switched lights with another, or used lights from other years (not only 2011).
Despite the budget restrictions the city looks great, and I encourage anyone passing through to be sure to take a look. The lights turn on around 6:00 p.m. and will be up until January 6th.
Spanish Sabores Walking (& Eating) Tour
2012 Christmas Lights in Madrid
We started our walk at Las Ventas, the Plaza de Toros (bull ring) in Madrid. The building is incredibly beautiful, despite your feelings about what goes on inside. I'd never walked around the entire ring at night, so it was a nice start to the tour.
As we made our way down Calle Alcalá, we couldn't resist stopping for some of Madrid's winter street food on the way. We shared some roasted chestnuts, a chocolate filled churro, and stopped at a bakery for some homemade marzipan– one of the season's best Christmas sweets.
We arrived to Barrio Salamanca and began to weave our way through the streets. While we missed some of the displays here– we were getting tired– we saw the lights on Calle Goya and Calle Serrano, as well as some others I don't remember at the moment!
Finally, we arrive at La Puerta de Alcalá, getting closer to the center. The gate was decorated the same way as last year, classically beautiful.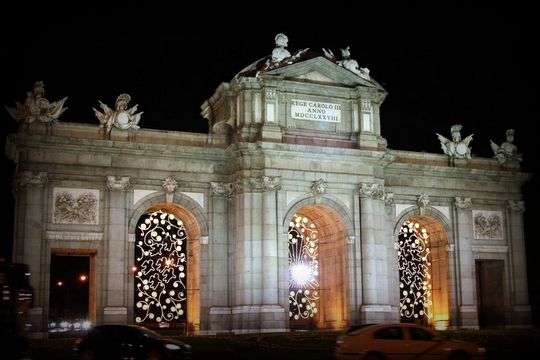 We looped onto Avenida de la Castellana for a moment, as it doesn't have very impressive lights but they are still worth a quick look.
Finally, we reached the beautiful Cibeles plaza. The fountain was illuminated in a red light, as was the old palace behind it.
We continued walking down Calle Alcalá, determined to make it to Sol before freezing. On the way we admired the lights (which hadn't changed from last year). Nonetheless, the impressive architecture of the old Spanish banks is always fun to see.
Finally, we made it to La Puerta del Sol, where we stopped in La Mallorquina for a hot empanada and a look at the Christmas sweets.
Once we'd warmed up a bit, we headed out to photograph the plaza, which is home to a fun bright green Christmas tree.
After strolling around Sol, we needed to make a stop at the nearby Plaza Mayor Christmas market. While we doubted we would be buying anything, it is a must stop place when admiring Madrid's Christmas spirit.
Lastly, we made our way to Gran Vía, where we caught the metro home. Our last display was Vodafone's Christmas tree adorning the street, which isn't my favorite but is certainly festive.
What do you think, does Madrid turn on a nice lights display? Where have you seen your favorite Christmas lights?