The Great UHT Milk Debate and Finding Other Options in Spain
I can still remember going to the supermarket for the first time while studying abroad in Granada, Spain. I was looking for the milk, and the store employee was pointing at some unrefrigerated, cardboard boxes. Eventually I gave up– my Spanish was not yet at the level of understanding that this woman was, in fact, showing me milk, and I settled on cheese as my dose of dairy.
One of the strangest things for many expats when they move to Spain is the UHT (Ultra High Temperature) Milk. It comes in a cardboard box (called a brick) and has a shelf life of six to nine months. 
The problem with it? Well, basically UHT milk is dead milk — you can leave it out and bacteria hardly forms. Calcium and other nutrients have been cooked away. It also tastes funny, almost like it is burnt or overcooked in comparison to fresh milk.
Now, all this being said, I still use it in my coffee. It probably doesn't have any calcium or nutritional benefits, but it is what Alejandro is used to, and he usually buys it. Since I rarely drink or use milk for anything besides my coffee, I have sort of just let myself ignore the unnatural phenomenon that is nine-month lasting cardboard box milk.
Until…
My fellow blogging friend Lauren and I were planning a weekend in the green countryside of Valladolid, Spain where Ruben of Granja Cantagrullas had invited us to a cheese tasting and tour on his farm. The tasting was scheduled for Sunday, so we had all day Saturday to discover something new. Lauren decided to contact Cooperativa Crica, her favorite dairy farm, to see if they would be able to meet with us.
Crica Dairy Farm
Arriving in Megeces, Valladolid (population 500) felt a little bit like being back in rural Massachusetts. Sure, the landscape was different, but seeing the farmland and the grazing animals brought back memories of home. Few people know that my first job at age 16 was working on Whittier Farms in my hometown of Sutton, Massachusetts!
Crica co-owner, Julio Criado, had just gotten out of a meeting, and despite the fact that Saturdays are his only day off, he spent the next two hours with us and never made us feel like we were imposing. He explained that his parents had started the farm many years ago as a conventional dairy farm that produced milk for bigger companies.
But when Julio and his brother Alfonso took over only a few years ago, they felt the need to make some changes. Their personal convictions lead them to create Coorperativa Crica, an organic dairy farm that treats their livestock humanely and produces a high quality, healthy product. In 2009, in addition to their milk, they also started producing yogurt and cheese.
We had a look around the farm, observed Alfonso milking the cows, and asked plenty of questions about the process. It was fascinating– and seemed like a lot of hard work! But I was curious about two things:
 Are Spaniards ready to embrace organic foods?
Julio told us that the recession was not affecting their business at all. This makes sense, as they are currently a niche market in Spain as one of the only organic dairies in the entire country, and the only one in the region. Crica currently sells most of its stock to groups of consumers (community supported agriculture groups) and select small health food or organic food shops in Madrid, Salamanca, and Valladolid.  They prefer to cut out the middleman whenever possible to have more direct contact with the consumer and to ensure that the price is maintained as low as possible.
Julio explained that production costs for a liter of milk were 1,50€ and sales prices range between 1,75€ and 2,00€, which is more or less the same price as any "calcium fortified, Omega-3 injected UHT brick". Remember that they wouldn't need to add back the calcium to milk if they didn't kill it the first time!
Interestingly, Crica has refused invitations to sell in prestigious shops such as El Corte Inglés Club Gourmet, the gourmet food shop in Spain's largest department store. The brothers justify their decision by explaining that they are against the idea of organic foods as elitist. They recognize that organic foods will usually be more expensive than non organic, but while 10-20% more expensive is do-able for many families, 50% is not.
The brothers also simply enjoy contact with people. I can say that they were truly happy to be talking to us at 9:00 pm on a Saturday night! They do not have plans to expand because they don't really need to grow much more before hitting their capacity. They already sell out of most products each month. They prefer to keep their farm sustainable and maintain their quality of life rather than expanding. That being said, they do hope that their model will inspire other small farms to take a similar approach. They may not want to expand personally, but they are convinced that their concept must, and will, expand in the near future.
Is it the best business model? Probably not. But when talking to Alfonso and Julio you get the sensation that what they do is so much more than a business. Their reverence for their craft is almost spiritual; it is like they truly believe that we are what we eat, and that their milk will make its consumers better, healthier people.  It probably will.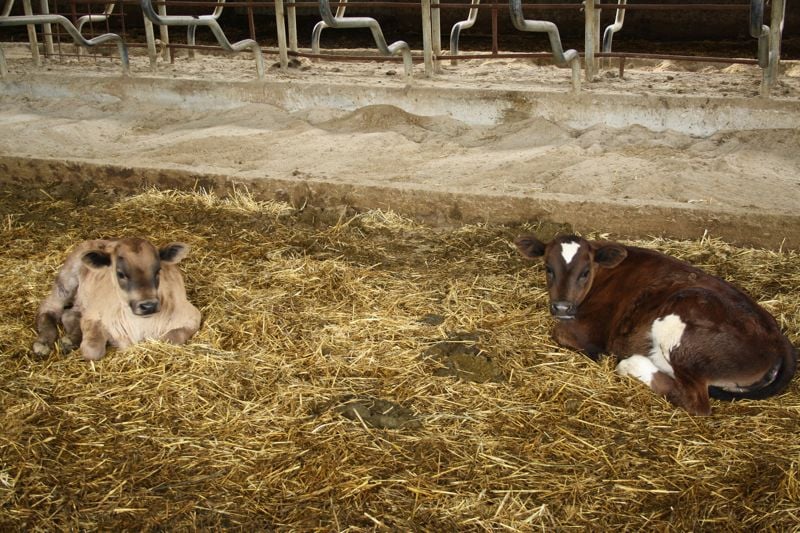 So, how did it taste?
I'm the girl who (despite my working stint on the milk farm) has always been a self-proclaimed milk hater. But when given the chance to try their raw milk that had been pumped only 30 minutes prior (and which we had observed with our own eyes) I obviously couldn't say no. And you know what? I loved it! 
Now, I probably will never start drinking full glasses of milk, but I must admit that their raw milk was delicious– sweet and slightly acidic. Definitely not burnt and overcooked! It could probably make the best latte ever. 
We also took home some of their semi-hard cheese which was also delicious. It was creamy, almost like a mild cheddar, and we've been slowly demolishing it over the past two weeks.
A Bright Future
Crica sets a model upon which I hope other farms and producers can build. I am ready to see Spain stop exporting the majority of its organic produce, and start selling it and marketing it here. I also think that Crica goes to show that organic does not mean expensive. If we can afford the 3,00€ one-scoop ice cream cones, we should be able to pay 2,00€ for a liter of milk.
Where to Find Crica Products in Madrid
I don't know all of the places Crica products are sold (many go to the consumer groups) but here are a few:
To visit the dairy farm yourself:
Cooperativa Crica
Avenida de las Viñas, s/n. Megeces, Valladolid
Email: [email protected]
A Video Interview (in Spanish) with Alfonso explaining their farm!