Madrid's budget friendly lunch menus stretch to Indian food as well
One of my favorite things about the food culture in Madrid is the tradition of the menu del día, a fixed price menu offered at lunchtime at almost any eatery in the city. While a traditional menú is usually a lot of food, it is a cheap and delicious way to experience some of the city's best restaurants and, if you are hungry enough, is surely one of the best deals in town. From traditional taverns to modern eateries almost every restaurant in Madrid offers a fixed price lunch menu ranging from 7.50€ to 16.00€. My pick for cheap Indian food in Madrid? Curry's Indian Restaurant on Calle de Silva, right in the center of the city.
When craving some spice in my life, I opt for the menú del día at Curry's Indian Restaurant, a small hole-in-the-wall right off of Gran Vía, and next to Ni Hao, one of my favorite Chinese restaurants in Madrid.
Curry's offers a menu of the day for only 10,95€, making it a great option for cheap Indian food in Madrid. It includes a drink, appetizer, main plate, and either coffee or dessert. They are also pretty flexible with which dishes are included in the menu– I love lamb korma and even though it's not on the lunch menu they have let me order it every time without any surcharge. For any fans of the Indian restaurants lining Calle Lavapiés, I like this one better than the ones I've tried there.
Each time we've been the curries have been hot and delicious, the naan warm and fluffy, and the meat tender and juicy (often in curries I find that the meat can be very dry). The service has also been friendly and quick, and the restaurant, while nothing fancy, is comfortable and clean.
If you are looking for good Indian food in Madrid or a great menu del día that will fill you up, I'd recommend Curry's Indian Restaurant without a doubt. Try it, and let me know what you think!
Our menú del día at Curry's: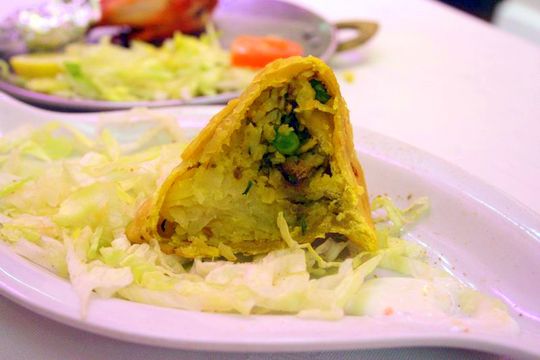 What's your favorite menú del día in Madrid?