Menorca, Spain: The Secret of the Balearic Islands
Menorca, Spain is one of the most gorgeous Spanish islands without a doubt. But as the smallest of the four main Balearic Islands, Menorca is often overlooked for its more famous cousins– Mallorca or Ibiza. Lucky for us, that is exactly why it is a great idea to vacation in Menorca. With companies like Thompson offering easy ways to get to and from the island, there is really no excuse not to explore this piece of paradise. Take a look at what Menorca has to offer.
See
Mahon Port
The Mahon Port is a beautiful natural harbor that offers scenic views and some fantastic fish restaurants. Enjoy a coffee in one of its many cafés while you look out at the enormous yachts making their way in and out of the port. The harbor also has plenty of shops and bars worth visiting. If you want to go out on the water yourself, consider a glass bottom boat ride and you'll see straight through the crystal blue water and have a peek at the ocean floor.
Monte Toro
Monte Toro or simply El Toro will impress anyone with its stunning views and is the perfect place to enjoy a picnic lunch. As the highest point in Menorca, it is easily accessible by car, or you could always get some exercise and hike up! The views from the top are well-worth the trouble, and the mountain-top chapel, café and museum offer some other options too.
Taste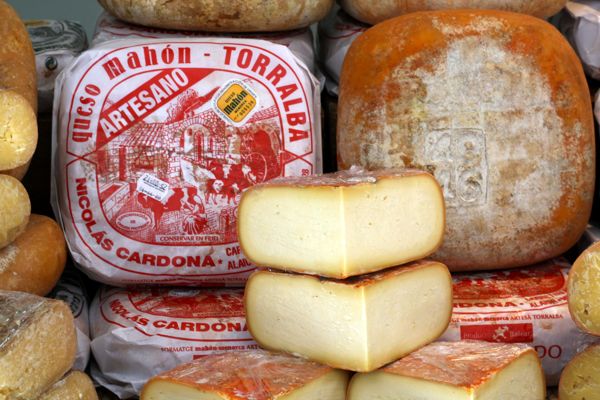 Mahon Cheese
Mahon cheese is the pride of  Menorca, a culture long known for  its cheese making traditions. The  Mahon cheese is one of its key exports and most sought after products. Mahon cheese is truly delicious– slightly sharp, milky, and salty. It can be grated and used for topping pasta, rice and vegetable dishes.
Binifadet Wineries
Visit this beautiful Menorcan winery for a lovely evening and delicious wine tasting. Book your visit at sunset for a special treat and watch the sun melt away with a refreshing glass of their white wine. The tour is free and their reasonably priced wines can be shipped home without a problem.
Relax
Cala Presili Beach
Cala Presili is an unspoiled beach that is still untouched by mass tourism. Its turquoise waters and rocky backdrop make it the ideal setting  for a day of relaxation. Pack a picnic lunch and a good book and you won't want to leave!
Cala Macarelleta Beach
An absolute paradise, this stunning beach boasts crystal blue waters and is the perfect place to go for a swim. Its smooth white sand makes it popular with tourists and locals alike, so get there early for a good spot.
Photo Credits: sbardella, Spanish Sabores, hugo007