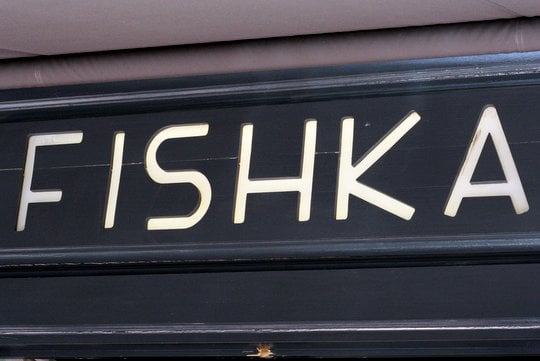 When I go out to eat, sometimes I want convenience, other times I want comfort, and then there are those special times when I want surprise. My recent visit to Fishka Restaurante completely surprised me and left me wanting more. It was invigorating to finally see something different, well executed, and exciting– at an accessible price.
Mediterranean-Russian Fusion Food
I was invited to a bloggers lunch meet up at Fishka and had no idea what to expect as far as the food was concerned. I had heard it was a sort of Mediterranean-Russian fusion concept, and given that I know next to nothing about Russian food, it was hard to think of what this might entail.
I arrived at Fishka at 3:00 in the afternoon on an unbearably hot July day, and entering the cool and beautiful restaurant was like finding an oasis in the desert. A modern yet comfortable design with big windows and lots of natural light, I knew that if the quality of the food matched the design I'd be in for a great lunch!
We started with some appetizers, a different take on a Olivier Salad (aka one of my favorite Spanish dishes, ensaladilla rusa) and some marinated herring on toast with apple puree. We also had homemade blinis, traditional Russian buckwheat pancakes that we topped with smoked salmon, herring, and the most delicious creme fraiche I've ever tasted.
We were also greeted with a ice cold shot of Fishka's house vodka— a crisp and smooth vodka that's been infused with forest fruits for a couple of weeks. It went down like an excellent berry martini.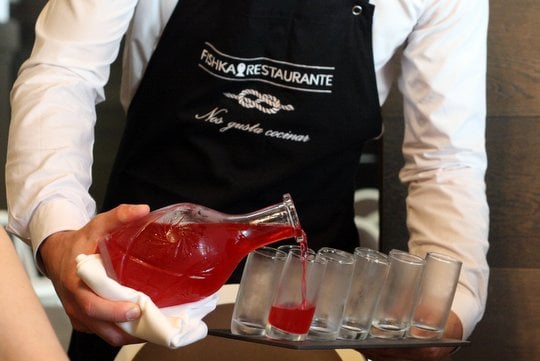 We soon moved on to the main plates, which we shared like Spanish raciones. Luckily, I was among other bloggers, meaning I had plenty of time to take pictures!
First up was a delicious chicken meatball, served over stewed red cabbage and covered in a slightly spicy sauce. They were addictive, and thanks to a couple of vegetarians in the group, I ate far more than my share!
Next we tried the most delicious grilled octopus on top of mashed potatoes with a red pepper sauce and sour cream. It was to die for, and a great way to fuse the typical pulpo a la brasa with something a bit different.
The fish dish was perhaps the most interesting. It consisted of bright skewers of sturgeon (Russia's most famous fish) placed over a pea puree, and drizzled with a sauce of seasonal cherries and some pickled beet. They were incredible– and gorgeous!
Finally, there was dessert. And it's honestly one of the best I've had in a very long time. Based on a typical Russian cake called Rigik (or 15-layer honey cake in English) the chef added a bit of his Argentinian roots to the recipe by using a light layer of dulce de leche. Topped with a sour cheese flavored ice cream, the combination worked perfectly.
I will soon be trying to make this traditional Russian 15 layer cake recipe!
Finally, we were stuffed, but when the chef mentioned they had recently started opening for breakfast with some delicious homemade baked goods, he had to let us try his apple cinnamon bread and chocolate banana bread. Both were baked to perfection, light, springy, and super moist.
The Team
During our meal we had excellent service. We were lucky enough to dine with the owner herself, a young Russian woman named Natalia Betogina who moved to Madrid after studying hospitality and tourism in Switzerland. She'd had dreams of opening a coastal hotel, but when she fell in love with Madrid she decided a restaurant would work instead.
Natalia was lucky enough to nab Argentine chef Matthias Fusi, who had a long resume behind him filled with Michelin stars. He was the perfect man for the job, and is constantly innovating new recipes and learning new techniques. When we had the chance to talk to him after the meal he explained that he was soon off on his summer vacation– a few weeks in France to practice cooking! He is dedicated to say the very least!
Overall, Fishka Restaurante was one of best Madrid restaurants I've been to in awhile. It was a fun meal, filled with well executed plates and flavors that you didn't necessarily expect. The restaurant would be perfect for a romantic date or an important lunch. The average guest check is between 30€ to 40€  per person.
What's your favorite fusion restaurant?
Restaurante Fishka
Calle Suero de Quiñones, 22
28002, Madrid
[mappress mapid="20″]