Exploring the Olive Groves of Jaén and Tasting a Passion
I grew up using olive oil. My father's family was Italian and they wouldn't use anything else. Apart from baked goods (which my mother made with copious amounts of butter or vegetable oil) I always knew my virgins from my extra virgins, or so I thought…
We'd just returned from TBEX Girona when I noticed a strange email in my inbox. It was in Spanish, and I almost deleted it as spam. Luckily, curiosity got the best of me and I clicked open. I was surprised to see that Ale and I were invited to the council of Jaén's Second Annual Blogger Encounter. Fifteen Spain based food bloggers would be transported to Baeza, Jaén for a long weekend of learning about and tasting the region's pride and joy: extra virgin olive oil. A gastronomic dream come true, we were thrilled to say yes to learning more about Jaén's olive oil and to promoting a lesser visited part of our beloved Andalusia.
I'd wanted to visit Jaén since first moving to Spain, but somehow it never happened while living in Seville or Cadiz. Believe it or not, it's faster driving down from Madrid than over from Cadiz (Andalusia is huge!). I dreamed about the sprawling olive groves and the rich cuisine that would surround such an important product. Jaén produces 70% of Spain's olive oil, and I wanted to discover the people and places involved in the process.
As we headed down to Baeza, we could barely see the olive trees through the thick fog and heavy rains. The weather gods weren't on our side for our weekend normally sunny Andalusia. But we arrived, and the weather didn't stop us from being immediately struck by the enthusiasm of the tourism board and of our trip leader, Jesús Zafra Ocaña. Jesús's job is promoting Jaén and he is an expert in their local gastronomy. But his intense passion for extra virgin olive oil was both unexpected and contagious. We immediately felt welcome and ready to learn. 
Over the next two days we were treated to outstanding food, in-depth factory tours, and various presentations and classes by local experts. We learned what to look for when buying a good extra virgin olive oil, and how to properly taste olive oil. We also learned that much of what we've been buying is absolute crap! We'll be writing about each part of our visit in much more depth over the next few weeks, but for now I leave you with a sneak peek at our time in Jaén.
Aceite Jaén 2012: A Sneak Peek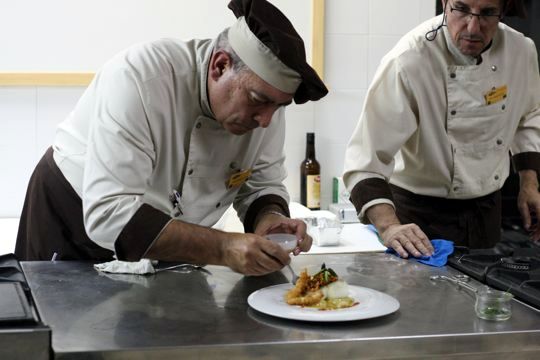 Stay tuned for more posts about each part of our Aceite Jaén 2012 experience. What do you cook with olive oil?
Our stay in Jaén was provided by the Diputación de Jaén, but all opinions are our very own!