A Thanksgiving meal in under 3 hours you say…?

YES! The plate above is proof of the possibilities…
It was Thanksgiving morning here in Spain, but that didn't mean much since I wasn't planning on celebrating. I had my expat Thanksgiving all lined up for Saturday afternoon, so Thursday was supposed to be low key. But then a new friend called wanting to do something in the evening. And in a moment of craziness I decided that socializing with another American on Thanksgiving meant that we had to have a proper Thanksgiving dinner. I hung up the phone and did what any girl would do after such a realization: I popped into the local market, marched up to the chicken man and bought myself a nice 4 pound bird.
Of course having a four pound chicken meant that more people would have to come over, so I sent a message to Ale's business partner and his girlfriend. It would be a dinner for five.
What to make? My menu was clear from the beginning:
Roasted Chicken, Stuffing, Mashed Potatoes, Green Beans, Mashed Sweet Potato & Apple Crisp
Everything was simple, the oven timing would work out, and there weren't too many ingredients (most I already had in the house).
One small detail was the fact I'd never actually roasted a chicken or made stuffing before… but hey, there's a first time for everything.
I got to work searching for recipes. I must say, I'm a pretty talented recipe hunter. I can usually skim any recipe and know immediately if I'll like it or not and if I can really make it in 30 minutes. I was looking for quick, simple recipes with good ingredients.
Enter the bible of cooking blogs. I'd used Elise Bauer's Simply Recipes website before but I had never realized how fantastic each and every recipe really is until that day. My menu:
Roast Chicken: I actually modified this chicken recipe quite a bit. I stuffed it with parsley, garlic, a halved onion, some pats of butter and a carrot and rubbed the entire bird with a paste of garlic and salt. What I did take from her recipe is the cooking technique.  The chicken was placed breast down on the rack with a pan underneath to catch the juices. This made all the juices fall to the breast meat and it was the most amazing, juicy chicken I've ever had! I baked it at 350°F/175°C for 1 hour and 15 minutes (to an internal temperature of 180°F). I then took it out, basted it with its juices, and covered it with foil for a half hour before serving. Super easy and truly delicious!
Mashed Potatoes from Simply Recipes
Her mashed potato recipe is basically the same one my family has used for many years and it didn't disappoint!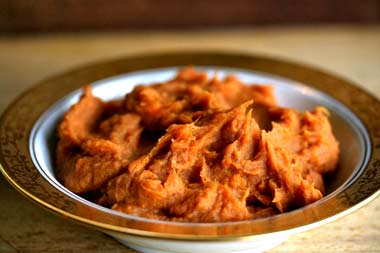 Whipped Yams from Simply Recipes
I decided to try her sweet potato recipe which made use of some brown sugar leftover from my last baking experiment.
Turkey Stuffing from Simply Recipes
Her stuffing recipe was delicious and easy– and it was my first time making stuffing! I loved the touch of green apple. (The Spaniards didn't know what it was but they went up for seconds).
Green Beans: For the green beans I wanted to try something different. I consulted the best book ever: The Flavor Bible (available in my Amazon Shop) and saw that green beans match well with anchovies. I was curious. I read through some recipes online and ended up taking a few ideas and making the following:
Source
Green Beans with Anchovies and Almonds
Ingredients:
Thin Frozen Green Beans
Extra Virgin Olive Oil
4 Cloves of Garlic
3 Anchovies
Slivered Almonds
Salt and Pepper
Start by frying the garlic in a tablespoon of olive oil. Then add the chopped anchovies. Constantly move the ingredients so that the anchovies completely break down. Add the slivered almonds and sauté for another minute. Finally, add the green beans and sauté at a medium high heat until they are nice and hot.
Last was the apple crisp. I made my mother's famous recipe. The recipe will have to wait for another day. I guarantee you it is delicious!
There you have it—Thanksgiving dinner in about 2.5 hours. Everyone loved it and it made me realize I should never let a Thanksgiving Thursday pass without sharing a meal with friends!
Do you have any suggestions for a quick home cooked meal? Do you have any favorite cooking blogs?