I can't tell you how many times I hear about a great new restaurant here in Madrid and when I finally get the chance to go, it sucks. Overpriced, unoriginal, and simply mediocre has become a sort of normal in this city where new restaurants open every week. Often, I try to give a bad experience the benefit of the doubt– but when the food isn't good, there isn't much to be done. When I find a rare place that gets things right, each and every time, I treasure it like a good friend, and support it 100%. Back in 2010 I was just leaving my home in Seville to get married when the original Azotea Sevilla opened. Run by a young husband and wife team (Juan from Seville and Jeanine from California) I remember eating there for the first time and being blown away by the food, wine and service.
That was awhile ago, and Seville didn't have nearly as many trendy gastro bars as it does nowadays. But no matter how many new places spring up, each time I go back and visit Seville a meal (or two) at La Azotea is a must.
Update: Seville is now not only home to great restaurants, it also has a pretty amazing Seville Food Tour 😉
Juan, Jeanine, and their team get things right. Their restaurants are small and not much to look at when it comes to the decor. While some fellow food bloggers focus on design, I do not, and the lack of ambiance doesn't bother me– as long as they choose to focus on the food instead! And that is what they do at La Azotea. Their menu is short and sweet, highlighting local and seasonal ingredients with Mediterranean preparations and touch of fusion. Service is not overbearing, but it's pleasant, and their wine list is local and inexpensive. In short, it isn't a perfect restaurant, but it's damn close when it comes to something casual but fantastic.
On our last trip to Seville we were on a mission to try some of the city's newest restaurants, but I couldn't help but have lunch at La Azotea. Here's what we had:
Crispy artichokes with Iberian ham, migas (sautéed bread crumbs) and an onion-spearmint aioli.
Baby cuttlefish with cream of goat cheese and orange.
Grilled blood sausage with caramelized onion and quail egg.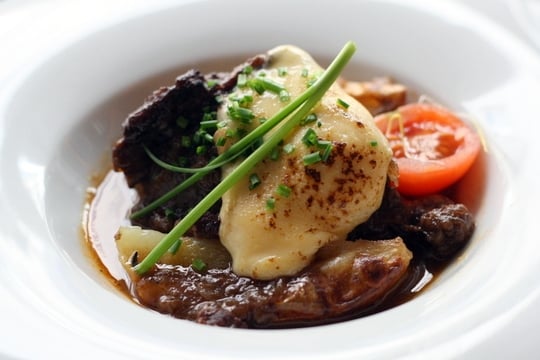 Iberian pork cheek au gratin with red wine reduction.
Aged beef with vegetables.
 As you can see, the dishes were beautiful as always. The artichoke was to die for, I could've eaten a whole plate myself. And the cost? Between 3.75€ (the morcilla) and 6.00€ (the beef) each. Can you even believe that? And if I told you these were on the pricey side when talking about tapas in Seville? Crazy, right? I just want to say to the people at La Azotea– keep doing what you're doing! And opening a branch here in Madrid wouldn't be a bad idea either…
What's your favorite Spanish tapas bar?
La Azotea (Zaragoza*)
Calle Zaragoza, 5
Seville
(*They have multiple locations, but I dined at the Calle Zaragoza branch)
 [mappress mapid="38″]