We had just arrived in Barcelona for a whirlwind four-day trip and we were absolutely starving. We were staying in the hip Gràcia neighborhood, home to plenty of restaurants, but I'd already scouted one out that was only steps away from our hotel. La Pepita is highly rated on sites like Tripadvisor and Yelp, so I was curious to see if the reviews were right.
People keep telling me that tapas aren't very typical in Barcelona, and while I see their point (they aren't included in the price of your drink as they often are in cities like Madrid and Granada), there are plenty of self-proclaimed tapas bars throughout the city (many of which our Catalan friends recommended), and La Pepita is one of them.
So despite the fact that a Barcelona tapas bar might not be the most authentic Catalan experience, it certainly is a fun Barcelona experience that many Catalans do partake in from time to time.
La Pepita was a good place to start our trip; it was comfortable and satisfying with friendly service and a decent price/quality relationship. The food wasn't excellent or gourmet by any means, but everything was well prepared and presented, and I enjoyed it. If it were your first experience with tapas in Spain I dare to say you'd be pleased. 
What we tried
Not that La Pepita had a hand in this, but I just need a moment to profess my love for Vichy Catalan, a naturally carbonated water with a high concentration of minerals. I adore it.
We wouldn't be in Catalonia without being offered pa amb tomàquet to accompany our meal. We were starving so it tasted good (fresh tomatoes and olive oil can't really go wrong on anything!), though I had better later on in the trip.
La Pepita's eggplant fritters with goat cheese, honey and apple was probably the weakest dish of our lunch. The fritters were a bit soggy and the honey was a bit too bitter for my liking. At 8.85€ it wasn't a great value either.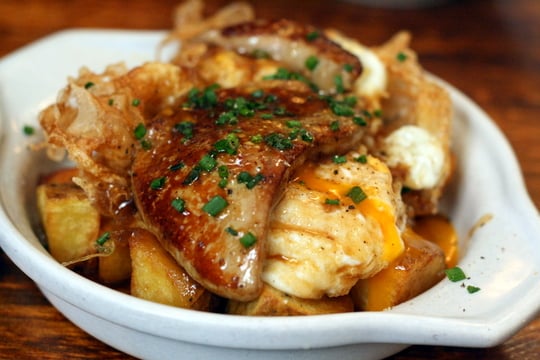 Who can resist potatoes, eggs, and foie gras! This dish was good, although it lacked salt and the potatoes weren't fantastic. Luckily, the eggs were cooked perfectly. But again, who can complain when these three ingredients are combined?
A pepito is a typical Spanish sandwich, usually consisting of a piece of grilled beef between bread– sometimes with a grilled green pepper as well. But at La Pepita, they serve their own versions called pepitas. Sandwiched between the thinnest slices of grilled bread you've even tried, our pepita was stuffed with butifarra, a Catalan sausage, and served with grilled zucchini and asparagus and a nutty romesco sauce. It was a yummy choice.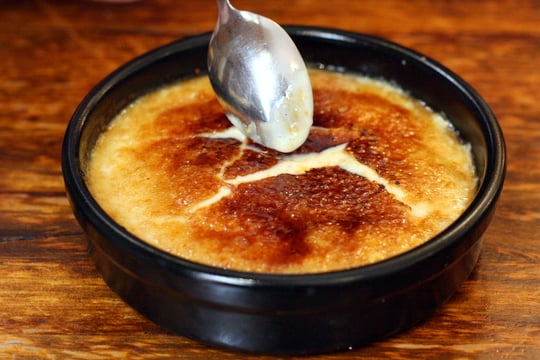 Crema Catalana is essentially a creme brûlée, though there are sometimes subtle differences in the recipes, and debate about exactly where this delicious dessert originated. Sweet and creamy with a crunchy exterior, I could eat either of them anytime!
As you can see the bill was reasonable for what we ate and drank. The service was also really nice throughout.
The Highs: The restaurant was comfortable and the service was good. The menu had a lot of variety and many fun dishes I'll order if I come again.
The Lows: Nothing stood out as amazing and we didn't enjoy the eggplant.
The Verdict: With all the restaurants in Barcelona on my list, I wouldn't rush to come back here. That said, if you are staying in the area it is a good option for sharing some tasty dishes.
La Pepita
Calle Corsega, 343
08037 Barcelona
[mappress mapid="46″]