A new tapas concept in Madrid
The Madrid blogosphere was buzzing, there was a new concept tapas bar in town and apparently, it was good. La Taberna del Chato is located on Calle de la Cruz and, like with Lise & Leti Homemade Cookies, I spotted it before it even opened, as Madrid Food Tour walks along that street. Unfortunately, it took me awhile to eat there, as they open only at night during the week. As I watched blogger after blogger talk about them (Madrid Diferente, Madrid Cool Blog, Don't Stop Madrid, etc.) I became more and more interested in finally trying it– normally when people talk something up so much it's either really good or I end up hating it.
Luckily, it was the former, and even though La Taberna del Chato has been talked to death by Spaniards, little (if anything) exists in English. So here I am, to recommend this unique place and tell you what you should try. You won't regret it!
A true tapas bar
I always explain to my tour groups that "real" tapas are simply small, individual sized portions. With that idea in mind, La Taberna del Chato is the definition of a tapas bar. Most of its menu (though not all) is served in small chato glasses, typical for serving wine in the north of Spain. (By the way, chato glasses are great to buy for home too, as they are much more difficult to break than normal wine glasses!).
We walked in and were surprised that the restaurant was bigger than it looked from the sidewalk. Long and rectangular, you can choose to sit in the bar area (we did) or go to a table in the back of the restaurant. From the bar area you can see the cooks in the kitchen, which I always love (is there any better indicator of quality?).
The menu was fun, filled with different chatos ranging from 2€-4€ each. They also had some tempting raciones, great wines by the glass, and a decent cocktail list. We decided to go for the chatos and we ordered 8 to share. We also tried a montadito (a small sandwich) and they brought us a taste of their cream of mushroom soup, which was a special that afternoon.
Everything was truly delicious, and the quality was quite unexpected. We later found out that the owners took years putting together this concept, using only the highest quality suppliers. We could tell the difference! Here is a look at what we tried:
What we ate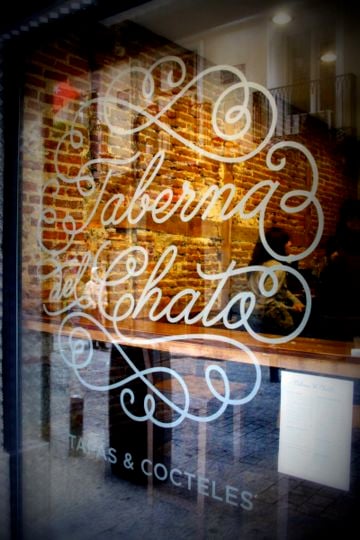 We left La Taberna del Chato happy and full, having spent about 25€ per person. It is definitely  a great option for tapas in the center of Madrid, and we can't wait to return and try their raciones!
La Taberna del Chato
Calle de la Cruz, 25 Madrid
Monday-Thursday: 7:00 pm to 1:00 am
Friday: 7:00 pm to 2:30 am
Saturday: 12:00 pm to 4:30 pm and 7:00 pm to 2:30 am
[mappress mapid="9″]
Where do you go to get your tapas fix if you live in Madrid?