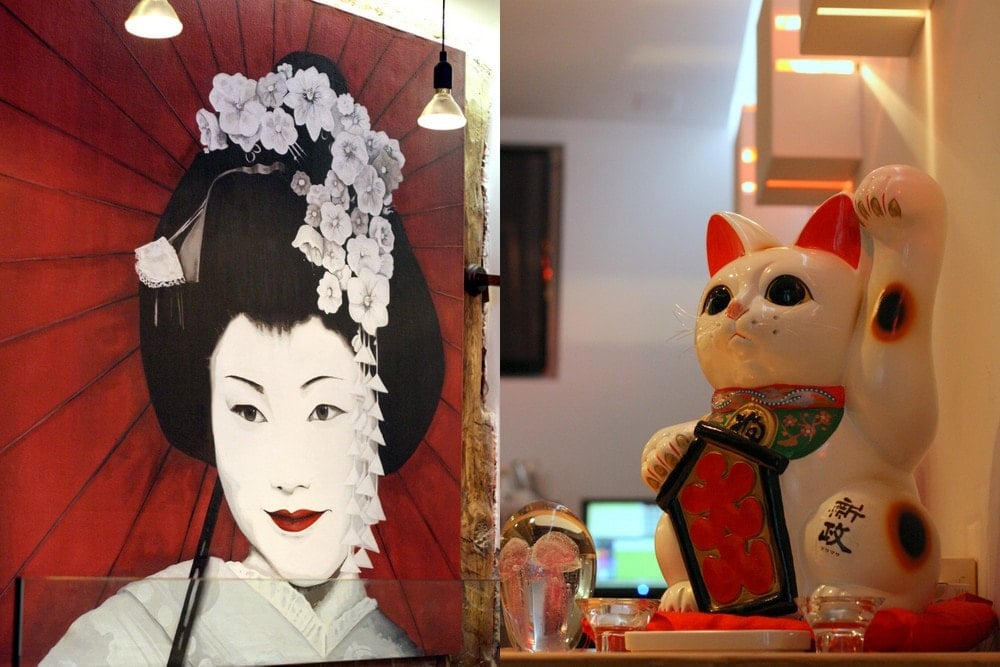 L'Artisan Furansu Kitchen has been around for a couple of years now and is one of the Literary Quarter's best bets for a menú del día. It's slightly more expensive than nearby neighborhood establishments, which generally run between €9.50 and €12 for an all-inclusive lunch menu. Theirs costs €14, but it's well worth it for the quantity, quality and variety offered.
The menu at L'Artisan Furansu Kitchen is clearly divided between French dishes and Japanese dishes, yet their lunch specials often reflect a slight hint of fusion. I'm no expert on either cuisine, but I have greatly enjoyed everything I've tried so far. I've visited multiple times for lunch and once for dinner, and believe that lunch is a much better value. Be warned– service here is slow, so don't come in a big rush. But if you have a couple of hours for a relaxing lunch, it's definitely one of my top picks!
What We Tried
One of the things I really like about the menú at L'Artisan Furansu Kitchen is the complimentary appetizer, served in addition to the three course meal! They generally surprise you with something from the daily menu that you happened not to have ordered. During our visits we've had respectable tuna and chicken teriyaki maki, as well as a delicious pumpkin bisque. This little taste is much appreciated and definitely starts the meal on a high.
My first course during our last visit was a delicious bowl of Japanese style broth, which just covered four small pieces of perfectly cooked salmon. Accented by fragrant scallions and dried seaweed, I could have eaten a huge bowl of this alone!
During another visit I tried a dish of baked eggs and fish, another delicious (and large) first course.
This heaping bowl of fish stew was served as a main course, and was extremely flavorful. Covered with pickled onions, cilantro and tomato it was comfort food at its best.
I probably never would have ordered the vegetable burrito myself, but was happy to try it when Alejandro did. The tortilla inside was perfectly cooked and the fresh vegetables were crisp and delicious. I have no idea what the sauce was (a miso dressing perhaps?) but it was addictive. Still not my first choice, but very well done.
Rare beef, bok choy and french fries? Yes, please! This combination is just about as good as it gets and the meat was perfectly cooked.
This winter I discovered cachopos and I've been comparing them throughout the city. The version at L'Artisan Furansu Kitchen was delicious, made with high quality meat and perfect breading. It could have done with a touch more cheese in my opinion, but one of the better I've tried for sure! But my favorite part of the plate was the red cabbage salad. The sauce (again, unidentified) was delicious. It might have been a sort of ginger dressing.
Alejandro ordered carrot cake for dessert during our last visit, which was good enough (but nothing compares to my own recipe!). That said, it was the perfect serving size to end the meal.
I always go for their creme brûlée– it's my favorite in Madrid. During my last visit they randomly brought me a custard with cinnamon sprinkled on top, definitely NOT a creme brûlée. I asked the waitress about it and she ran away with it (without a word– I felt a bit silly) yet somehow returned with the photo above (did the chef think I wouldn't notice that the creme brûlée was missing the brûlée?!). The service here is slow and standard, but friendly enough and the food makes up for it.
The Highs: The food is yummy and abundant, and they change their menú del día often. A great value for 14€!
The Lows: Service has been very slow and I found it overly expensive for dinner.
The Verdict: I'll continue returning for their menú del día, but probably wouldn't go back for dinner.
L'Artisan Furansu Kitchen
Calle Ventura de la Vega, 15
[mappress mapid="55″]