Why do we take pictures?
I don't know about anyone else, but I do it to capture a moment and create a memory. Looking back at old pictures is one of my favorite ways to spend a lazy afternoon. My mind lights up, remembering moments that my brain had already stored away, likely never to have come out again. I can spend hours looking at just one album, reminiscing about that time in my life. With that in mind, I'd like to welcome you to my new Friday series "Looking Back". I was reorganizing my iphoto today in efforts to speed up my computer and I realized I have been some amazing places that I've never written about. My pictures from the trips aren't fantastic (pre DSLR and pre Getting Out of Auto), but I'd like to share the better ones with the world. Today I present Budapest, an incredible city I was lucky to visit a few years ago.
When my friend Cat and I decided to visit Budapest during Spain's Semana Santa (Holy Week) I wasn't quite sure to expect. It was a place I didn't know very much about, and we would be there for three days without much of a plan. It ended up being one of my favorite places I visited in 2010, and a place I'd actually love to go back to this year.
Budapest Memories
The Food
Oh the food! It was fantastic and I wish I could remember the name of the restaurant where we ate our best meals. It was hearty, filling cuisine, perfect for the cold weather. There were also incredible desserts, based around sour cherries, my favorite! The central market was also fantastic, offering a large variety of Hungarian products and ready to eat food too. I am dying to go back to Budapest and truly explore the food scene there.
Typical food in Budapest: Pork loin, goulash, boiled potatoes and an incredible crepe stuffed with sour cherries and covered in a light green (strange, I know) but delicious almond sauce.
The Budapest Great Market Hall.
Lots of red in the Budapest Market Hall! From horse sausage to lots of peppers for making Hungarian paprika, this market is a must-visit in Budapest.
These were to die for. Cinnamon bread as long as your arm. Must go back…
Rooster testicle stew anyone? Anyone…?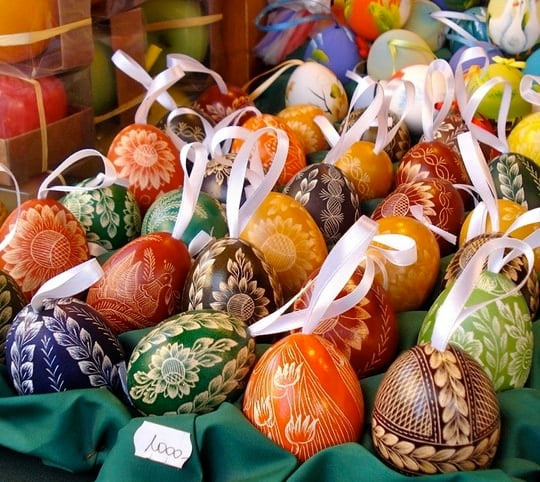 These aren't exactly food, but were on sale at many markets. Gorgeous, hand-painted eggs are an Easter specialty.
The Statues
Budapest was full of quirky and interesting statues. When I go back I will definitely be hiring a guide to tell me more about the city's history and explain some of these bizarre works of art.
This statue has the best view in Budapest! I joined him for a peek at the colorful Hungarian Parliament.
This statue looks sad. Next time I go I am finding out why.
I loved this whimsical statue seated on the fence in front of the river.
I had to pose with this fat statue, who could he be?
The Architecture
I don't know much about architecture but I do know that the buildings in Budapest were diverse and incredible. I loved the angles, colors, shapes, and variety of Budapest architecture.
The famous Hungarian Parliament Building.
The Budapest chain bridge is known for its imposing lions on each side.
The Views
Budapest offers some fantastic views. Climb the hill on the Pest side of the river and look out over this incredible capital. It's also gorgeous at night, but I didn't get any decent shots back in the day!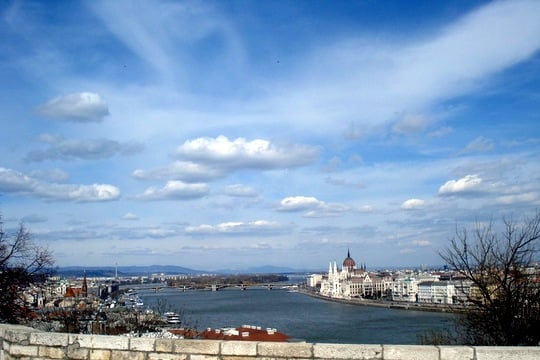 Overall, Budapest is an incredible travel memory and one that is surely going to inspire a trip back one day soon. On our next visit we hope to explore the food scene and learn much more about the city's long and difficult history. I also need to convince Ale that Budapest is awesome, because when he visited with friends before we met, he was put off by an allergic reaction to his sketchy hostel's bedbugs (that's what happens when you choose the cheapest hostel in the city) and some terrible food that made him sick ( traveling with a group guys at the age of 20 doesn't make for the best eating experiences in my opinion!). Anyway, he didn't enjoy his time there, and I need to change that!
Have you ever been to Budapest? What did you think?