As I browse through my iphoto library and reminisce about past travels, one place in particular always jumps out. The bright colors of Marrakesh just pop as I scroll through, despite the fact that the photos I have were taken with a point and shoot before I knew the first thing about taking a decent picture! Marrakesh is a city I have now visited twice, yet never quite fallen in love with. I found the vendors too aggressive, and the locals never seemed quite genuine. Just the same, there is something magical about Marrakesh that keeps me thinking about another visit. I'd especially love to go back with my current camera and try taking some portraits– it is the type of place where a person's face can tell a story.
Today I'd like to share some photos from my last trip to this busy city, and I'd also like to know, for those of you who have also been to Marrakesh what did you think? Did the pushy vendors bother you? Did people often touch you and grab you? And ladies, did you have a different experience based on whether you were walking with or without male company?
Pictures from my trip to Marrakesh
When we first arrived to the center of historic Marrakesh I remember the bizarre stands surrounding the square. This man had an assortment of teeth for sale, which I swear looked real. There were also snake charmers and lots of of people with monkeys. The most annoying experience for me was a girl selling henna tattoos who roughly grabbed my arm and started applying a hideous tattoo without my permission– and when I ripped my goo covered arm away she had the audacity to ask me for payment.
One thing I do love about Marrakesh (and Morocco in general) is the delicious mint tea. Drowned in sugar, I would never make this sweet treat back home in fear of cavities, but it's one of those things that taste amazing in the moment.
Despite the aggressive vendors I encountered, the market (souk) is an incredible experience for the senses. You can smell foods cooking, fragrant spices and mint, see colorful displays at every corner, hear music and shouting, touch soft silk and satins. Everyone must experience this type of market at one point in their lives!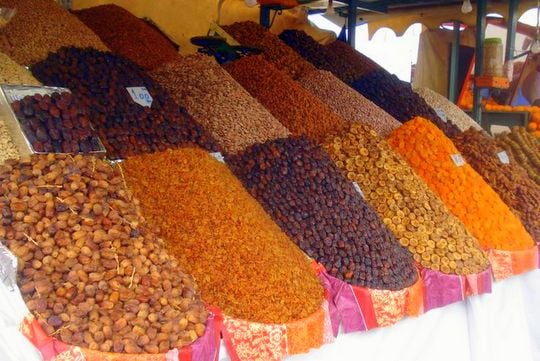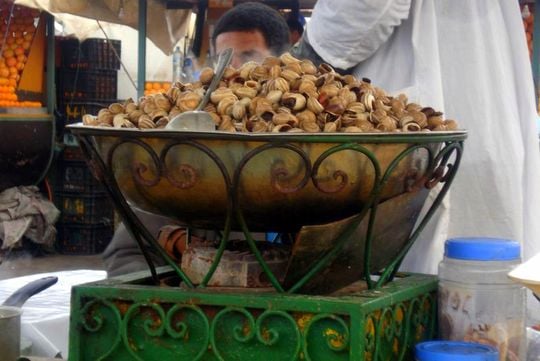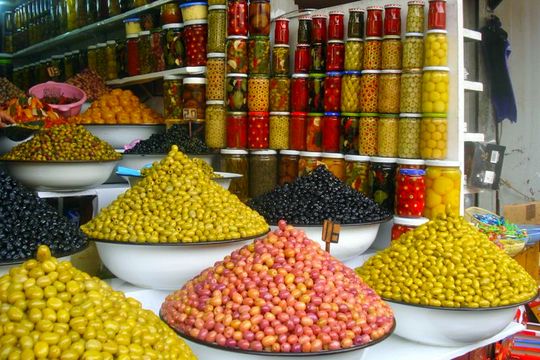 I was especially at home in the spice market— there were so many different spices! I got a bit carried away and ended up taking too much home.
At night, the central square (Djemaa el-Fna) came alive with food stalls and people everywhere. The atmosphere was busy and inviting, we ate in the market among locals and tourists alike.
The next day we walked around the city, visiting its different historic sites and stopping for a tea every now and then. We had to check out the tanneries, where they make leather. I don't know that I would recommend doing this, as it is definitely not for the squeamish, but it was certainly an interesting experience.
When we finished in Marrakesh we headed to the incredible Atlas Mountains, which I'll have to write about another day (it's worth its own post!).
Would you like to visit Morocco one day? And if you've been, what did you most enjoy?