Wherever you go in the world, food has and always will play a huge part in local celebrations. Whether it's a simple birthday party with a candle-laden cake or the gathering of family on Christmas Day to cut the holiday bird, food is known to bring people together, and can also unite and strengthen community bonds. But not only is food used to enhance small social gatherings and family celebrations; it is also a tool by which we show-off and celebrate different cultures, especially with local food festivals.
There are thousands of famous food festivals around the globe, all of which are probably fun and delicious. However, there are some special food festivals that venture from the norm to the downright bizarre. From roadkill to the consumption of insects, these weird and wacky food festivals deserve a special mention of their own.
The World's Most Bizarre Food Festivals
Roadkill Cook-Off – West Virginia, USA
The name of this food festival certainly doesn't disguise what they celebrate.  It's strange, yet incredibly true, that the people of Marlington, West Virginia celebrate a roadkill cook-off every September. The main ingredients for the dishes in this contest share a common origin—at some point they met their demise under a big black tire. The rules state that anyone can participate, providing they find a fresh, but already dead, animal on the side of the road. It doesn't matter whether this is a possum, raccoon or beaver, anything goes as long as it's fresh! With a grand prize of $300, who wouldn't want to enter?
Cooper's Hill Cheese Rolling – Gloucestershire, UK
This strange, 200-year-old food festival has become more and more popular each year it takes place, with contestants now coming from all over the world to participate. The basic idea of this festival is to simply roll a round of cheese down Cooper's Hill, and chase after it. It sounds easy enough, but can actually be considered dangerous, with injuries over the years including broken bones, concussions and sprained ankles. It is unclear if participants eat their cheese at the festival's end…
Chincilla Melon Festival – Chincilla, Australia
Who would have thought that there would be an entire food festival dedicated to a melon? In Chincilla, Australia they fondly celebrate this fabulous fruit in a festival that takes place every two years. Surprisingly, (or stupidly perhaps) the good people of Chincilla don't utilize at least 25% of the nation's watermelon crop. Perhaps this is why it only takes place every two years, to allow crops to replenish? We may never know, but with activities such as melon seed spitting, melon tossing and melon skiing (don't ask), this festival really is up there with the weird and wonderful.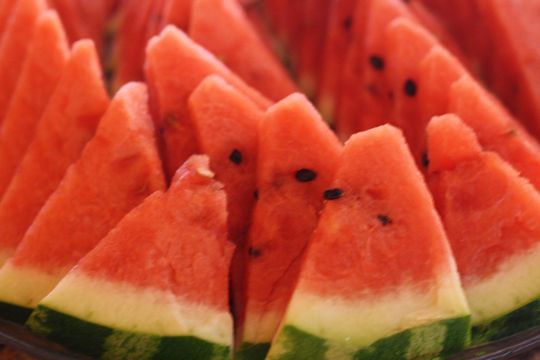 Bugfest, Raleigh – North Carolina
The name says it all. Eat a bug and gain free entry to the local museum. Simple, right? In Raleigh, North Carolina Bugfest is hosted as a celebration of, well, bugs! With participants serving up dishes containing creepy crawlies and insects as the main ingredient, you can choose to either try a home cooked bug dish, or simply eat a basic bug and to gain your free entry. But that's not all– from cheering on bugs in Roach Race 5000 to indulging in spider leg or two, this food festival really does make your skin crawl. On the plus side though, who wouldn't want free entry to the Natural Science Museum?
La Tomatina – Buñol, Spain
Of course Spain makes the list! This more widely known food festival likes to keep everything nice and straightforward during its celebrations, with the idea being to simply throw tomatoes at one another. The call of a horn indicates the start and end of La Tomatina, and not a single tomato may before thrown before or after it has sounded. This food fight of such is held every year, on the last Wednesday of August, and organisers strongly advise you to wear goggles and gloves at all time, insisting also that participants must only use crushed tomatoes to help reduce the risk of injury. Death by tomato wouldn't be the best obituary now would it?
As ghastly and yet enticing as these food festivals may sound, such crazy events can sometimes get out of hand; so while preparing for your next trip of culinary exploration, you should always make sure you're fully covered with worldwide travel insurance (in case of any food related accidents). Whether it's food poisoning or simply a tomato to the eye, it's a good idea to have insurance and always better to be safe than sorry.
Have you ever been to a bizarre food festival?  Do you have a dangerous or disgusting food related event to add to the list? Leave a comment!
Featured Image: istolethetv