Nostalgia is a funny feeling. It's a longing not so much for a specific place, but rather for a period of time that is impossible to recreate. It is a mix of happy memories and the bittersweet reality that those memories are permanently behind us. I feel nostalgic when visiting the different places I've lived in– Washington D.C., Amherst, Massachusetts, Buenos Aires, Granada and, of course, Seville.
I lived in Seville for two years, the longest consecutive period I've ever lived anywhere except for my hometown. I fell in love with Seville slowly, discovering its hidden gems and the fact that its roughest looking bars and alleyways often held the best surprises. While living in Seville I met my husband, financially supported myself 100% for the first time in my life, and found out that I could never be happy working in a job that didn't motivate me. In short, I became an adult in Seville.
When we first moved to Madrid I longed to be back in Andalusia's capital. I missed Seville's public bikes that I would take to get from place to place, being able to walk across the city in 45 minutes, the excellent tapas scene, its proximity to the beach, and the overall beauty of the city– the Cathedral, Alcázar, the river, etc.
Now, I have fully adjusted to Madrid and am growing to love it just as much as Seville. As the capital, it offers things a smaller city just can't provide– better transportation options, cheap international flights, great business opportunities, and countless cultural activities, festivals, museums and expositions. But despite Madrid's advantages, Seville will always hold a special place in my heart, and I can safely say that we will continue to visit whenever we have the chance.
Update (March 2015)!
Missing Seville and its food lead to any excuse to return– and I'll officially be back to launch our food tours in Seville along with the rest of the Devour Spain team! Hope to see you food lovers along one day soon!
On the way back from my brother-in-law's wedding in El Puerto, I was able to spend the night in Seville visiting close friends. I had the entire next day to myself, and decided to take a stroll down memory lane. I walked the city slowly, savoring its charm, and observing it with fresh eyes.
Still just as gorgeous as ever, I had missed Seville terribly, but at the same time I knew that living there again would never be the same– most of my friends from those years have come and gone, and the city itself has made subtle changes that have altered it from my perfect memories.
My trip ended up becoming an impromptu food tour (of course!) and we ended up stopping at three fantastic places, only one of which I'd tried during my time in Seville. The tapas tour was fantastic and gave me a hearty dose of the creative and inexpensive tapas I had grown accustomed to while living in Seville.
I left that night feeling satisfied. Seville was still just as gorgeous and delicious as I remembered it, but I didn't feel the need to live there. And only two and a half hours away by AVE train, I feel assured that I can visit anytime for a quick weekend of Andalusian charm.
Here are some pictures from my day in Seville, which one do you like best?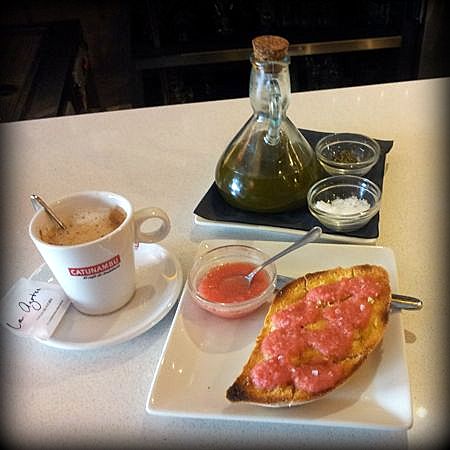 A well-rounded Spanish breakfast: Toast with olive oil, crushed tomatoes, and sea salt with a café con leche.
 Seeing the bike lanes made me remember my first time on a public bike…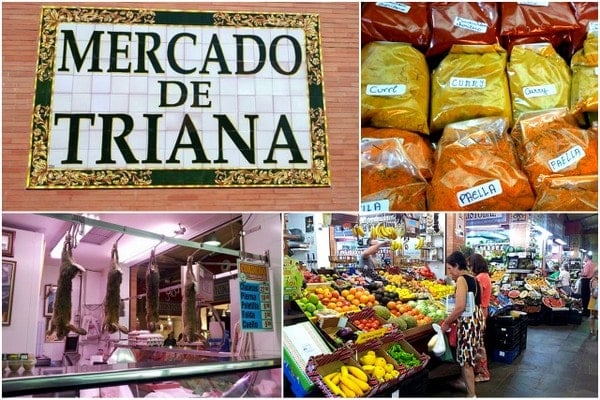 I made a stop at the Mercado de Triana to check out all of the gorgeous produce. I even bought some spices to make mojo picón!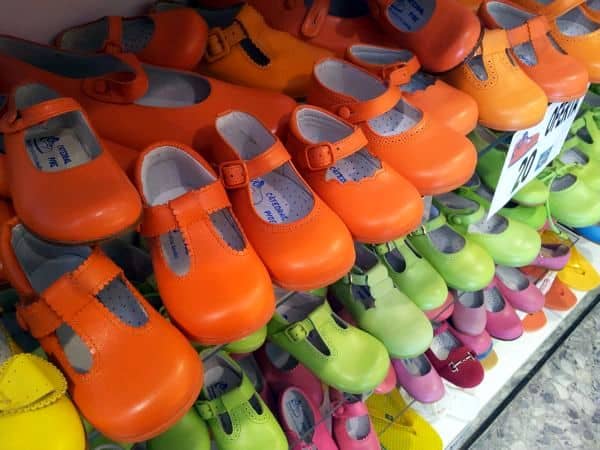 This was the shop where I met Cameron Diaz! She was looking at the tiny flamenco shoes too. 
An Impromptu Tapas Tour
Simple but delicious: Mini sandwiches smothered in Cabrales cheese and chorizo on the left, shaved pork tenderloin on the right.
Round two at La Azotea, one of my favorite tapa bars in Seville. 
La Brunilda wowed me with their pear alioli!
 Another success at La Brunilda. 
One of my favorite desserts in a long time, and totally unexpected. 
Ending the afternoon with the view from the gorgeous Baco Restaurant. 
What place makes you guys nostalgic?