This blog post was originally posted on July 9th, 2015 and was updated on August 3th, 2017
Ajo Blanco Recipe: A Refreshing Summer Soup from Andalusia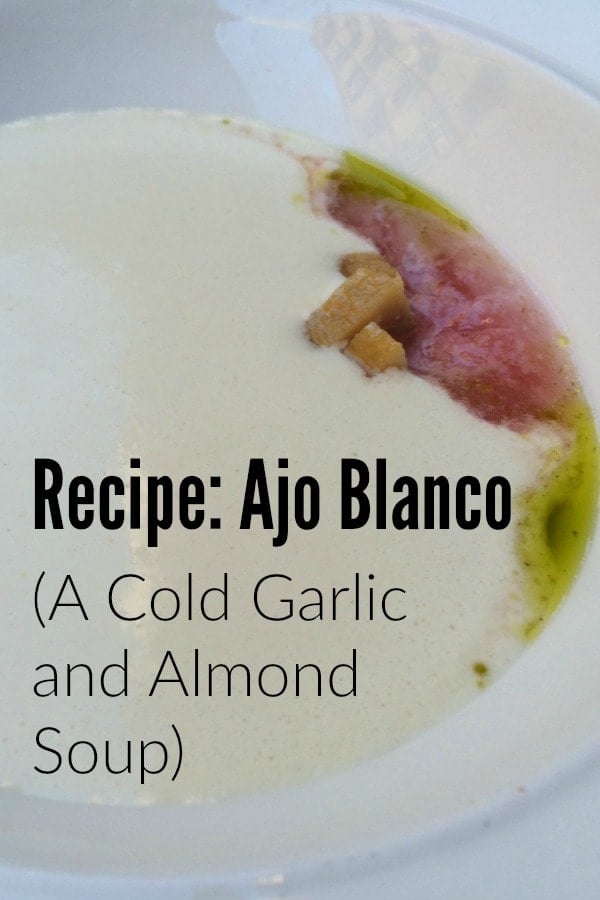 This ajo blanco recipe couldn't be easier, and it is perfect for these hot summer days! Ajo Blanco, which literally translates to "White Garlic" is surprisingly mild and very tasty. You can also switch it up by adding different garnishes. We've seen ajo blanco made with shrimp, grapes, or even watermelon. As with many dishes from Spain, the ingredients are simple and the result is delicious! Just make sure no one in your party is allergic to nuts, as the base of the soup is not cream, but crushed almonds! Read on for our traditional ajo blanco recipe.
Ajo Blanco (Cold Garlic and Almond Soup)
Cuisine:
Spanish, Andalusian
Prep time:
Cook time:
Total time:
Ingredients
200 grams of fresh breadcrumbs
200 grams of peeled almonds
3 cloves of garlic
Extra Virgin Olive Oil (to taste)
Sherry Vinegar (to taste)
Salt (to taste)
Note: You might use grapes, shrimp or even watermelon to garnish your ajo blanco and give it a unique touch.
Instructions
Put the breadcrumbs into a large bowl and soak in cold water
In a blender, mix together the almonds, garlic, sherry vinegar and salt until the mixture is creamy and homogeneous.
Slowly add some olive oil until the mixture reaches the desired consistency.
Chill the soup in the refrigerator until ready to serve.
When you serve this soup, put your garnish in the bowl first (the shrimp, grapes or melon), then pour the cold soup over the top.
Enjoy!
Do you know another ajo blanco recipe? Have you ever tried ajo blanco in Spain? Leave us a comment and let us know! Or better yet, try our recipe and tell us what you think!
And if you want to discover more about typical Malaga food, join us on a Food Tour!