Seville's Sevici bikes are one of the city's best ideas. Discover how to rent a bike in Seville using the Sevici program, and explore this city with its beautiful bike lanes.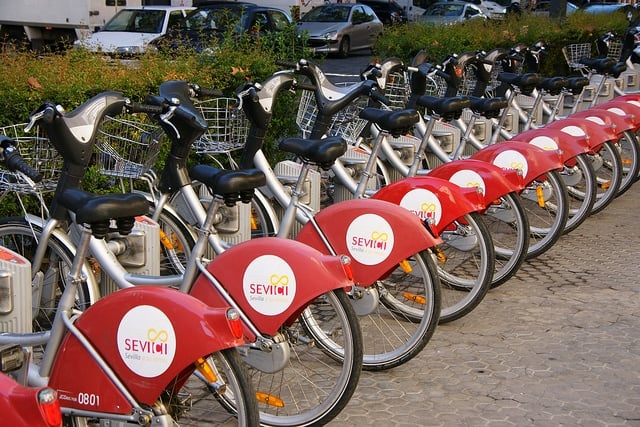 Arriving in Seville I never expected the old historic city I recalled from a day trip in 2007 to be so environmentally conscious. In fact, it has abundant recycling bins for everything from cardboard to used olive oil (not kidding) and also seems to be making an effort to cut down on emissions from city buses by fueling them with less harmful substances.
Yet probably the most noticeable initiative is called Sevici pronounced Seh Bee See (the word 'bici' in Spanish means bike). Sevici is a public service that allows people living in Seville to rent bikes for short time periods at virtually little or no cost.
How does Sevici work?
The Sevici website explains how to rent a bike in Seville, and it's really quite easy. First, you must sign up and make an account. You can do this at the machine (bring your credit card) or online. The cost of a subscription is under 15€ for short-term rental (as of 2019) and under 40€ for long-term rental (as of 2019). Next, you receive a card and pin number. If doing the long-term option a deposit of 150€ will be taken from your account and returned at the end of the year when your subscription expires.
See this year's Sevici subscription rates here.
With the Sevici card the person can stop at any Sevici station in the city (there are stations every couple of blocks in throughout Seville's city center — over 250 in total!) and swipe their card to take out a bike. The first 30 minutes are completely free and then it costs .51€ for the next hour (with a long-term subscription) or 1.03€ (with a short-term subscription), and 1.03€ for each of the following hours(with a long-term subscription) or 2.04(with a short-term subscription). Many people just stop and change bikes every 30 minutes to avoid paying anything at all.
You can return your Sevici bike at any station where there is a free spot. Since the stations are every 300 meters or so, this is easy to do!
Is Seville a bike-friendly city?
Seville is one of the most bike-friendly cities I have ever visited. The advantage to renting a bike in Seville is the fact that the city center is surrounded by green bike lanes that riders can take to get virtually anywhere. This makes riding a bike here much easier! The city is also flat and has some lovely parks to explore right outside of the city center.
The idea is wonderful. People can get places quickly without owning or using a vehicle and stay fit and healthy at the same time! Not only that, but it's virtually free. However, there are also some downfalls. Often the bikes are broken or have popped tires and are therefore unavailable. Other times (especially during peak travel times like rush hour) there are no bikes available and/or no spots remaining to return your Sevici bike. Basically, people can't depend 100% on Sevici to get them somewhere, but it is a great start in my opinion.
My experience renting Sevici bikes in Seville
So, that explains what Sevici is, but I'm sure most of you are wondering if I actually use it. Well, my coworker gave me her card since she never uses it, in order to let me try it to see if I wanted to sign up. I must say I was very nervous, as I hadn't ridden a bike in about three years and never in a large city! But, I decided to give it a fair try. The first time I tried taking one out there were no good bikes available; everything was broken! Oh well, I thought, next time…
Well, the next time I bravely swiped my card, put in the pin code, chose the number of the bike I wanted to take out, and went to pull it out. I tried and tried but the bike wouldn't budge. I tried again. Still nothing. People were staring; a man tried to help me and then gave up… I accepted defeat and walked home!
But last Sunday I was meeting my friend across town, which would have meant almost an hour long walk. I thought…ok, its Sunday, literally no one in Seville is out, nothing is open and no one can laugh at me. Not to mention, there would actually be bikes available! So, I went to the closest station and am happy to say I successfully removed one. So far, so good. I got on, it was a little shaky, but ok, I could do it. Well… then began the problems.
Persistence is Key
First, I obviously got lost, since I normally walk through the center and now I was riding on the bike paths that surround the center. But no problem, I just asked for directions. Then I realized that to ride over the bridge I would need to bring the bike up a steep hill. I tried carrying it up the stairs… but it was too heavy. Up the hill we went…
I finally made it to the bridge, but I found myself behind some very slow walkers and I couldn't find my bike's bell (to my credit I realized later that it was broken and didn't have a bell) so I had to walk the bike over the bridge too.
Somehow, I then lost the bike path and was just riding/walking the bike through the city streets. This was fairly normal, though not legal — and it is really difficult to navigate through crowds of turtle-paced Sunday walkers and construction sites on a bike… especially when you are not a great rider!
Then, before I knew what was happening, I was in the middle of an outdoor cafe, on the bike, bumping into people who were eating. I was mortified. I crossed the street and realized that the path was on that side. Who knew?
Finally, I arrived at my destination, quite late!  Yet despite the fact that I almost injured myself and others (I did actually get a blister on my hand too– a battle scar!) I think I'll try Sevici again and maybe even sign up for my own card. I think once I get the hang of it I will not have quite so many mishaps (I hope!) And overall it is cheap, quick, and great exercise! At least I didn't fall off…
Editor's Note: It has been many years since I wrote this post and I should say two things. First, I did continue to ride the Sevici bikes and still think this service is the best way to rent a bike in Seville.
On my second attempt with Sevici I did have another incident — I crashed into a middle-aged man in a crosswalk, screamed "sorry!" (in English) and almost died of embarrassment. I hope he wasn't injured! But, more importantly, I still continued to use the Sevici (never if I had to be somewhere on time) and ended up loving them– riding them for fun, for transport, in the bike lane, and (occasionally!) in the streets.
Now that I live in Madrid (which is nowhere near as bike-friendly) I miss the Sevici all the time! So don't wait a year before signing up like I ended up doing– get the card now and learn to ride later. You won't regret it!
Have you rented a bike in Seville? What was your experience like?