Every time I visit the US there are a certain things I need to eat.
Clam chowder, eggs benedict, Mom's poppy seed bread, good bagels and Thai food usually top the list. My sister and I almost always make time to go out for Thai food together, and we eat enough for four people! Finding good Thai food in Spain has been extremely challenging. There are very few Thai restaurants in Spain (I think Seville had one) and they are usually over priced and not very good. I know that there are various Thai restaurants in Madrid, but I've yet to try any of them. I think I've been afraid of disappointment and a steep price tag!
This year for our anniversary dinner, Ale surprised me with a reservation at Pui's Thai Tapas, a fairly new Thai restaurant in Madrid. Tucked away few blocks from the Embajadores Metro, I was eager to try Pui's. With great Tripadvisor reviews, a lovely website, and a Thai chef, I had high expectations.
I'm happy to say that Pui's Thai Tapas did not disappoint. The Pad Thai was the best I've had in ages, and the menu had quite a few dishes I'd never tried at Thai restaurants in the US, making me want to return again and again to try them all!
I would rate my overall experience at Pui's a 7/10– here's why:
Food
The food was excellent. Everything was beautifully presented and tasted great. The chili paste was among the spiciest I've tried, and the Thai Iced Tea was also good.
Decor
The decor is simple and inexpensive, but they do it tastefully and I love the bright green accents.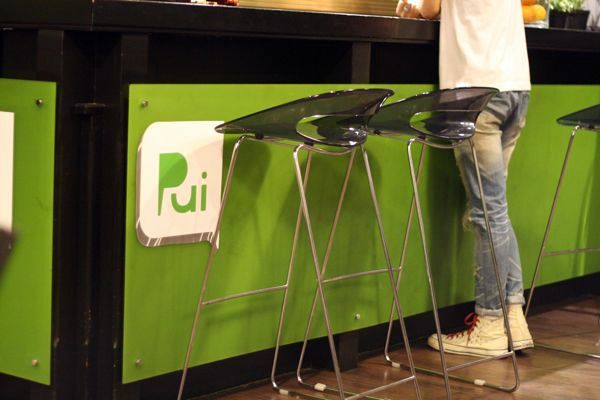 Service
The service was friendly and attentive and the waitress spoke great Spanish and English. However, we waited for our meal for 35 minutes (I was starving!). They also didn't have any of the cocktails or coffee drinks listed on their menu available, which was really disappointing.
Price/Quality
I thought the prices were great– we paid 52€ for the two of us and that includes 2 beers for Ale, a Thai Tea for me, one (huge) dessert, and three main dishes (which was too much, two would have been enough). We took the curry home and ate it for dinner the next day. They also offer a fixed price menu for 12.50€ per person, but I don't know what that includes.
Here is a glimpse of our meal at Pui's Thai Tapas:
My Thai Iced Tea was refreshing and super sweet.
The Pad Thai was delicious and I loved the garnish on top. It was the perfect size for two people to share.
This is the crispy duck and Asian pear salad. Wow! It was absolutely delicious.
I would order this again in a heartbeat– it would be the perfect lunch.
We decided on the lamb curry. It was very good, but was a bit overwhelming from the kaffir lime. I also didn't expect the lamb to be on the bone, it was a bit tough and fatty, and difficult to cut since it was covered in curry.
A super spicy chili sauce– delicious but dangerous!
For dessert we had the mango mania. I was expecting mango sticky rice with some mango sorbet, which sounded delicious. The sticky rice they used was different than anything I've ever tried– it was a bluish color. The mango was fresh and delicious and the sorbet was just okay. Next time I'd ask them to hold the sorbet and give me the mango sticky rice alone.
Overall, we loved Pui's Thai Tapas and will definitely be back soon.
It just might be the best Thai food in Madrid (or at least the most reasonable). I wish it were closer to my house– I'd probably go once a week! I've never been to Thailand (it's a on the top of my list) so I can't say how authentic the food was, but compared to any Thai restaurant I've been to in the US, it was absolutely comparable to a really good one.
If you are in Madrid, don't even think twice– go to Pui's now!
Do you know of any other good Thai restaurants in Madrid or in other parts of Spain?
Pui's Thai Tapas: Calle de José Antonio de Armona, 7, Madrid