If you love a glass of cold, refreshing sangria then my white sangria recipe is for you! This combination of fresh fruit, white wine, liquor, and sugar creates the most delicious white wine sangria cocktail-- it's perfect for cooling off on a hot day. Try to have just one glass!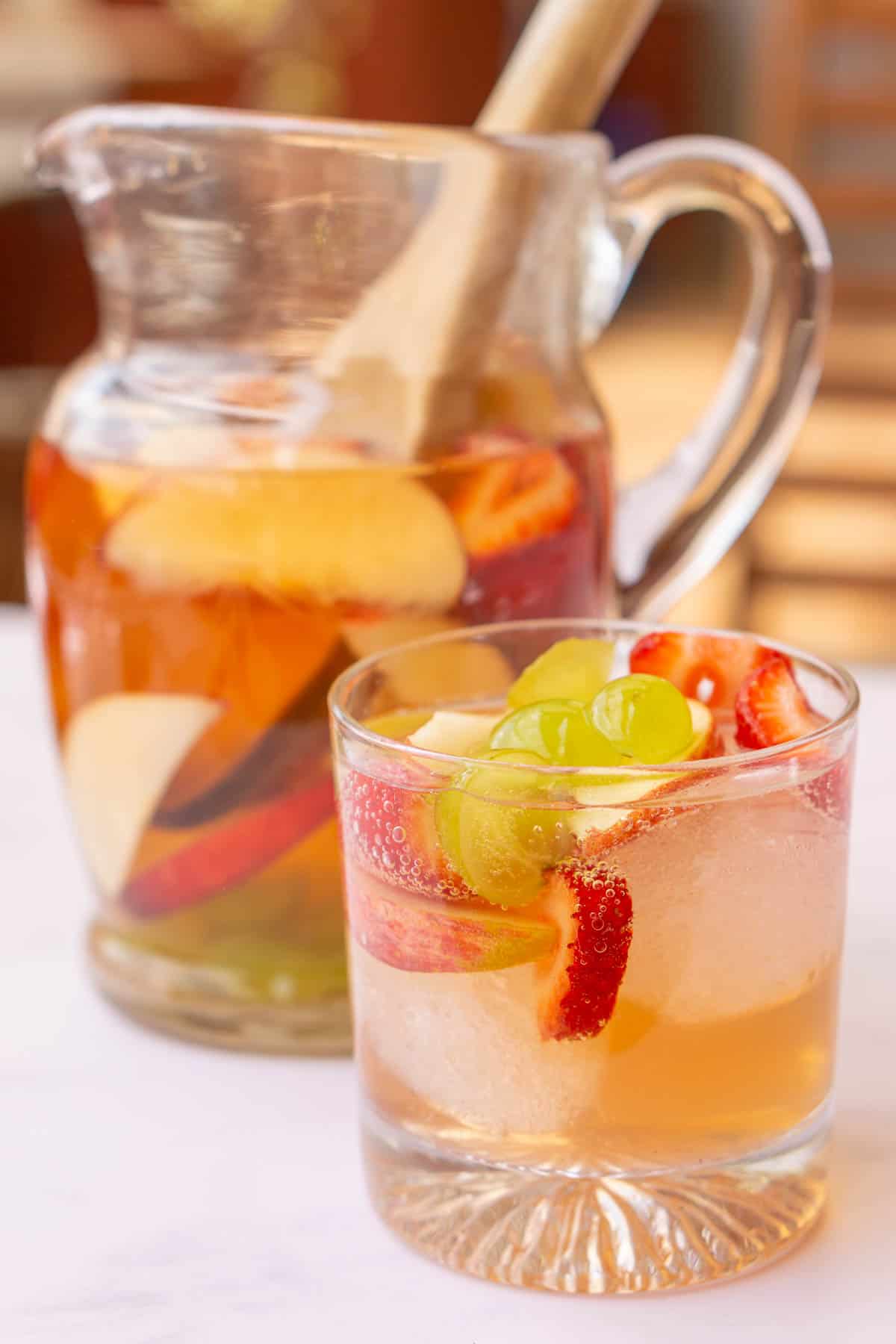 I love sangria and make it for just about any get-together in the summer. It's quick, easy, versatile, and one of the most refreshing things you can drink on a hot summer day!
Curious about sangria's history? Learn where sangria comes from here.
I have so many different sangria recipes but realize I haven't posted most of them on the blog... time to fix that!
So today I'm sharing my classic white wine sangria recipe. This fruity sangria is made with Spanish white wine (I like to use a fruity Albariño -- but you'll find more options below), fresh fruit of your choosing (I like mine with apple, nectarine or peach, green grapes, and strawberries), brandy, and the flavored liquor of your choice. You also add sugar for additional sweetness (more or less to your taste), and top things off with sparkling water.
It's really as simple as it sounds. But let's go through the process step-by-step!
Key Ingredients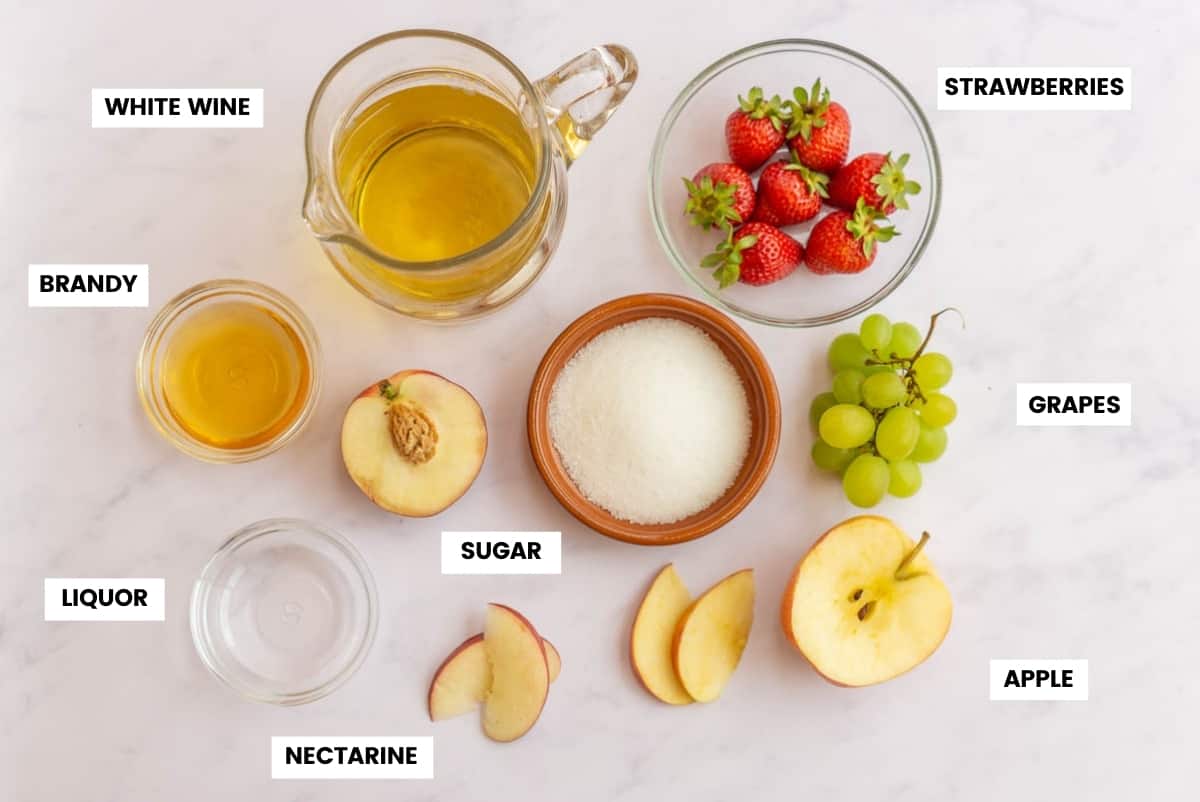 Key Ingredients: White wine, brandy, liquor, nectarine, grapes, apple, strawberries, and sugar.
Ingredient Notes & Substitutions
Any sangria recipe is super flexible. You can substitute the fruit used, the type of sugar or sweetener, the style of wine... I'll give you some common trade outs below (and personally I love my recipe exactly how it's written) but don't hesitate to make this your own!
Wine: The first rule of sangria: always use a decent (ideally good), drinkable wine! If not you are asking for a headache 🙂 I generally make sangria using a dry, fruity Spanish wine such as an Albariño. (Read more about Spanish wine here). Other great options could be a Rueda or a Sauvignon Blanc. You could also experiment with less fruity wines or even try this with manzanilla or fino sherry! And if you'd prefer it with something fizzy, cava and prosecco work too!
Fruit: I use a combination of mostly white fruits for my white sangria. Apples and nectarines or peaches let off a lovely flavor, maintain their shape and texture, look nice, and taste great if you decide to eat the fruit in your glass (why not?). Grapes also impart their sweetness to the drink. My colorful addition is strawberries, mainly because I love the flavor. I find that other berries don't really add much flavor to sangria unless muddled, so I skip those here. Other fruits I think would be nice are pineapple and mango. Starfruit slices would be a gorgeous garnish!
Sugar: It's best to use fine white sugar if you want all of the sugar to dissolve. Brown cane sugar won't dissolve unless cooked into a simple syrup (which you could also do), though it would also add a brownish color to the drink. But if you prefer you can substitute whichever type of sugar you like best. Honey, date syrup, and coconut sugar all work well.
Brandy: I love using Spanish brandy in my sangria (it's also made from grapes, so I think it's the best alcohol you can add!). But feel free to swap it out for the vodka or gin of your choice.
Liquor: If you don't want to add any additional liquor you can skip it or simply add more brandy. But I love experimenting here. I often add orange or raspberry liquor, and this time added lime liquor.
White Sangria Recipe: Step by Step
White sangria is simple to make and can come together in minutes. If you have extra time, give the fruit and sugar time to macerate -- it'll add even more flavor and natural sweetness to your glass! Here is my step-by-step tutorial, keep scrolling down for a printable recipe card with exact measurements.
Steps 1-4: Start by slicing the fruit (you want about 3 cups of sliced fruit here. I used ½ a large apple, ½ a white nectarine, a handful of strawberries sliced in three lengthwise, and a small bunch of green grapes sliced in halves.
Put all of the fruit in a bowl and cover it with sugar. You can macerate the fruit and sugar as long as you're able -- it isn't essential but it does bring out a lot of extra flavors. When the sugar has dissolved, add the brandy and liquor. Again -- you can let it soak as long as you'd like, or if you're in a hurry use immediately!
Step 5: When ready, add the chilled white wine and the soaked fruit to a large pitcher. Gently stir everything together with a wooden spoon.
Step 6: Prepare your glass with ice cubes and spoon in a portion of fruit, then fill almost to the top with the wine. Leave about two fingers of space. Add sparkling water and enjoy immediately!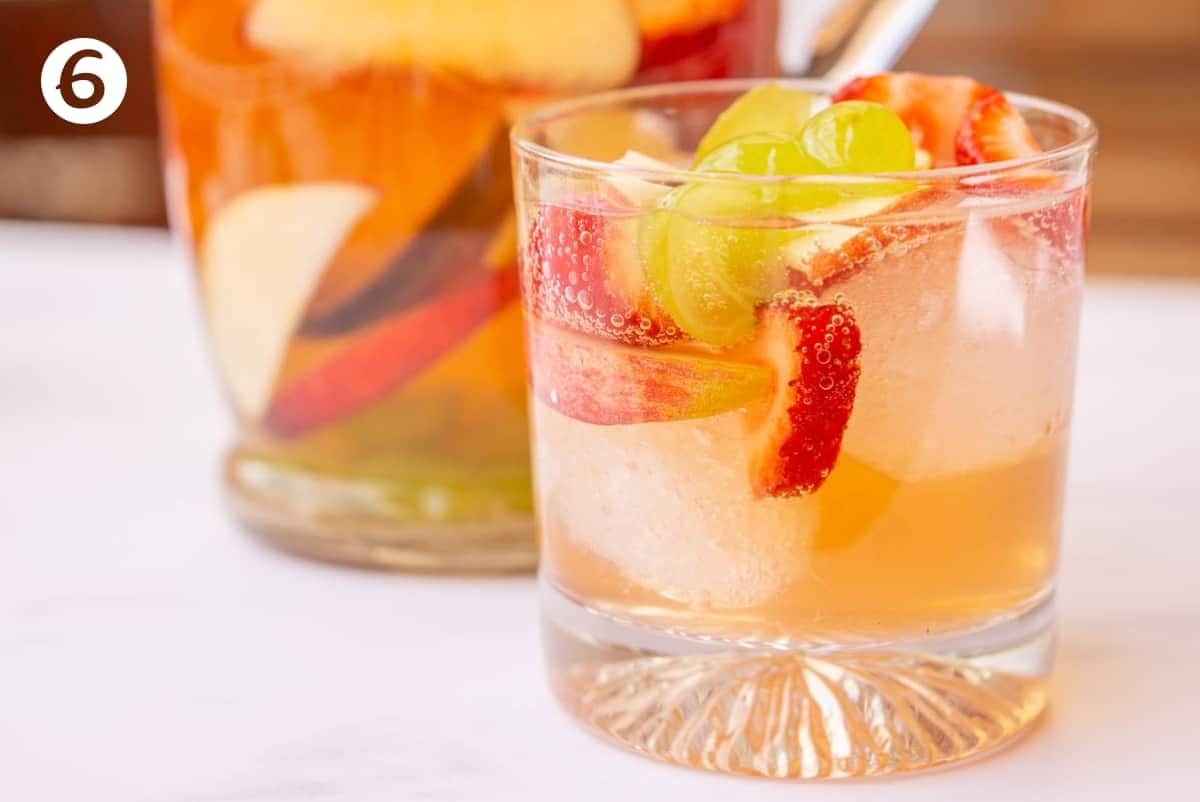 Recipe Tips & FAQs
Which white wine is best for sangria?
I like using a dry and fruity white wine for sangria, such as Albariño, Sauvignon Blanc, or Rueda. Pinot Grigio and Riesling would work too. Just make sure the wine is drinkable on its own -- that is the key to good sangria!
What do you need to make sangria?
Sangria's key components are wine, fruit, a fortifier (higher volume alcohol like brandy or liquor), a sweetener, and something fizzy (which actually isn't part of the original sangria recipe, but that's another story!). You can experiment when it comes to these ingredients until you find the recipe that works best for you.
How strong is sangria?
I like to think of sangria as similar to a strong beer -- it should be around 5-10% ABV when made correctly. 
Serving Suggestions
Sangria goes with just about any Spanish tapas you can imagine! I especially love serving sangria as part of a summertime tapas feast -- think homemade salmorejo, patatas bravas, croquettes, padron peppers, Spanish meatballs, pinchos morunos, and boiled shrimp. It's also fantastic as part of a lunchtime paella feast. Try my classic Valencian paella or my popular seafood paella to start.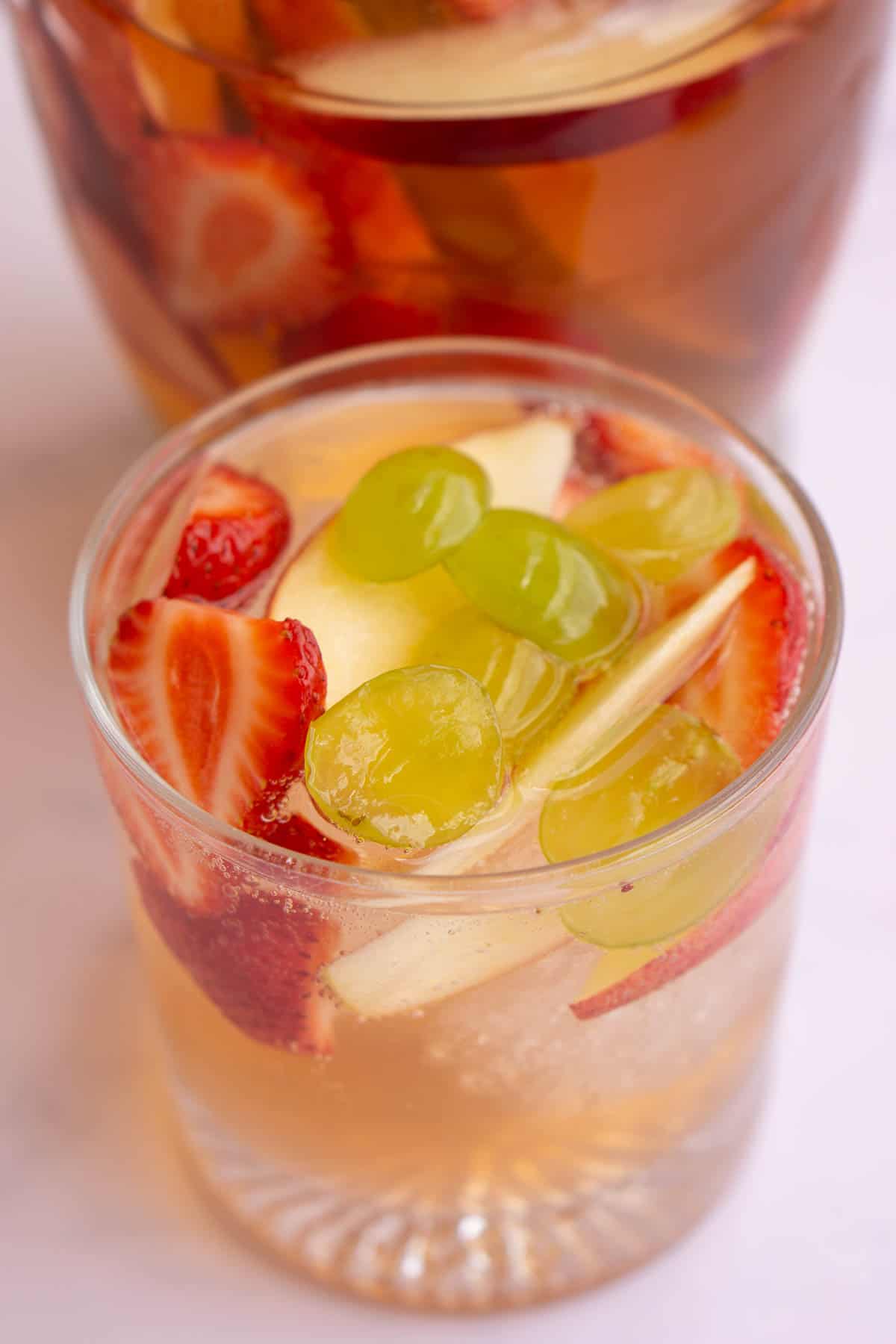 More Delicious Sangria Recipes
Can't get enough sangria this summer? I'm constantly adding new sangria recipes here. Check out the ones I have so far!
Hungry for more? Sign up for my free weekly newsletter and receive a new Spanish recipe once a week! Join today and get my FREE Spanish ingredient essentials guide!
Ingredients
1

bottle

white wine

(750 ml) chilled

3

cups

sliced fruit

Such as apples, peaches, grapes, and strawberries.

¼

cup

sugar

(50 g)

¼

cup

brandy

(60 ml)

¼

cup

liquor of choice

(60 ml) Such as orange liquor or raspberry liquor.

ice cubes

sparkling water

(optional)
Instructions
Wash and slice the fruit to your liking. I recommend slicing the grapes in half, and other fruits into cubes or thin slices.

Place all the fruit into a large bowl and cover with the sugar. Stir gently. Leave to macerate for at least five minutes, but longer if you have the time (overnight would be perfect). Stir again if needed until almost all of the sugar is dissolved.

Add the brandy and liquor and stir.

Add this entire mixture to a large pitcher filled ¾ of the way with your white wine. Mix together gently with a wooden spoon.

You can continue to let the flavors combine in the fridge, or you can serve immediately. To serve, fill a large glass with ice. Then scoop out a serving of the fruit into the glass. Fill with the wine leaving about a centimeter of space at the top to add some sparkling water. Enjoy!
Nutrition
Calories:
209.8
kcal
|
Carbohydrates:
20.5
g
|
Protein:
0.21
g
|
Fat:
0.1
g
|
Saturated Fat:
0.02
g
|
Polyunsaturated Fat:
0.03
g
|
Monounsaturated Fat:
0.01
g
|
Sodium:
7.64
mg
|
Potassium:
136.65
mg
|
Fiber:
1
g
|
Sugar:
17.01
g
|
Vitamin A:
22.5
IU
|
Vitamin C:
1.92
mg
|
Calcium:
13.93
mg
|
Iron:
0.4
mg
Did my white wine sangria quench your thirst? I hope so! Let me know how you made it in the comments!