Human Towers and Creative Cuisine in a 12th Century Castle!
When your conference opens with a castle party, catered by the brothers who own the second best restaurant in the world, you pinch yourself.
How could it be, you wonder, that your job is so cool? I mean, people hate conferences, they despise the catered meals offered to promote a night of awkward chit chat when most people would rather be back in their hotel rooms watching HBO. At most conferences you risk an upset stomach by overindulging on the food (and the wine), that is if you were lucky enough to even get any food (I've been victim of the "we're out of the chicken" type of conference before).
But somehow, you haphazardly became a travel blogger, the type of person who is never "sent" to a conference, but rather someone who wants to be there and spends their hard earned money to get there. I bought our tickets to TBEX Girona and found out that the opening night was to take place in a 12th century castle with catering from the second best restaurant in the world. I'll repeat that, THE SECOND BEST RESTAURANT IN THE WORLD! If you want to eat at El Celler de Can Roca, you have to think ahead, as reservations need to be made a few months in advance. But maybe, if you are as lucky as this travel blogger was, they'll just cater a castle party for you!
I knew it would be an epic night when I received my eating map. Yes, that's right, my conference's opening dinner party came with a map. Just in case you got lost between the cheese table and the artisan beer stand, you would be sure to make it out unscathed.
What to wear to a travel blogger castle party is a funny dilemma. The thing is, most travel bloggers are, well, traveling, meaning they don't carry around castle party wardrobes in their backpack. Since I have a home base, I could have brought such a wardrobe (if I owned one) but I didn't want to stick out like a peacock in a henhouse! So I wore a simple blue dress and some wedges that I wanted to kill myself for wearing after seeing some other bloggers pair their cocktail dress with Havaianas flip flops.
This is a video of the event. You can spy me in my blue dress!
Despite sore feet, the night was well worth it. Upon arrival our glasses were filled (and refilled and refilled again) with crisp cava, sparkling wine from Catalonia. The waiters were so eager to keep refilling our glasses we were getting nervous that the catering would be a letdown (surely they are intoxicating us so that we don't notice we aren't eating, we thought).
Oh how wrong we were! But before we were allowed inside the castle to sample the foods that modern greek gods would surely have chosen to dine on, we were entertained. And it wasn't your typical entertainment. We were entertained by local human castellers, people who make enormous human towers for fun and tradition. I'd heard of the famous Catalan Castellers, but I never imagined how amazing it would be to actually see them perform live. It was incredible, especially the fact that young children risked their livelihood to climb to the very top and complete the tower. The pictures are nice, but you have to see it live to really understand the energy that vibrates from the circle of people protecting those who climb to the top.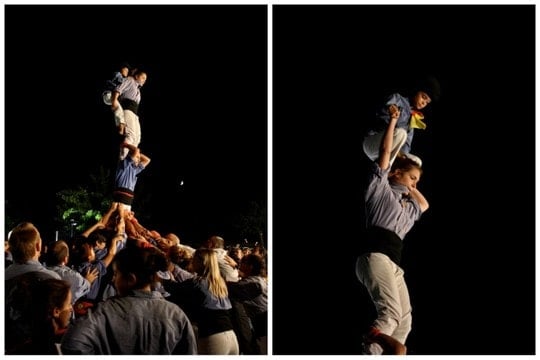 After watching the talented group form multiple towers, we had worked up an appetite (stressing over the lives of young children makes you hungry!). We waddled our way inside and were immediately overwhelmed. This is why they gave us the map! Who could navigate such gastronomic delights without one?
We started with a beverage, local artisan beer for Ale and a local red wine for myself. And let me tell you, this wasn't the cheap wine of conferences past! Moving on we discovered the cheese room. In retrospect, this probably wasn't the best plan. You see, the cheese room was incredible. It was impossible to stop eating cheese there. Every time you tried a bite, you wanted another, and since everyone seemed to have the same reaction, no one was giving you the evil "you cheese hog!" type of look (thank God).
We finally escaped the grasp of the cheese room, just in time to walk our way into a flash mob. A dance school from the area broke into hip hop moves right before our eyes, which somehow seemed appropriate given the ambience. Following the killer performance, we continued to stuff ourselves silly with what will likely always be the best catered food we've ever had (I feel like weddings have been ruined forever at the young age of 26). Stand outs included tuna cubes smoked with liquid nitrogen and some of the best grilled shrimp I've ever tasted (they were amazing quality and served almost raw). We made sure to stop for some hand cut jamón ibérico and, let's not deceive anyone, we basically tried anything and everything that was passing by!
Desserts were also incredible, from fresh berries with vanilla ice-cream to local dessert wines and Catalan Creme liquor. What impressed me immensely about the night was the incredible service and the overall abundance of food– they didn't run out of anything and you were never waiting to catch a server's eye.
The only thing I regret was not being able to say hello (and thank you) to any of the Roca brothers. We had no idea they were there until we saw pictures of the event days later. So I guess I will have to do this virtually:
Thank you El Celler de Can Roca, TBEX, Visit Costa Brava, Castell de Sant Gregori, and all of the providers of wine, beer, cheese, staff, dancing, human towers, live music etc. For anyone I forgot, please excuse me and thank you too!
Have you ever been to a castle party?