Mercado Antón Martín was one of the first markets I fell in love with when I moved to Madrid. It is a real market– one where the butchers run up and down the stairs with half of a pig on their backs, and where the line at the Casquería booth (the organ meat butcher) stretches along the aisle on a busy Saturday morning.
I started shopping at Mercado Antón Martín right before it started to reinvent itself. I still loved it when it was nice and quiet, but over the past year some very good stalls have opened, which allow people to not only shop at the historic market, but also to taste their way through it. But before all of these newbies came onto the scene, there was someone already offering food– her name is Yoka Kamada, known by many simply as Yoka Loka– the sushi lady in Antón Martín.
That's right, sushi in Madrid, smack in the middle of one of the city's most traditional Spanish markets. Yoka set up shop in 2007 on the top floor of the market. Her tiny booth sold Japanese products and sushi to go. This was right before the sushi craze hit Madrid, and many people still cringed at the thought of consuming raw fish. But, slowly, word of mouth made Yoka a bit of a Madrid celebrity, and as her Spanish improved, she realized that she needed more space.
So she moved downstairs in 2011, and started serving her Japanese delicacies nearly all day long. Only a few weeks ago she finished her second expansion, adding more seating behind her small booth.
Despite running Madrid food tours in the Antón Martín market for almost a year now (it is the heart and soul of Madrid Food Tour's Market Tasting Tour) I had never eaten at Yoka's booth. I tend to finish tours right around Spanish lunchtime, and YokaLoka is always packed with people. I'm usually too tired to eat standing up– and always promised myself I'd try it the next time…
Well, now I've tried YokaLoka and I'm afraid I've created a sushi monster! Wonderful, fresh sushi and other Japanese plates, friendly service, and supporting a local business– what more could I ask for? I am willing to bet I will eat there at least once a week throughout the busy summer.
I am by no means a sushi expert, but what comes through in Yoka's preparations is the freshness of the fish. I asked her where she purchased, and was surprised to find out that she gets her products from the fishmonger on the top floor of the market. I am always looking for sushi grade fish at my local market (Las Ventas at the moment) and usually the fishmongers don't really understand that we want to consume the fish 100% raw. "Vuelta y vuelta" they advise. I now know where I'll go when making my next ceviche!
I've only been to YokaLoka twice so far, but look forward to trying just about everything on the menu in the near future. I'm especially curious about the typical Japanese breakfast she offers, as well as trying more of her desserts (the first was simply addicting). Yoka also offers cooking classes, which I plan to sign up for this summer.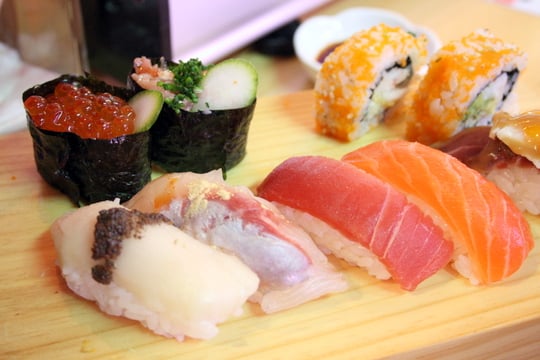 Anyone who lives in Madrid knows how difficult it can be to find good sushi in Madrid at a decent price. But here it is, look no further! Trying YokaLoka is a must for sushi monsters all over town, and while you are there, check out my friends at the many other market stands.
Do you have any Madrid sushi suggestions?
Mercado Antón Martín (Bottom floor)
Metro: Antón Martín
[mappress mapid="15″]