Thyme was not an herb my family used often– my mother isn't a fan and it was her kitchen after all! My few memories of tasting thyme are of huge sprigs decorating meat dishes at some of the restaurants I used to work at, a no-no for today's chefs who have the "if you can't eat it take it off the plate!" rule. But recently I had a chance to fall completely in love with this delicious herb, and it all started with a cocktail.
We were in the tiny Spanish town of Pozos, at a gourmet cooking retreat with Esme Tours. We'd just arrived and were greeted with cocktails and tapas on the rooftop terrace. I was already in love with the surroundings, but little did I know my tastebuds would soon follow suit.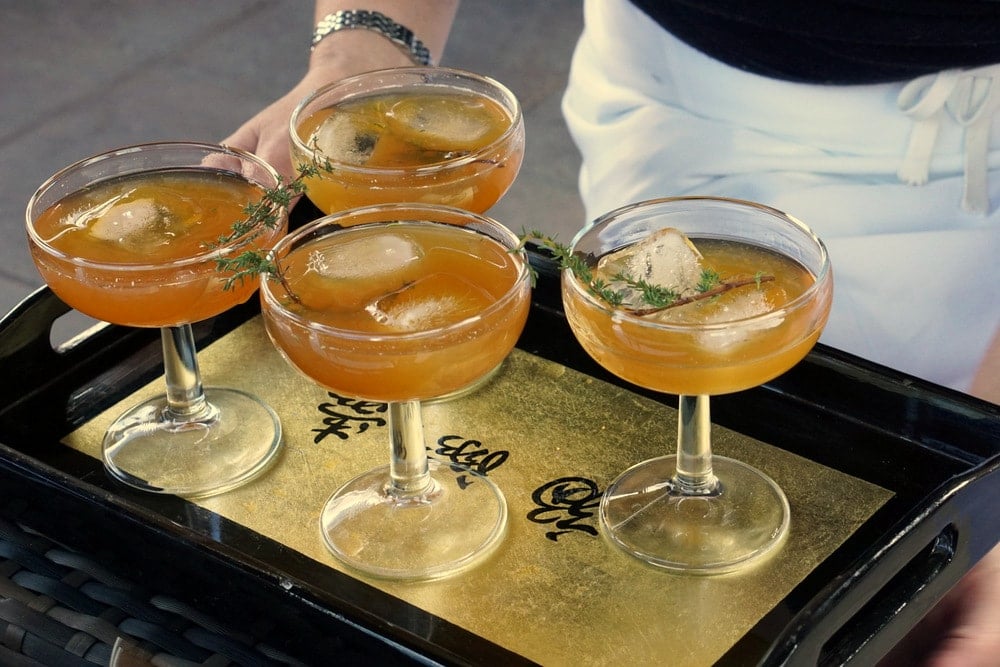 Our host, Laura, was an excellent bartender and handed us one of the prettiest cocktails I've seen in ages. The name? Tea Thyme! Iced tea, vodka, local honey and fresh wild thyme are the ingredients in this delicious drink. I loved it, and I'm not usually one for vodka.
MY LATEST VIDEOS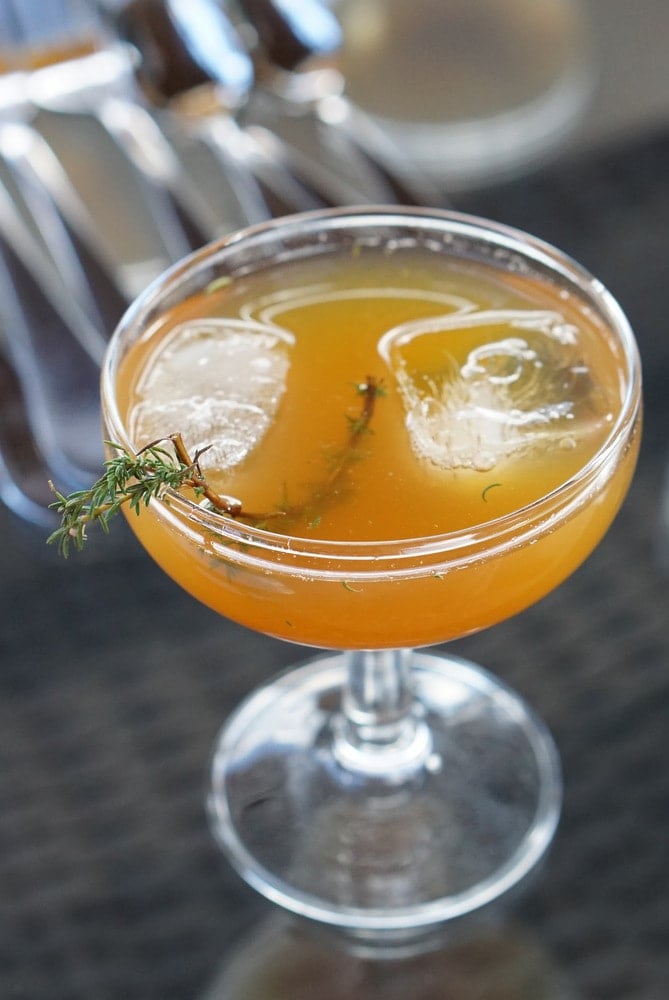 Simple, natural and so good you'll want to drink an entire pitcher (watch out, they're stronger than they taste!) here is Laura's Tea Thyme Cocktail recipe.

Tea Thyme Cocktail Recipe
This delicious tea thyme cocktail recipe is a perfect combination of iced tea, vodka, wild honey and thyme.
Ingredients
This recipe makes one pitcher (about 8 cocktails)
12 ounces of vodka
1 tea bag
6 ounces freshly squeezed lemon juice
8 tablespoons honey mixed with 8 tablespoons of water
About 6-8 springs of fresh thyme
Instructions
The best way to make this tea thyme cocktail is to actually infuse the vodka with the tea. I'm not sure if Laura did this, but it will certainly concentrate the drink more!
In a jar combine 12 ounces of vodka one one black tea bag. Let is sit for two hours and then remove the tea bag.
Slowly heat the honey and water in a saucepan until the honey is disolved. Let cool.
Pour it into a pitcher and add the fresh thyme and muddle with a wooden spoon.
Add the tea infused vodka and the lemon juice to the muddled thyme and honey mixture.
Enjoy over ice, or shake in a cocktail shaker and serve as a martini.
What do you think? Will this tea thyme cocktail be a part of your next happy hour?
Professional eater, writer, cook, food tour operator. Fascinated by food and its history. Loves: a gooey slice of tortilla, fish markets, homemade cocktails, train travel. Hates: Overhyped restaurants, wine snobs, long menus, mediocrity. Check out my food tours at www.devourtours.com.
Latest posts by Lauren Aloise (see all)