Christmas is a time for eating, drinking, and being together here in Spain. Discover the most traditional Spanish Christmas foods with these delicious Spanish recipes. Prepare a classic holiday feast, Spanish style!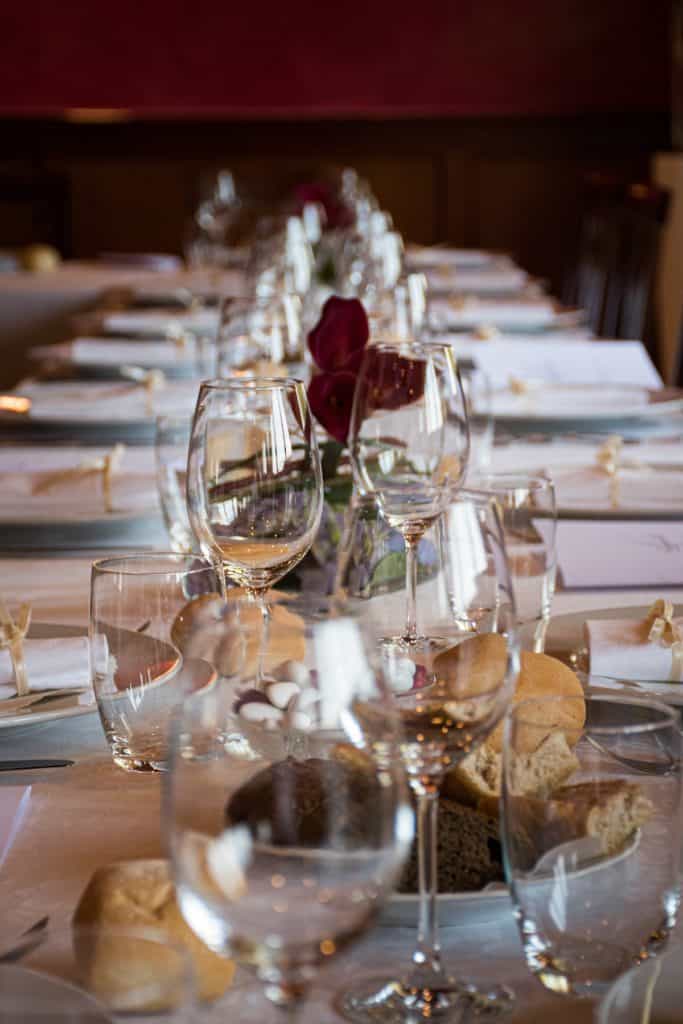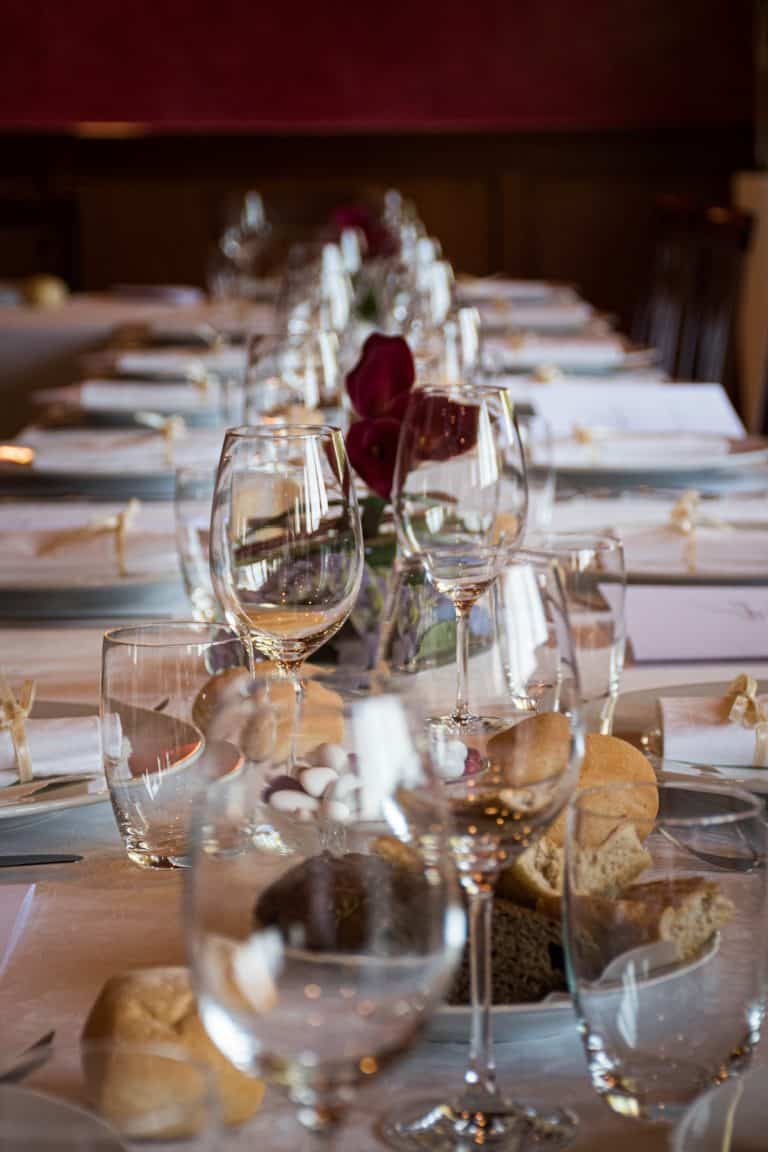 Christmas in Spain is celebrated, above all else, at the table. Families pack into overflowing dining rooms for holiday meals that last longer than most American football games.
We have plenty of opportunities to feast throughout the holidays, starting with All Saint's Day on November 1st and stretching until the Epiphany on January 6th. In between, there are various Saint's Days, Constitution Day, Christmas, and New Year's!
These traditional Spanish Christmas recipes that have been passed down through the generations are really the main event.
They are perfect for a huge dinner on Christmas Eve and throughout the holiday weeks until your final slice of roscón de Reyes cake is finished on Three Kings' Day on January 6th.
Learn more: Spanish Christmas traditions explained
What are the main holiday meals in Spain?
There are five giant meals (at a minimum!) before the holiday season is over:
Christmas Eve dinner
Christmas Day lunch
New Year's Eve dinner
New Year's Day lunch
Three Kings' Day lunch
Each goes a bit like this:
Appetizer course: Usually a giant buffet of Spanish tapas
First course: Generally a piping hot Spanish soup
Second course: Roasted meat or fish and a couple of sides
Dessert: A banquet of Christmas sweets, fruit, nuts, and sweet wines and liquors
Read all about Spanish Christmas desserts here.
While the menu varies widely from family to family and region to region, here are a few of my favorite Spanish Christmas recipes to give you a taste of the holidays in Spain. I make these with my family every year - perhaps you will too!
Top 25 Spanish Christmas Foods (with recipes)
Tapas Course
As the family gathers for the meal, a bounty of small dishes, spreads, and finger foods covers the table.
The tapas (small dishes) and aperitivos (appetizers and cocktails) range from patés spread over crackers to tuna tartare. This phase of the meal almost always includes various seafood dishes, most commonly shrimp, clams, mussels, or langoustines. You'll also find octopus, scallops, and sea snails.
Some ideas for festive Spanish tapas include:
1. Tetilla Cheese Puffs with Sesame Seeds and Honey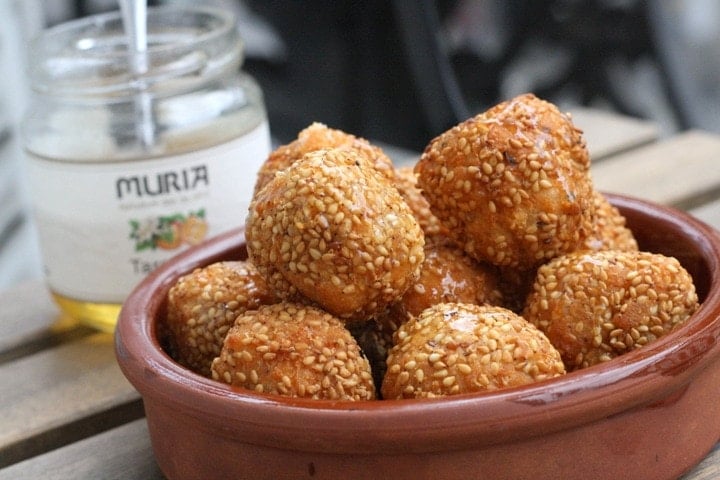 Smooth Tetilla cheese from the northwestern Spanish region of Galicia is the star of these lightly fried cheese puffs. With a hint of smoky paprika and a sweet drizzle of local honey, they tend to disappear quickly!
You won't find cheese puffs very often in Spain, but at Christmas, no holds are barred. This is a time when people break out new recipes and creative creations to add some flare to the more traditional dishes.
Get the recipe for these Tetilla cheese puffs here.
2. Smoked Salmon Pintxos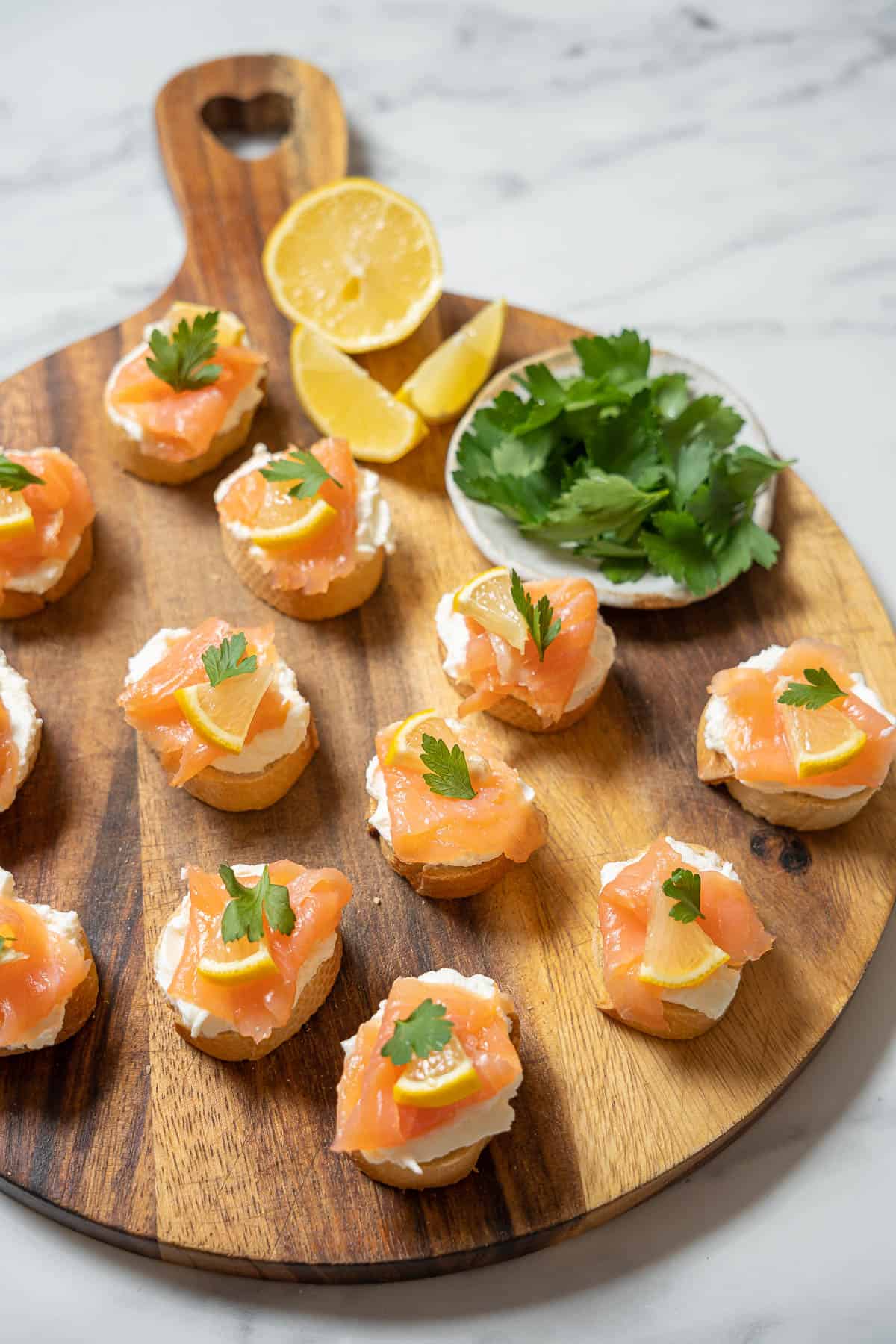 This easy salmon pintxos recipe is one of my favorites since it's so quick and also everyone seems to love it. Toast a sliced baguette, spread with cream cheese, and top with the best smoked salmon you can find. They'll be sure to disappear quickly!
3. Perfect Boiled Shrimp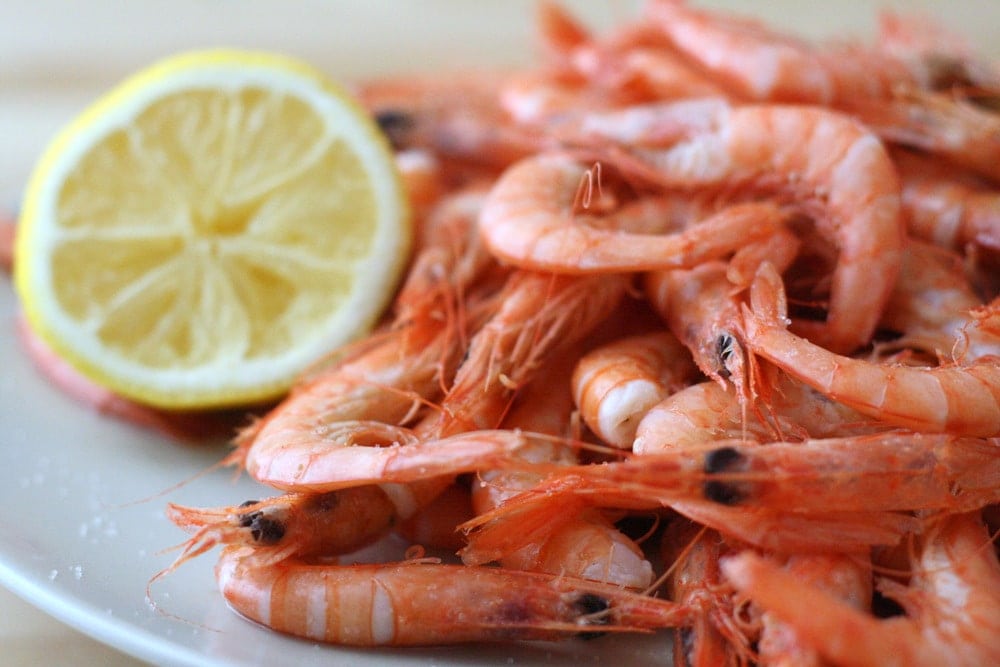 No Spanish Christmas table is complete without shrimp. While these little sea creatures go by many names in Spain, some of the most popular varieties are langostinos (prawns or jumbo shrimp) and gambas (deepwater rose shrimp).
During the holidays, shrimp are served in many different ways. They are mixed into salads, chopped into savory tartlets, tucked into mini-sandwiches, and stacked whole onto plates under a sprinkle of salt.
If you can get your hands on some of Spain's best shrimp, like fresh gambas rojas from the southern town of Huelva, definitely go for a simple recipe like this Perfect Boiled Shrimp to let their true flavor shine.
4. Gooseneck Barnacles (Percebes)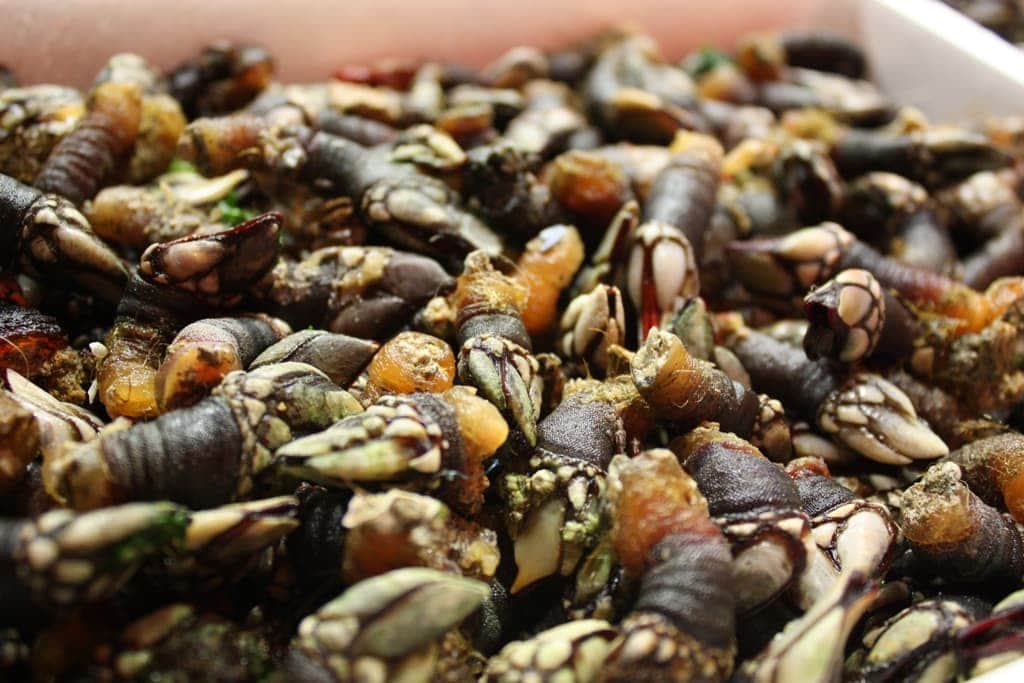 Is it a chicken foot? A bird beak? A dinosaur claw? Nope, those craggy two-inch-long creatures are gooseneck barnacles. They are one of the most expensive types of seafood in Spain and one of the most dangerous to collect.
Around five people per year die on the ferocious Galician coastline collecting the tasty barnacles that cling to the black rocks. Christmas is the most popular time of year for these percebes, which are usually served boiled.
See more of Galicia's amazing cuisine in our Galicia seafood guide!
5. Cured Ham Croquettes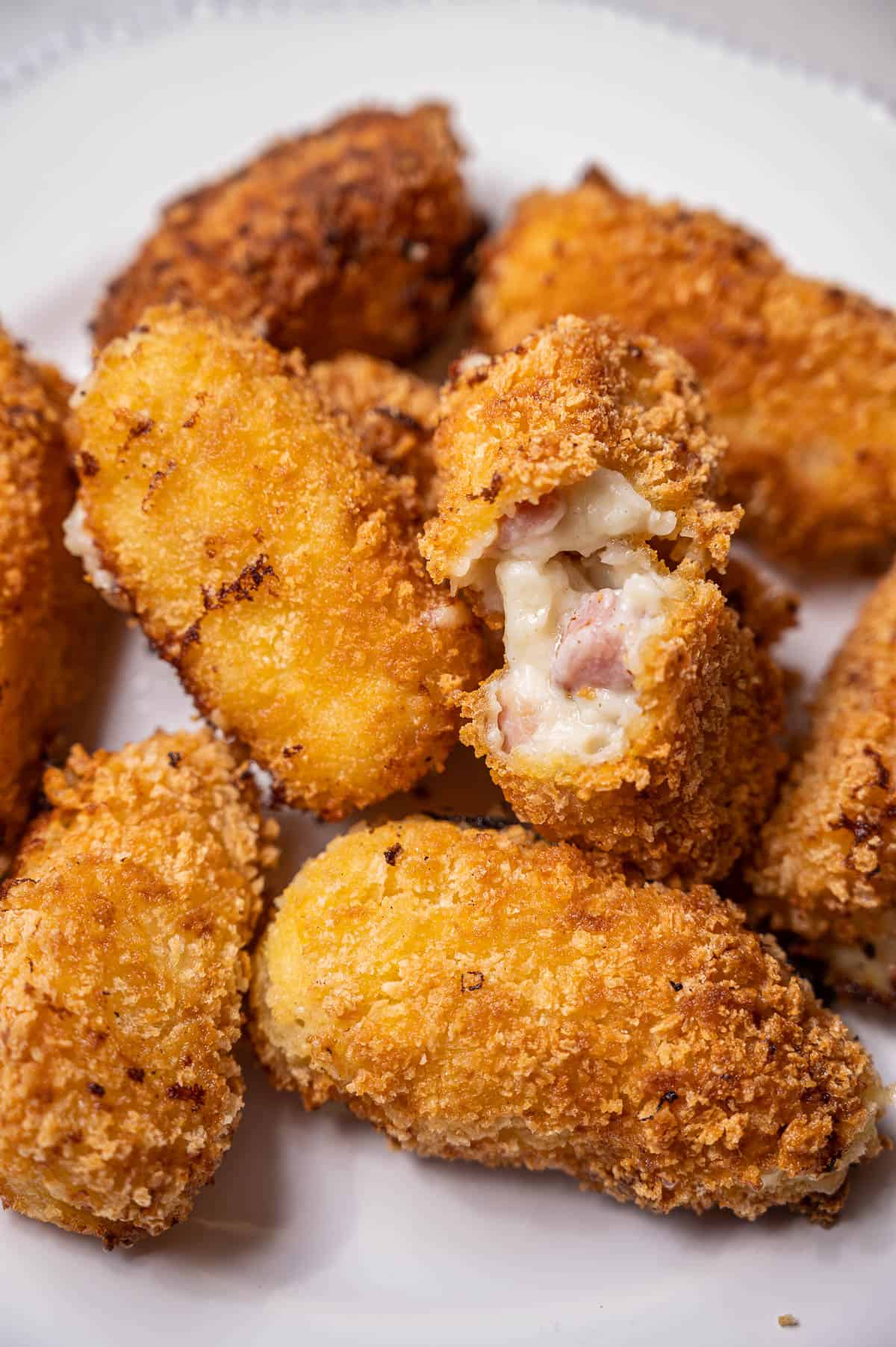 Cured Iberian ham is a must at Spanish Christmas dinners. More of this delectable cured ham is sold in December than in every other month of the year!
While the good stuff is served in paper-thin slices to be savored all by itself, the less knightly hams often make their way into a variety of traditional tapas.
My personal favorite is croquettes. Cured Serrano ham and béchamel cream sauce on the inside, olive oil fried crust on the outside. Spanish croquettes are my vice.
Get the recipe: Here's how to make traditional Spanish croquettes
6. Ensaladilla Rusa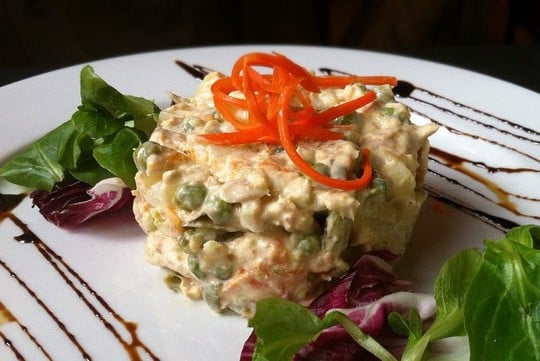 Many family Christmas spreads include an ensaladilla Rusa as part of the tapas course. This cold potato and mayonnaise-based salad can be time-consuming to make from scratch, but well worth it. It's delicious and one of those dishes people expect to see over the holidays!
Get the recipe: easy ensaladilla Rusa
7. Fish Paté (Pastel de Cabracho)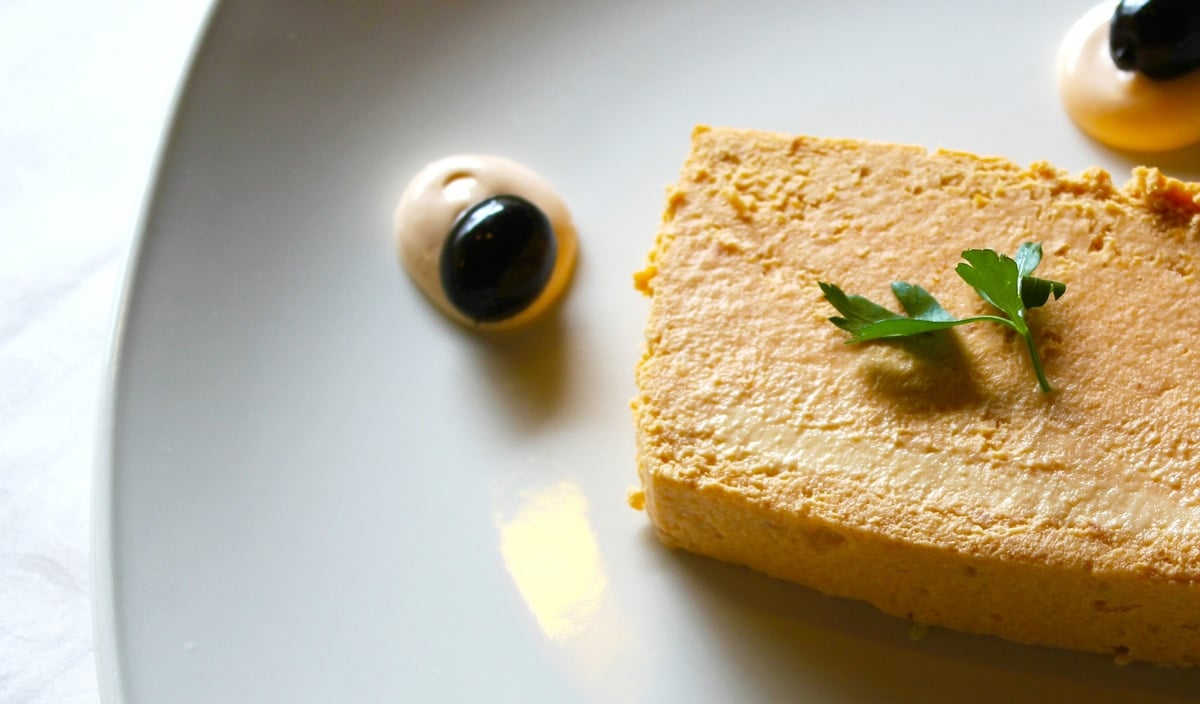 One of the seemingly infinite options for Christmas appetizers is Pastel de Cabracho, or scorpionfish paté. This pinkish loaf is made from boiling scorpionfish with carrot and leek, then pureeing the mixture with egg, tomato paste, and heavy cream.
The result is a dish straight out of my grandmother's 1990s pastel living room. Coral pink and perfectly spreadable, pastel de cabracho is usually eaten with small toast crackers or sliced bread. And once you get your head around the idea of fish dip, it's actually quite tasty!
8. Baby Eels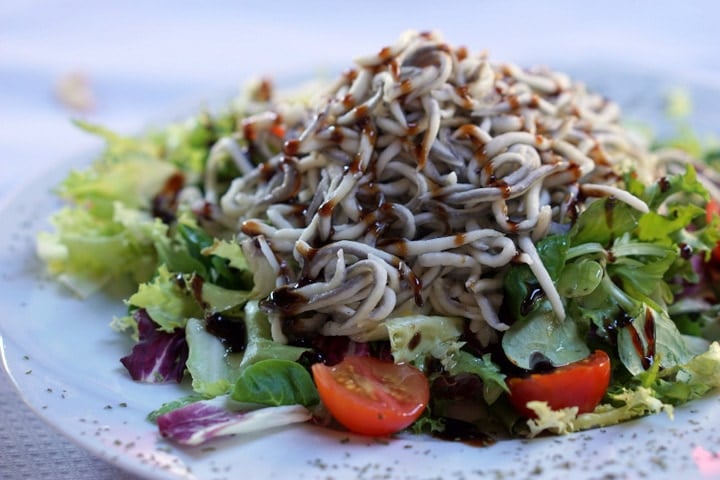 These spaghetti-like little creatures are a delicacy so rare and expensive that a much cheaper knock-off has swooped in to fill the demand. Real baby eels, which sell for about €200 per kilo, are called angulas. The much more affordable imitation baby eels which are made from surimi fish are called gulas.
Both are usually sautéed with olive oil, garlic, and cayenne pepper and served in ceramic dishes called cazuelas.
9. Spanish Hummus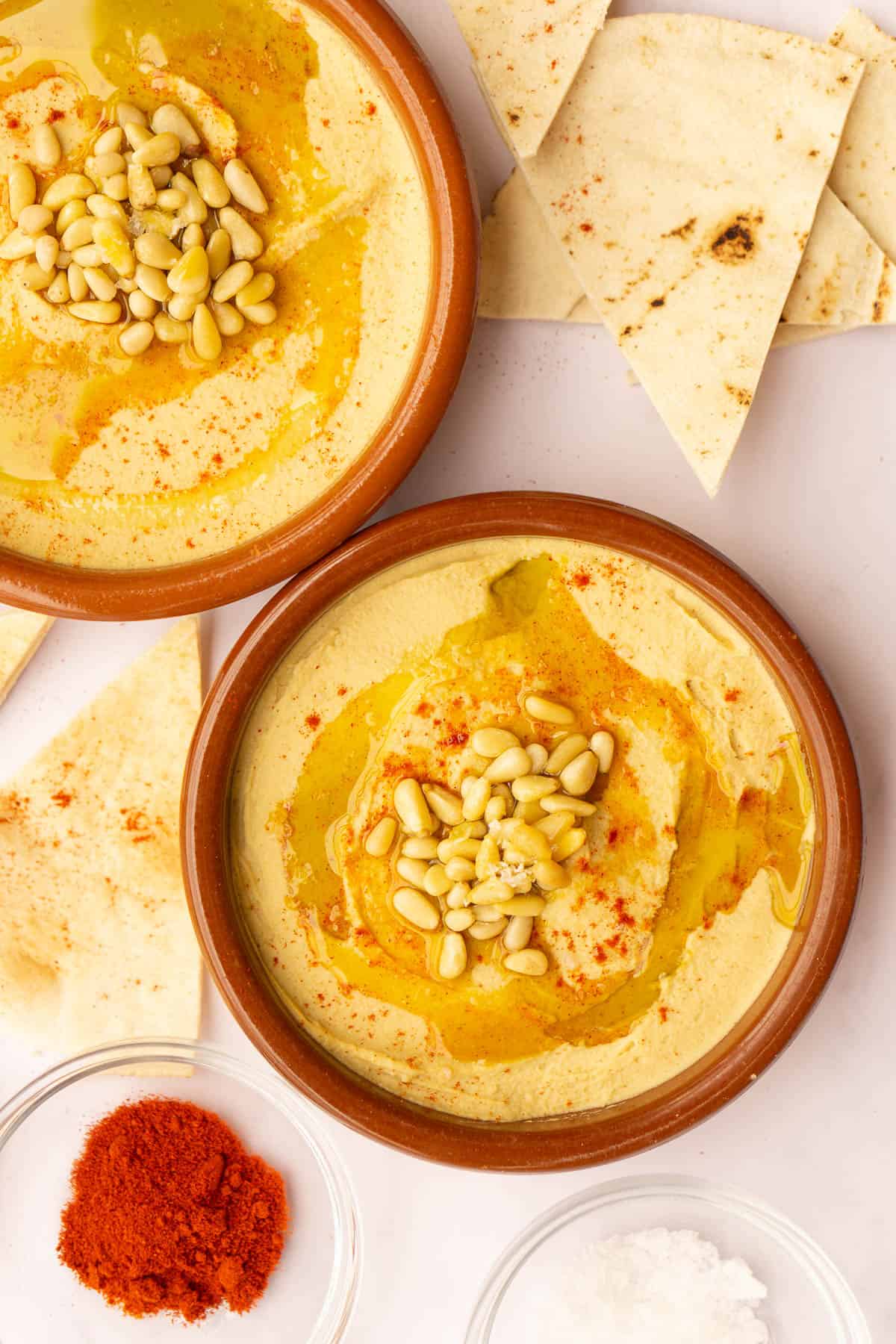 While hummus is not Spanish in origin, it's very popular these days in supermarkets and also in restaurants. I like to spruce up my homemade hummus with ingredients like paprika, cumin, and pine nuts. What Spanish hummus recipe do you like best?
First Course
After a trove of tapas, things start getting serious. The small plates are whisked away to be replaced by a dish requiring proper utensils. Most often the first course is a light, brothy soup or a salad.
Some ideas for a Spanish-inspired first course for the holidays include:
10. Spanish Seafood Soup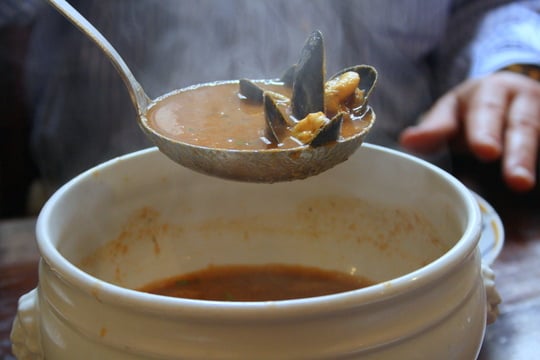 The parade of seafood does not stop at tapas. Many of the most traditional first courses at a Spanish holiday meal consist of some type of seafood soup. Common ingredients include shrimp, clams, and mussels along with fish like hake or monk.
Try this recipe (scroll to the end) for Spanish-inspired seafood chowder!
11. Galets Soup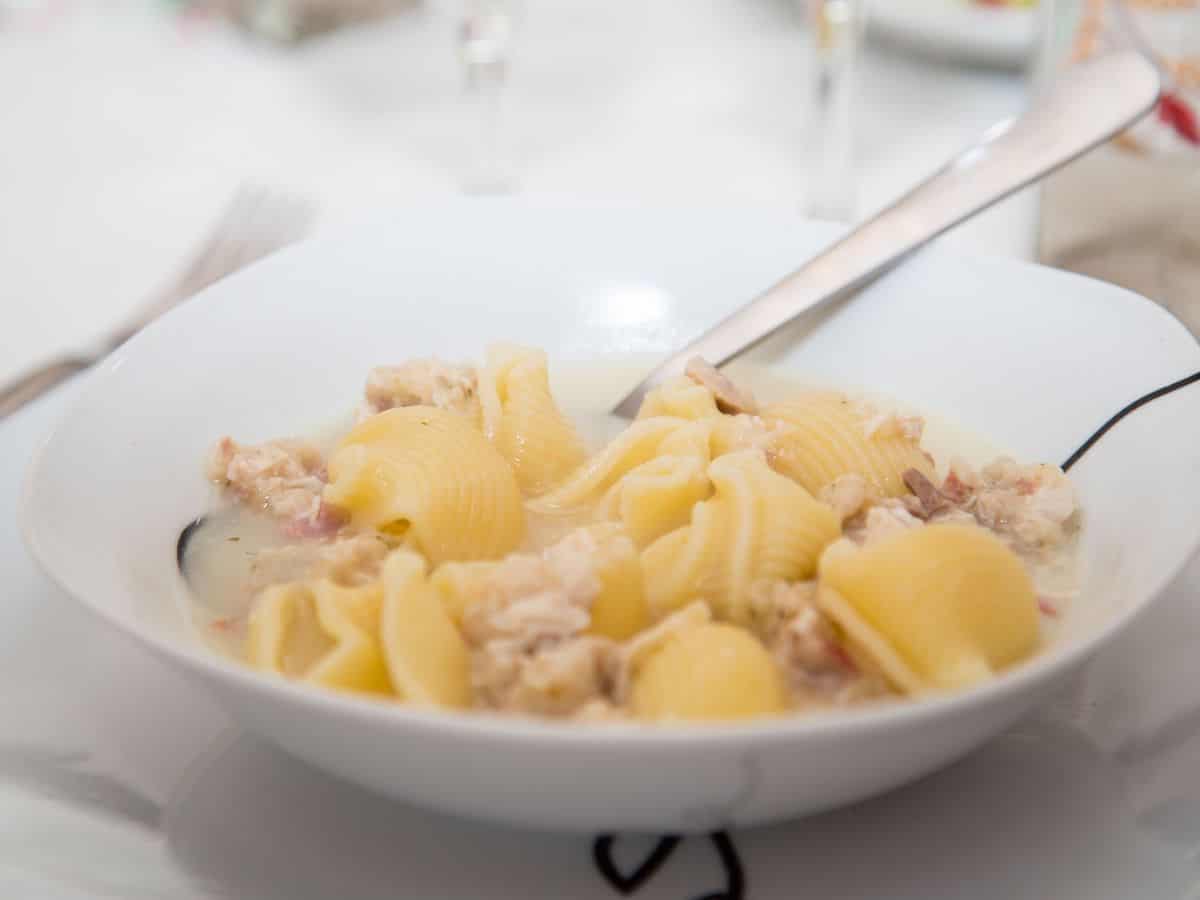 In Catalonia, the Christmas soup always comes with a specific type of pasta shell called a galet. During the holidays giant plastic sculptures of shells are part of the Christmas decorations in many cities in the region.
Galets Soup gets its rich flavor from the meat that is boiled with the soup. While the large cuts are saved for the second course, ground meat is often stuffed into the shells or served alongside them as in this Galets soup recipe.
12. Tuna Belly, Blood Orange and Avocado Salad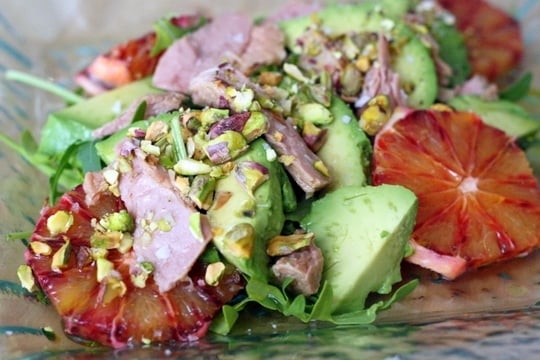 A light salad is also sometimes seen as the first course at Spain's holiday meals. Salads here tend to let the vegetables and toppings shine by using very light dressings. Often times a drizzle of olive oil and a splash of vinegar is all the dressing it needs!
A favorite winter salad of mine is this tuna belly, blood orange, and avocado salad.
13. Clams in Sherry a la Marinera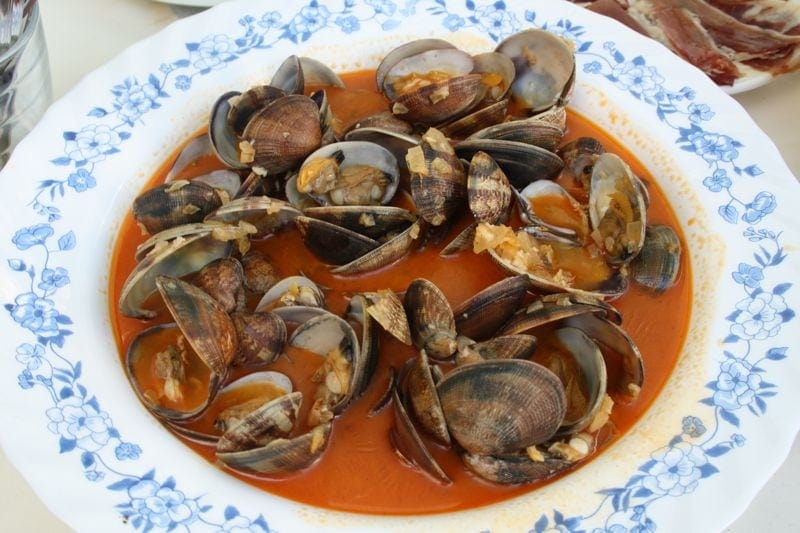 In Andalusia, the holidays always include a big platter of these delicious clams a la marinera. The garlic and sherry sauce is absolutely delicious and worth a try!
You can make these at home easily with this simple Spanish clams recipe.
Second Course
It's a good thing that Christmas meals in Spain are hours-long affairs, otherwise, I'd never be hungry enough by the time the second course came! And trust me, you want to be hungry for this feast.
The rest of the meal seems like child's play compared to most second-course dishes. Roasting is the name of the game whether it be lamb, fish, turkey, or suckling pig.
14. Baked Fish with Lemon and Herbs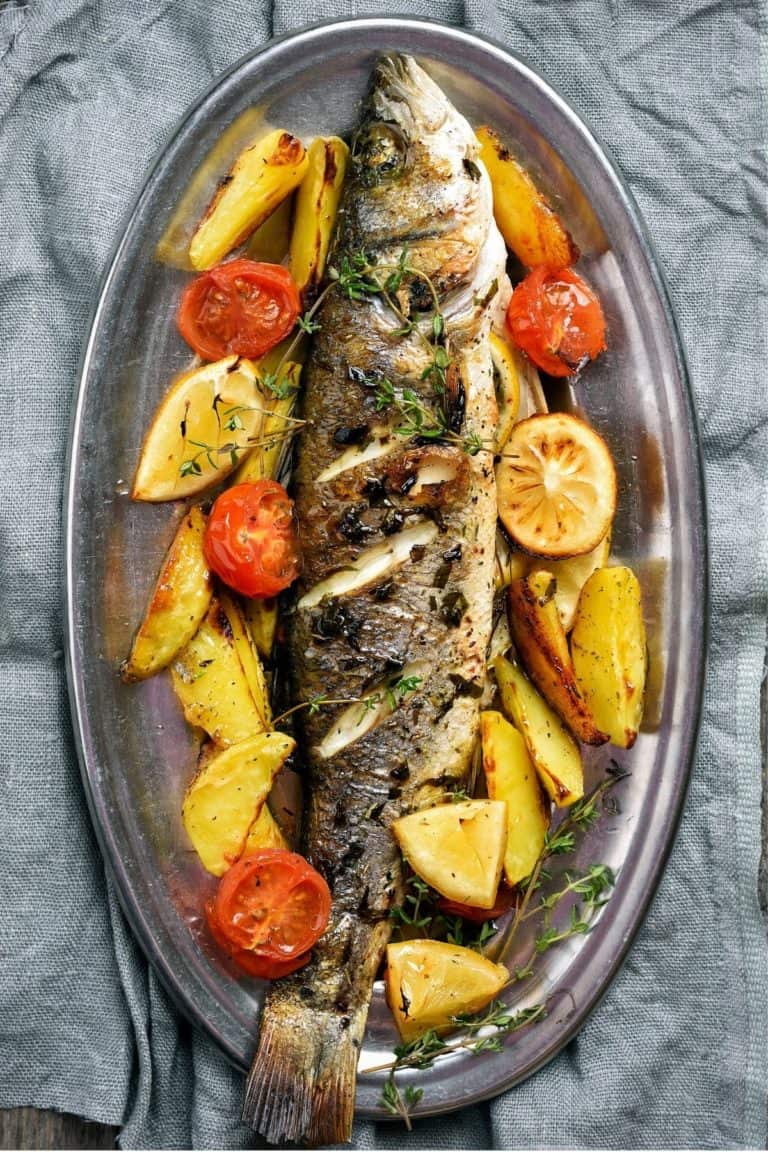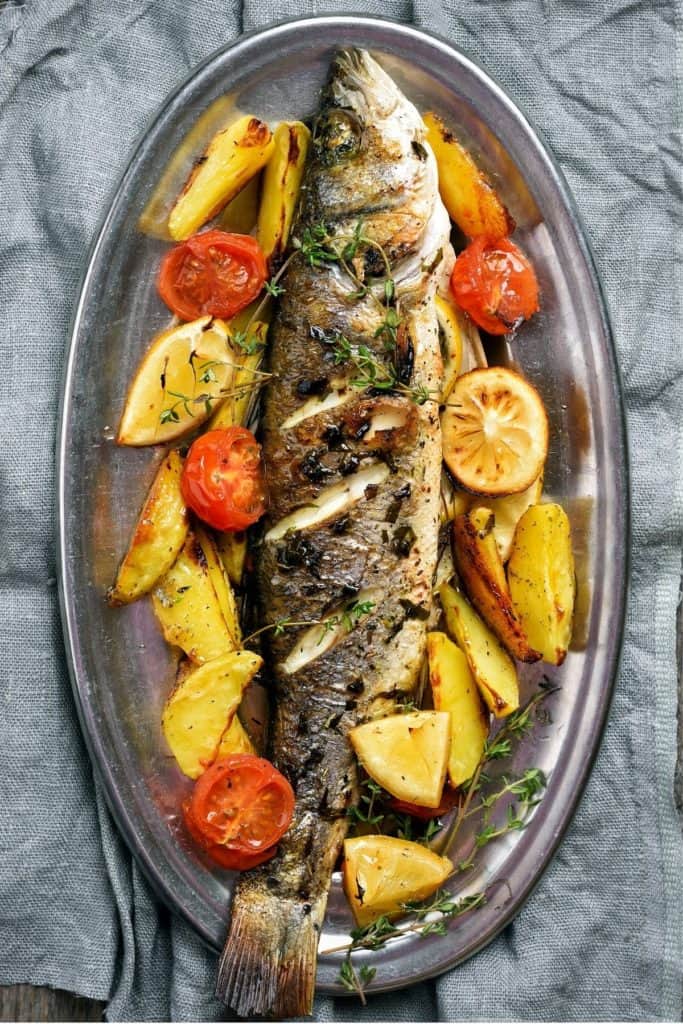 If the holiday meal is at night, the main course is most often going to be fish. Some of the most popular Christmas fish in Spain are lubina (European seabass), rodaballo (turbot), dorada (gilt head bream) and bacalao (cod).
In this recipe for baked dorada with lemon and herbs, the fish is baked whole, locking in moisture and ensuring the fish turns out nice and juicy.
15. Pan Fried Spanish Cod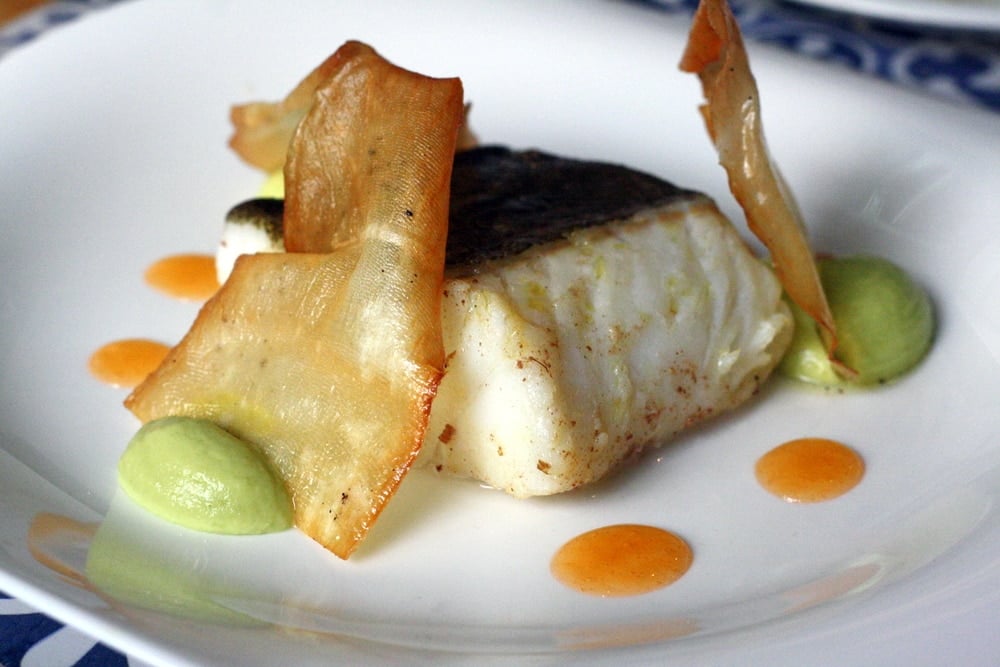 For another classic preparation, you could try this pan-fried Spanish cod. This is a simple delicacy, and cod is an expensive (and therefore festive) fish choice these days!
16. Slow Roasted Spanish Lamb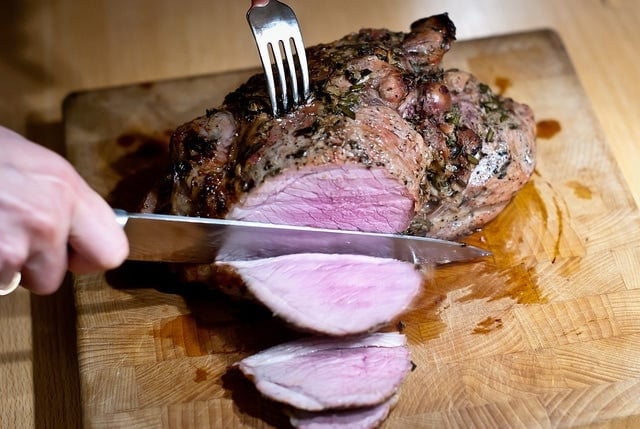 Neighborhood butcher shops are bustling places during the Christmas season as families hustle in to order and pick up their meat for roasting.
More often than not, that meat is lamb. While suckling pig and even some beef recipes may make it to the table, the dish I most often hear about at Spanish Christmas dinners is roasted lamb.
This slow-roasted Spanish lamb recipe makes a darn good rendition of a traditional Spanish roasted lamb using ingredients that are easy to find outside of Spain.
17. Chicken Pepitoria (Pollo a la Pepitoria)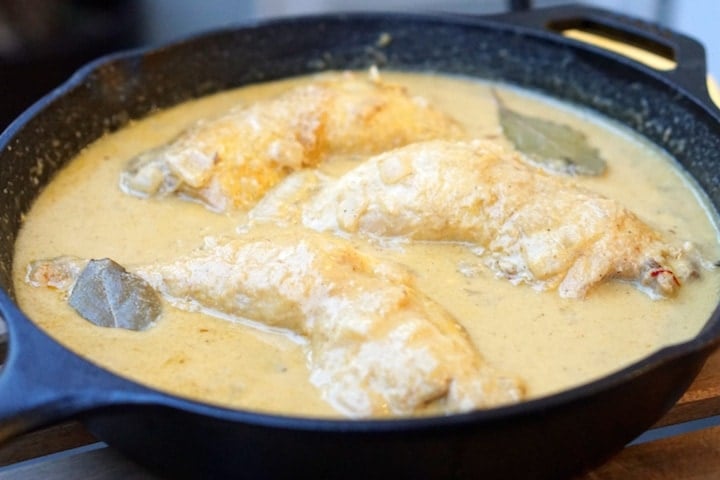 This is not a super traditional holiday dish, but it is one of the most delicious and historic Spanish chicken stews, so I'd bet it's been served at plenty of holiday feasts! Plus, it uses expensive ingredients like almonds and saffron to add flavor, meaning it's fit for a special meal.
Get the recipe: Spanish chicken stew pepitoria
18. Roasted Vegetables with Romesco Sauce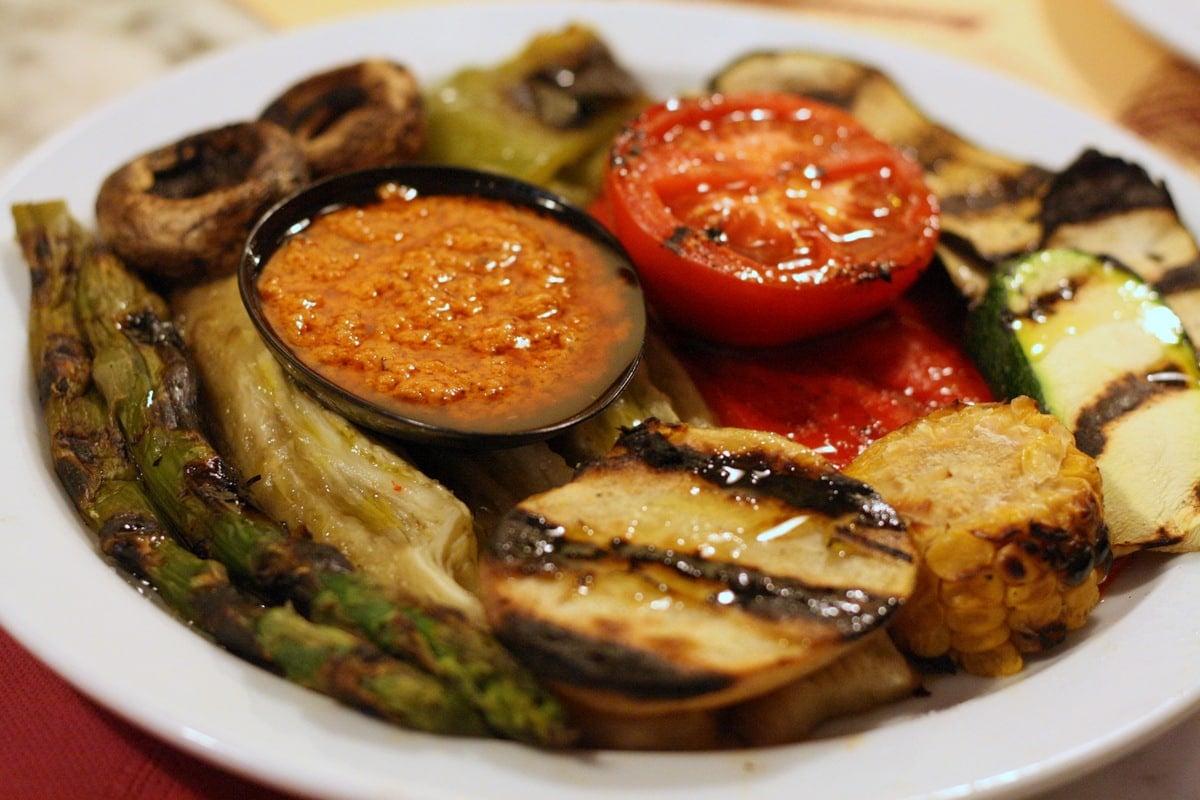 I wanted to include a vegan/vegetarian option here, and there is nothing better than creamy Spanish romesco sauce with perfect Mediterranean roast vegetables.
Dessert
I have an entire article about Spanish desserts, and Spanish Christmas desserts have even more to offer!
Just when you think the eating has ended, a three-part dessert awaits. First comes what you might typically think of as Spanish dessert: flan, some sort of bread pudding, cake, or tarts.
Next is the spread of traditional Christmas sweets like turrón (nougat and almond bars), polvorones and mantecados (powdery almond cookies), fig bars, candied fruits, nuts (almonds, walnuts, pistachios, etc.), and fresh seasonal fruit like apples, mandarins, persimmon, and pomegranate.
Last comes the liqueurs like brandy or orujo (moonshine-like liqueur distilled from grape skins often flavored with herbs or made into a creamy Bailey's like liqueur). Your Spanish Christmas recipes are not complete without these sweet additions!
For a Spanish dessert at your table, try some of my favorites:
19. Lemon Olive Oil Cake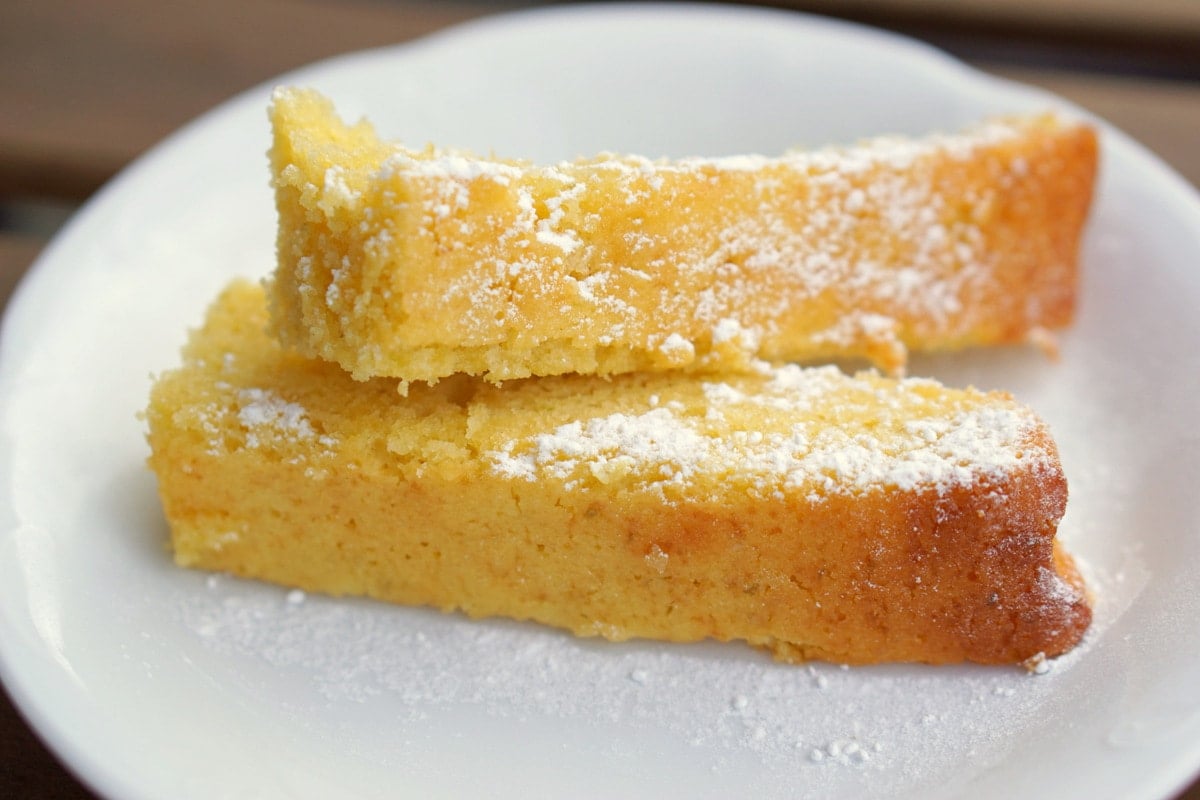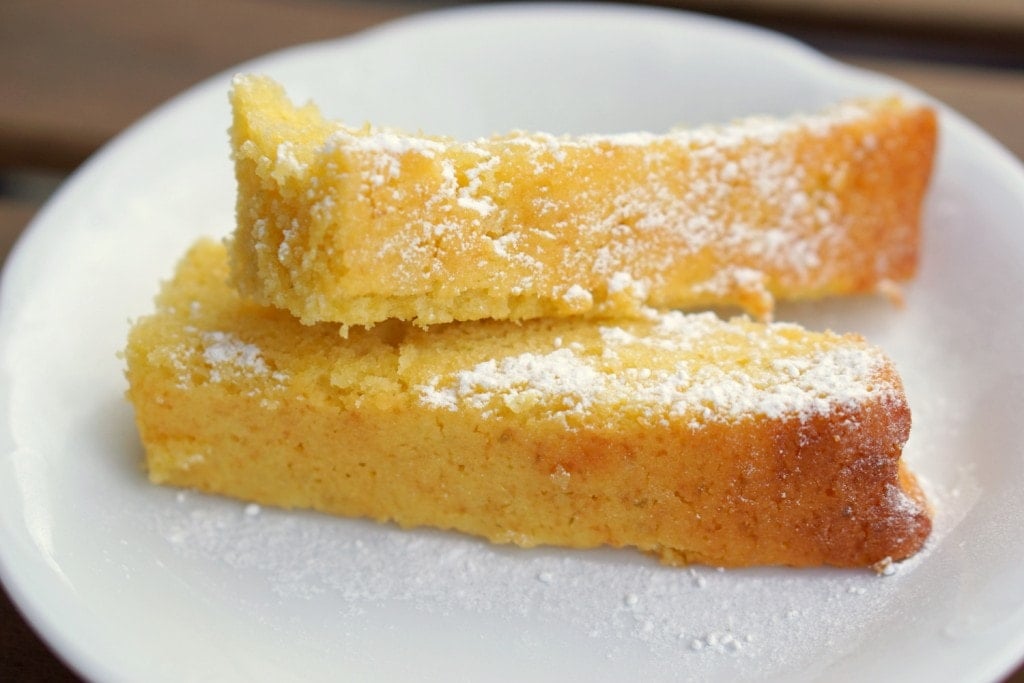 An incredibly moist cake that would go perfectly with a post-lunch coffee. The olive oil in the recipe really comes through, meaning you should use the good stuff!
The perfect lemon olive oil cake recipe here.
Not a lemon fan? Try this apple olive oil cake instead!
20. Polvorones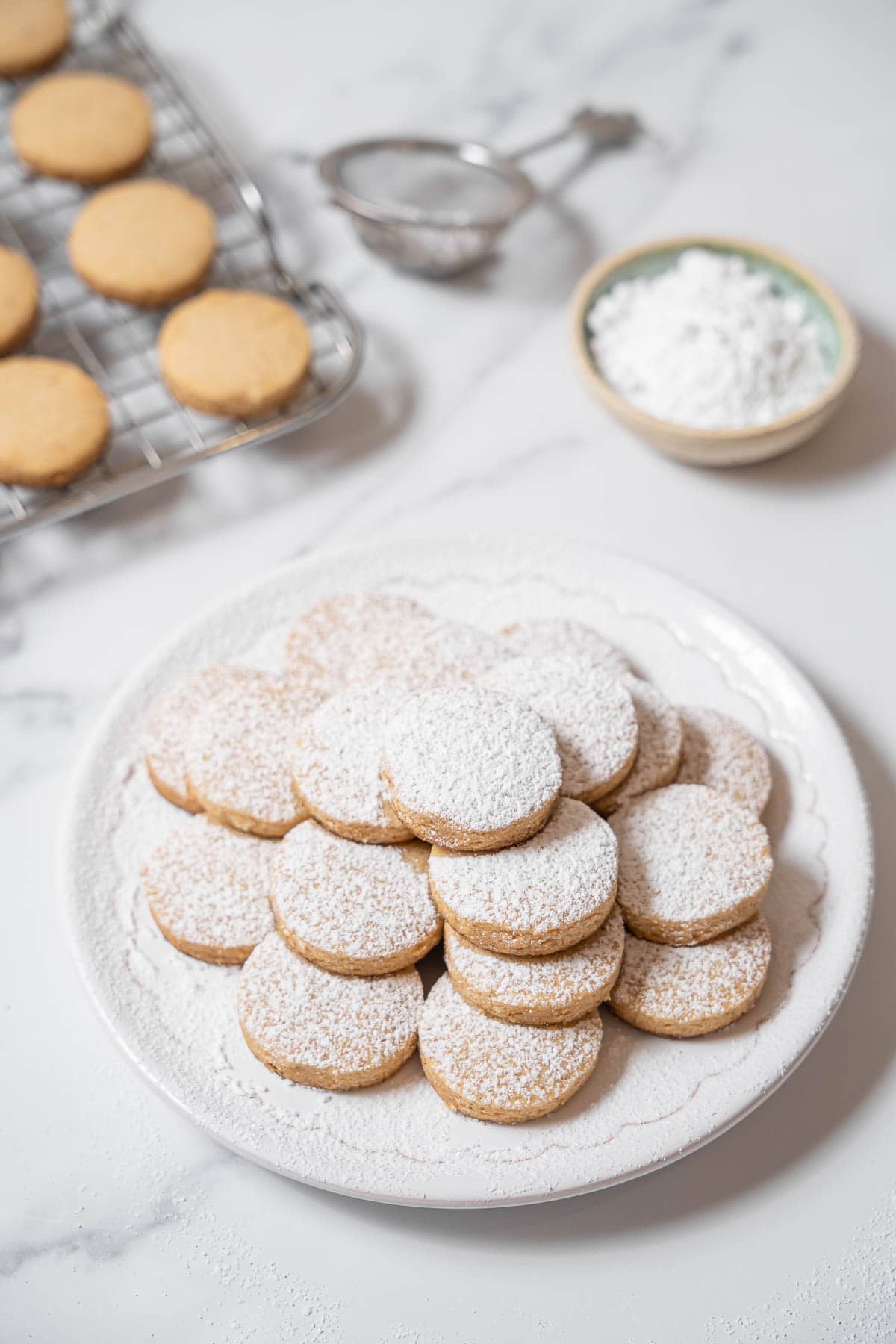 The quintessential Spanish Christmas cookie! Growing up with US cookie culture, it took me a while to love these dry, crumbly cookies. But after living here nearly two decades I can safely say they're worth the calories!
Try this Spanish polvorones recipe at home.
21. Arroz con Leche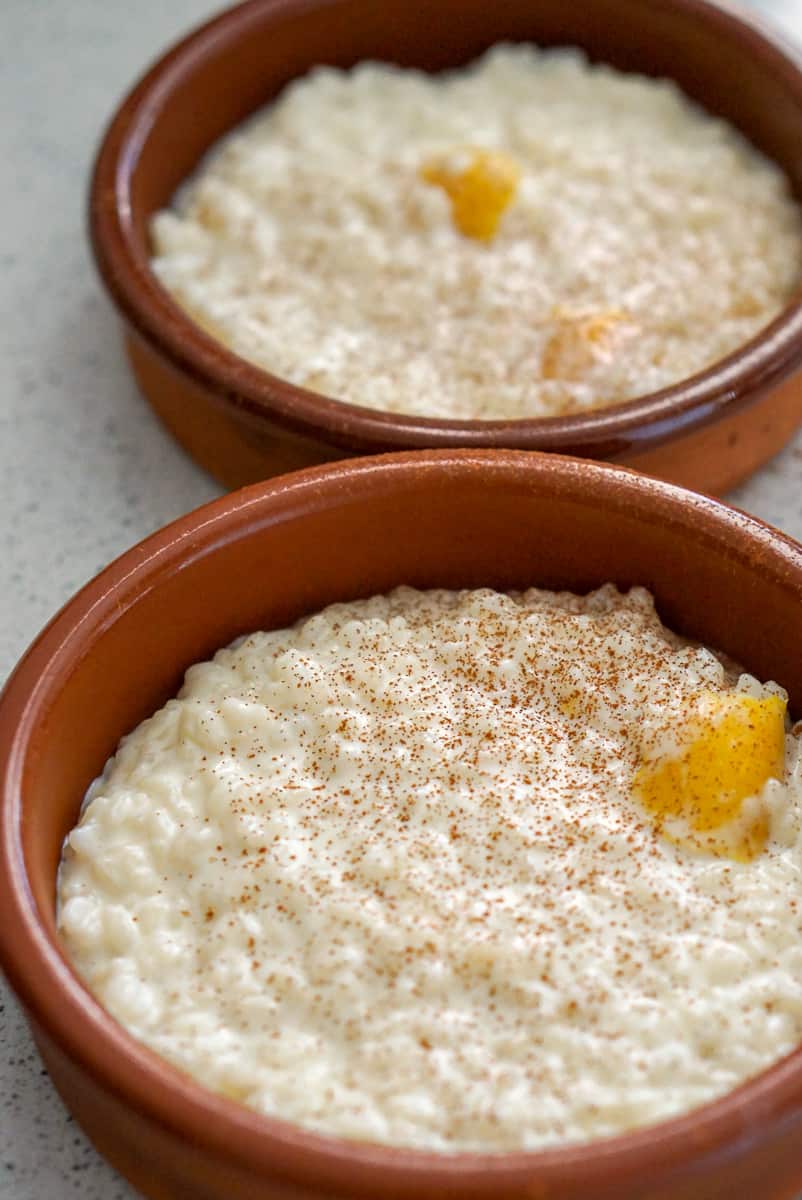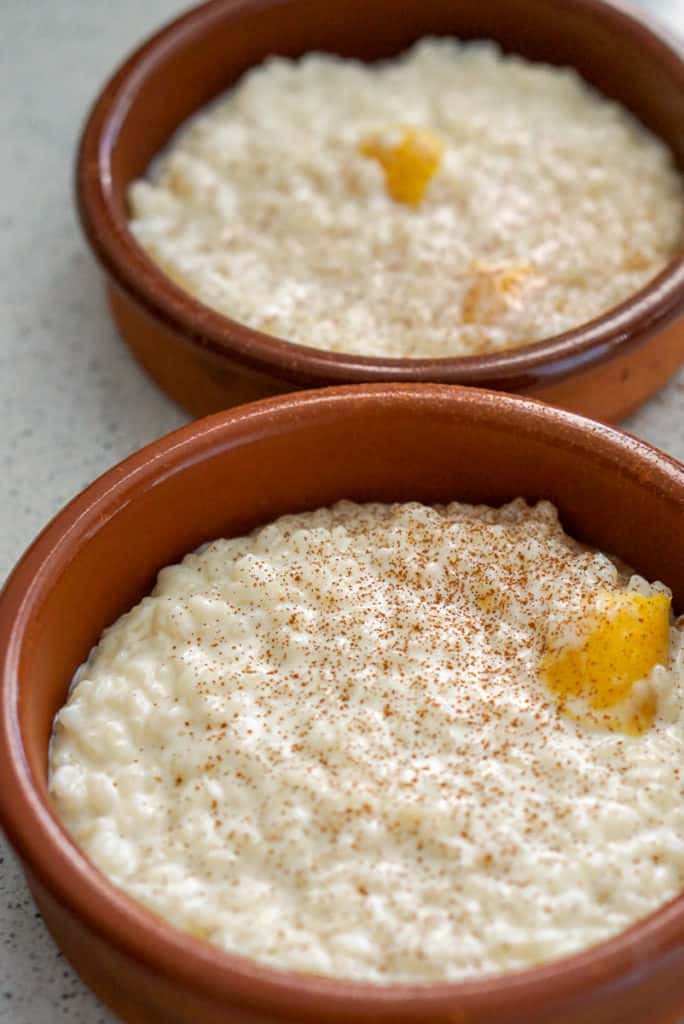 Simple, delicious, and not too heavy, arroz con leche is a perfect Christmas dessert. A hint of cinnamon makes this cold, creamy rice pudding extra delicious.
22. Turrón de Alicante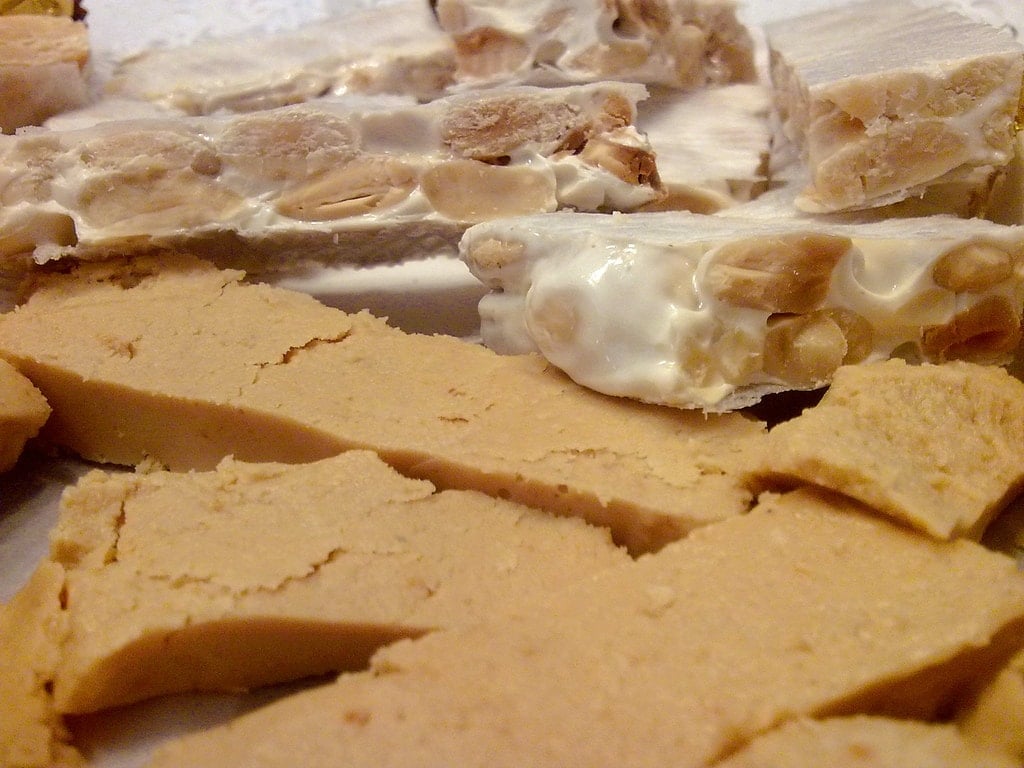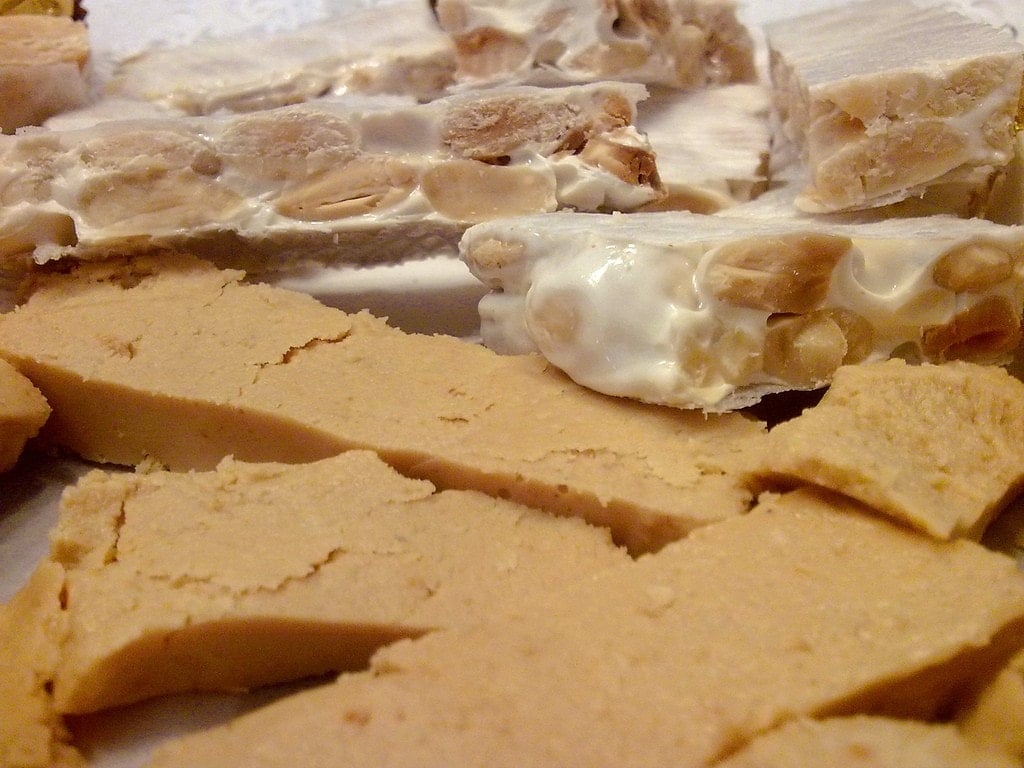 While there are now umpteen types of turrón, the classic recipe is short and sweet: honey, almonds, sugar, and egg whites. This recipe for turrón duro (or hard turrón) is from Alicante.
A very similar version from Jijona, known as turrón blando (soft turrón) is much softer and reminds me of a sweeter, more compact version of almond butter.
23. Basque Cheesecake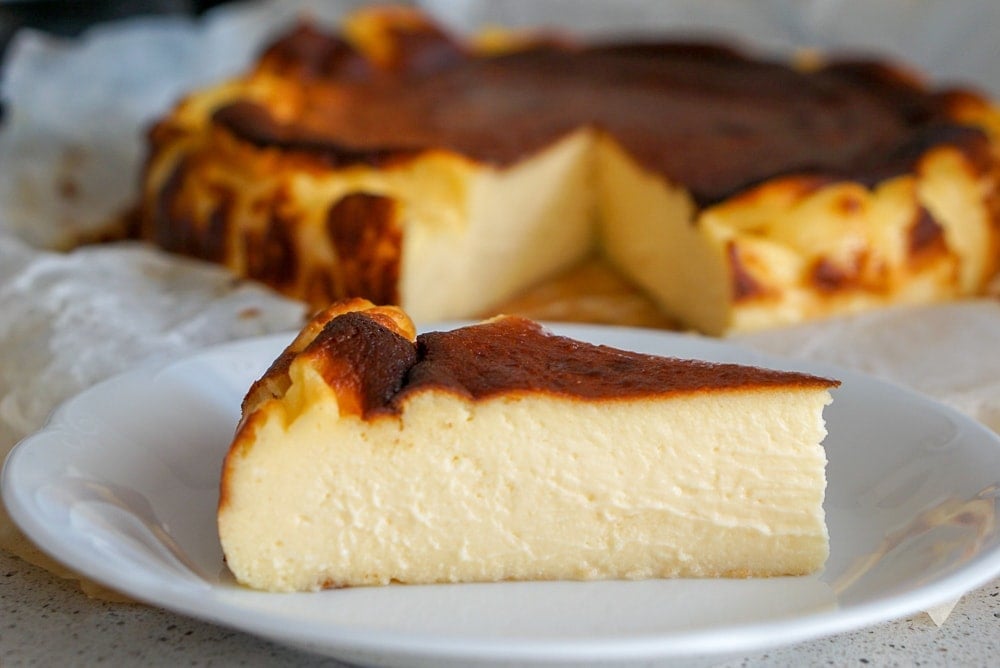 It might not be exclusively a Christmas dessert, but Spanish cheesecake deserves a spot at the table for any special meal! This decadent Basque cheesecake recipe is so rich that one cake will feed plenty of guests. It's so delicious that you'd never guess it only had a handful of ingredients!
24. Spanish Flan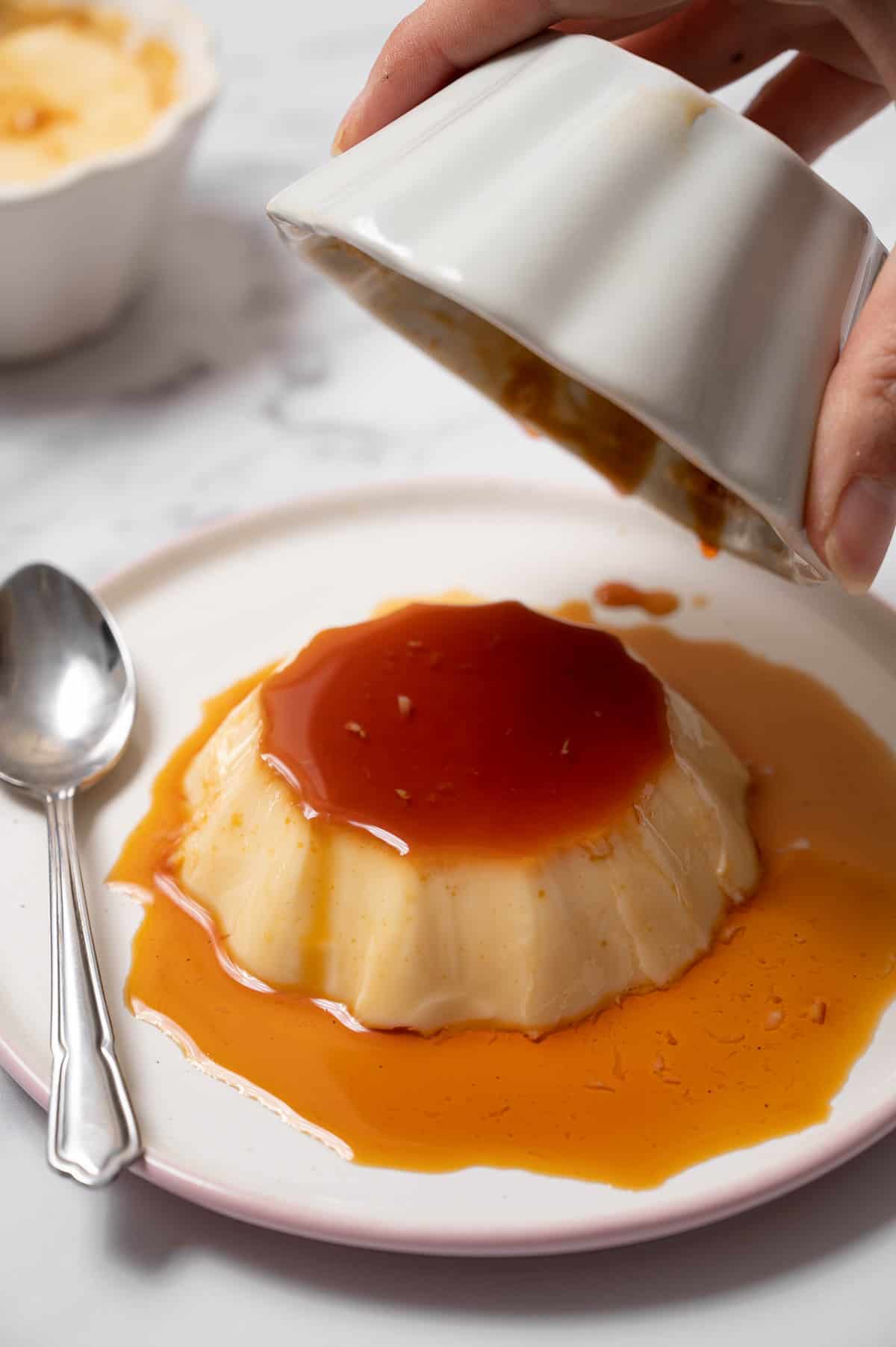 Spanish flan is a delicious dessert for any special occasion. And although it can be intimidating -- it's really quite easy and adaptable. I love the classic Spanish flan recipe but also make a great coconut flan. For Thanksgiving, I make pumpkin flan!
25. Roscon de Reyes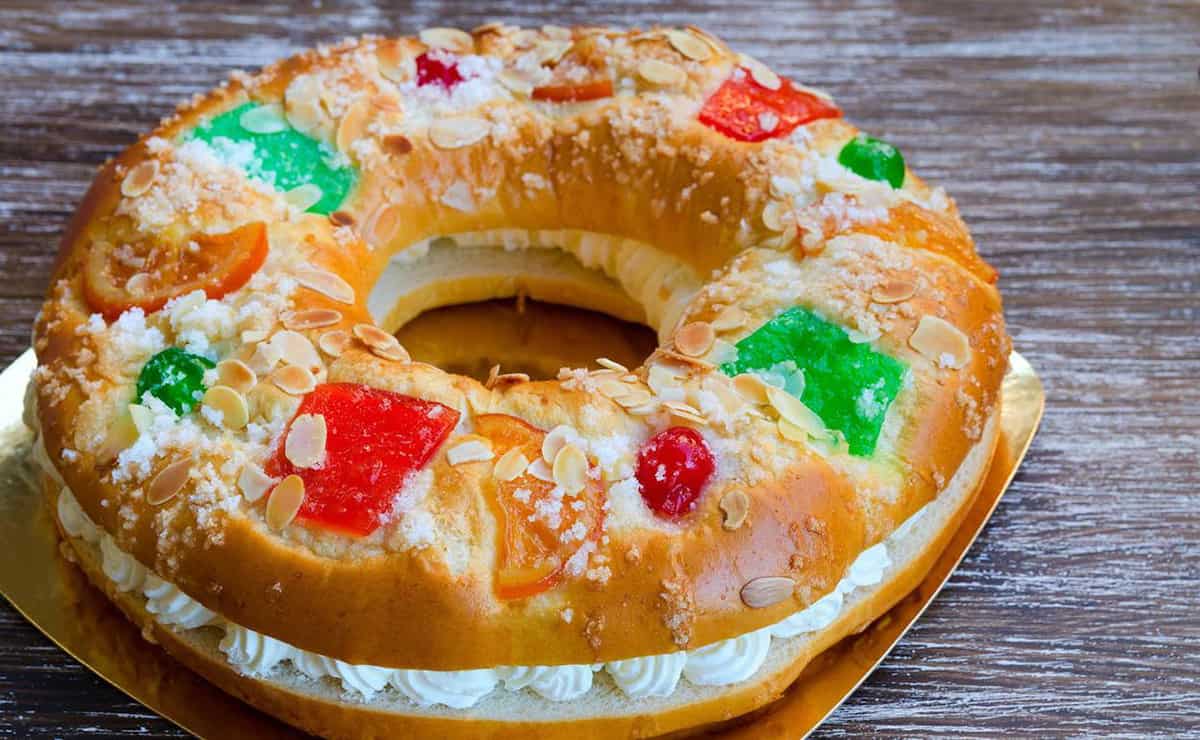 Last but not least, I leave you with my beloved roscón de reyes recipe. This slightly sweet brioche-style ring is usually covered in sugared fruit and sliced in half. It's then filled with fresh whipped cream -- chocolate or plain. It's more typically eaten for Three Kings' Day (January 6th) but you'll see it served throughout the holidays.
Just be careful you don't find the bean hidden inside -- you'll have to pay for the roscón!
More Holiday Traditions in Spain
What are your top Spanish Christmas recipes? Do any of these traditional Spanish Christmas foods catch your eye?