Looking for an authentic Spanish tortilla recipe? This is tried and tested and truly the best Spanish omelet I've tried!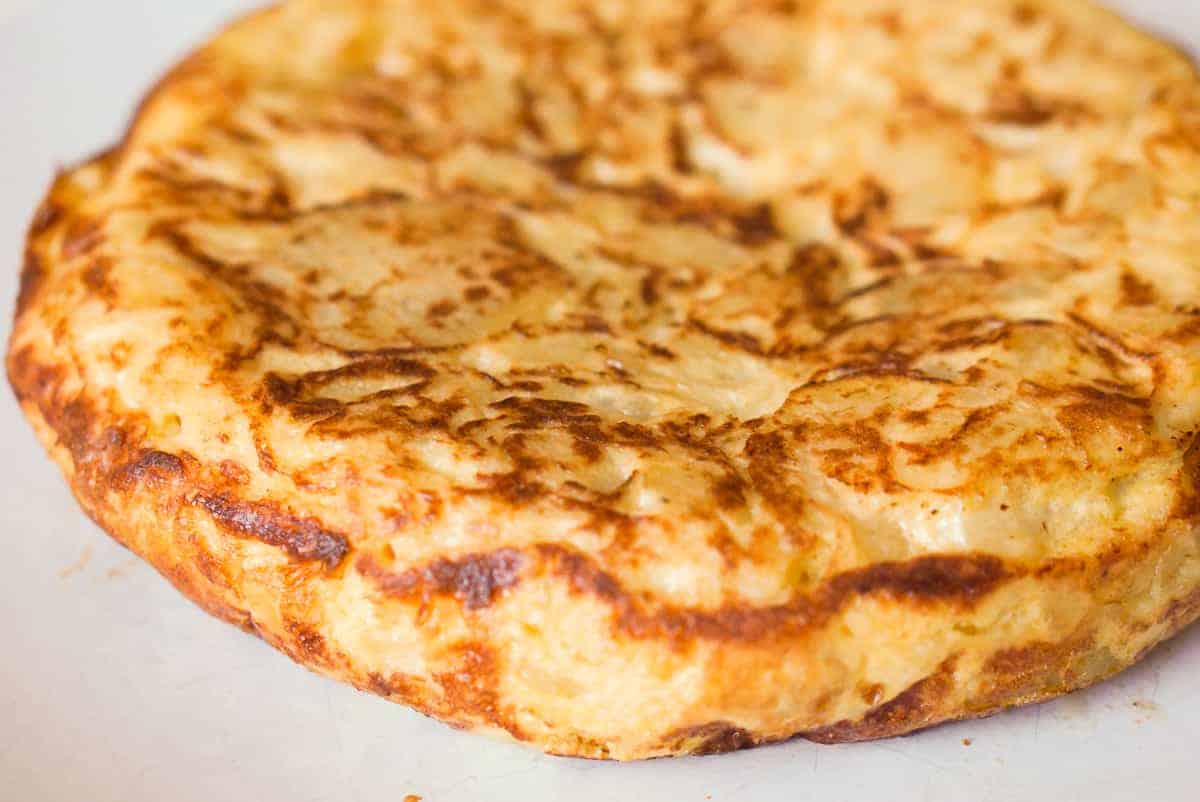 Is there anything more Spanish than la tortilla española?
I'm really not sure that there is. When made right, a Spanish omelet is the definition of traditional Spanish cuisine: simple to make, clean flavors, and the best ingredients. This is the formula for the greatest Spanish recipes.
I waited for three years to make a tortilla of my own.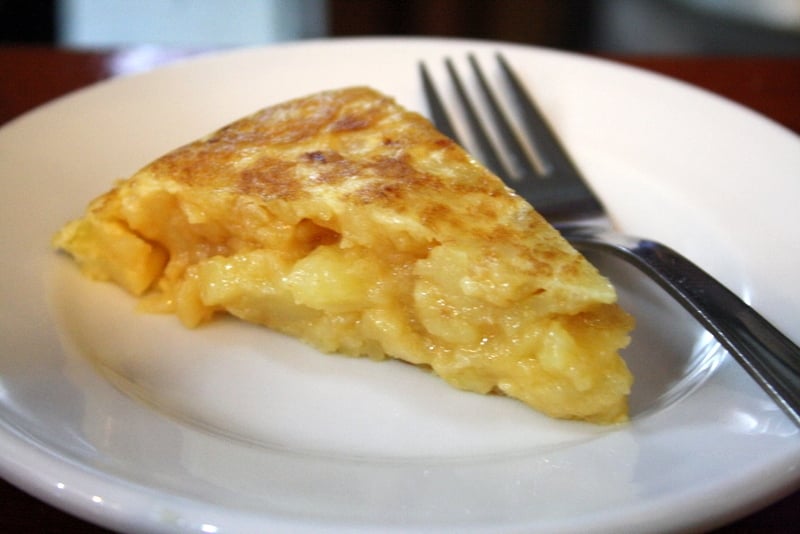 Why so long? Well, to be perfectly honest, the Spanish omelet intimidates me. It can be so incredibly good– and also terribly, horribly bad. I've had my fair share of both ends of the spectrum, and wanted my first tortilla to be a well thought out event.
Was it? Of course not! The first time I finally got the nerve to make a tortilla española of my own it was a split-second decision, followed by an hour in the kitchen and a resulting tasty, though partially burnt, tortilla concoction. It wasn't an all-out failure, but it was far from the Spanish omelet of my dreams!
But with time and patience, I learned the tricks and perfected the ever so intimidating Spanish omelet recipe.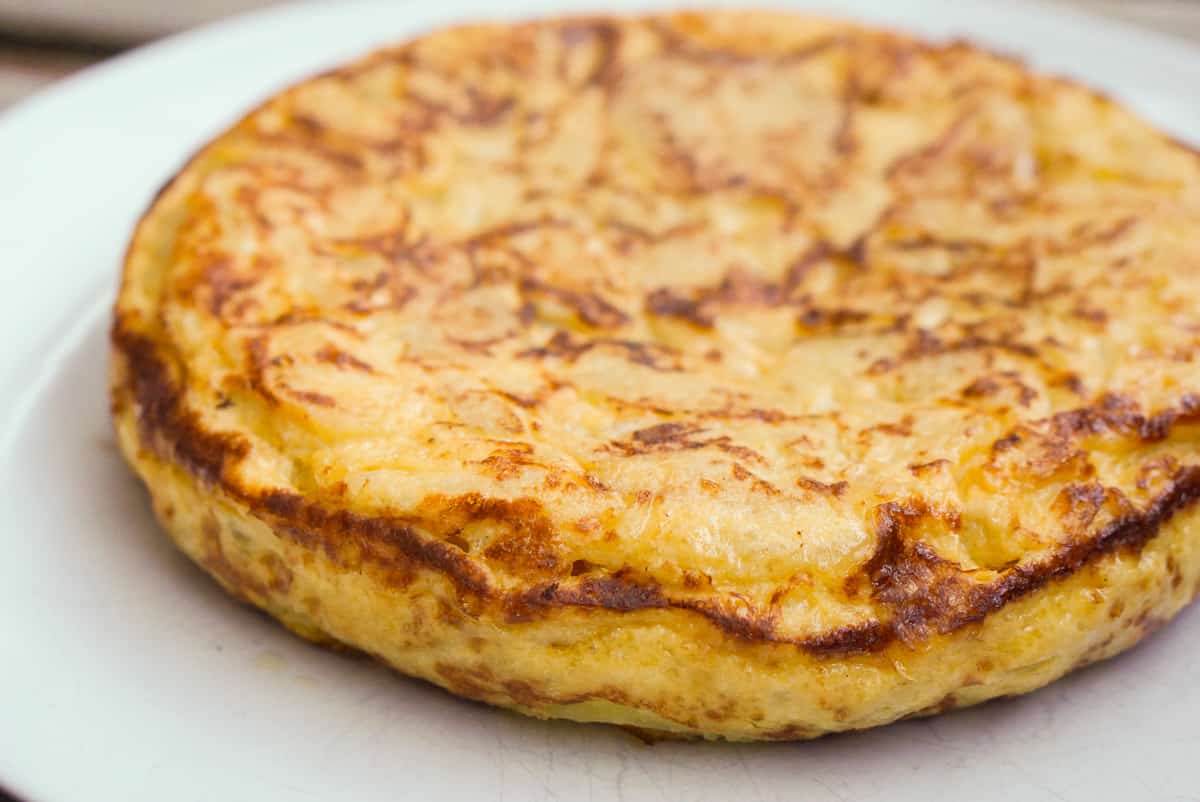 This is my version, with onions (a controversial ingredient among Spaniards) and left a bit soft in the middle (you are free to cook it longer). It is delicious, easy to make (at least once you get the hang of it!), and makes the ideal Spanish tapa for a dinner or cocktail party.
It is also incredible when placed into a warm baguette and eaten as a tortilla sandwich— it is actually the sandwich of choice among Spanish school children and a popular afternoon snack.
Tips & Tricks for the Perfect Spanish Tortilla
Take your time. The best tortillas aren't quick, 15 minute affairs. But they're worth the extra effort.
Lower the heat. The first time I cooked tortilla I had the heat too high, similar to when making other egg dishes. This resulted in a rubbery tortilla.
Cook the eggs and potatoes separately. Many recipes cook them together, but to get each to its prime tortilla point, I think it's worth washing one more pan.
Use room temperature eggs. In Europe, many people don't refrigerate their eggs at all. Recipes are meant to use room temperature eggs and it does make a big difference.
Let the egg, potato, and onion mixture sit for at least 15 minutes — minimum! This makes a HUGE difference to the final result. It is a must.
Don't fear the flip! You have to go forcefully and quickly to make it happen. Don't be afraid!
Use a small frying pan and make two tortillas when starting out. I love this tip because it makes the flip so much easier (the pan is lighter, any dinner plate will work, and if you mess up the first time you still have half the batter left!).
Use great quality olive oil. Considering the potatoes are slowly cooked in olive oil, they absorb a lot of it. If you use good quality olive oil everything will be tastier and much healthier too.
Easy Tapas to Make with Tortilla
Here is the best recipe for an authentic Spanish omelet– I hope you enjoy it!
UPDATE NOTE: This recipe was originally published on June 30, 2012. It was updated with new photos and text on October 30, 2020.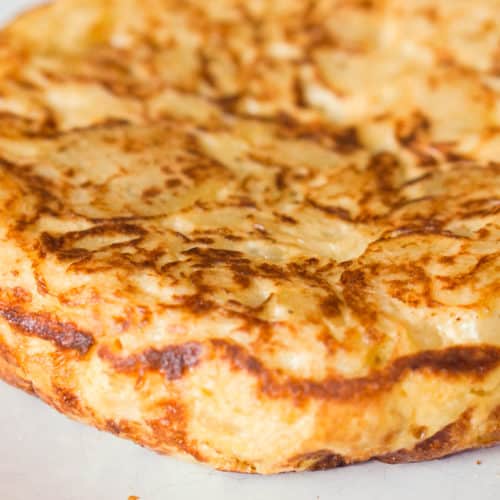 Best Spanish Omelet Recipe Ever
The best Spanish omelet recipe will have you creating creamy and delicious tortilla española in no time!
Ingredients
2

lbs

potatoes

Yukon Golds work well

Salt and pepper to taste

8

large eggs

free range if possible

1

large onion

Extra Virgin Olive Oil

enough to fry the potatoes and cook the tortilla. You can substitute a neutral oil for frying if you wish (but good quality olive oil really makes a difference!).
Instructions
Peel the potatoes and rinse them under cold water.

Slice the potatoes into thin slices, I prefer about 1/2 centimeter (some prefer thicker). I use a mandolin to do this quickly and easily.

Pat the potato slices dry and put them into a large bowl, sprinkle with salt, and mix well.

Heat a 1/2 inch of high quality extra virgin olive oil in a large frying pan at medium low heat.

When the oil is hot, add the potatoes and add more oil if necessary until all are covered.

Cook the potatoes for 20 minutes at a low heat (they may break apart, that is okay).

While the potatoes are cooking, beat the eggs in a large bowl and season with some salt and pepper.

Slice the onion as thin as possible (julienne style) and fry over a low heat in a separate heavy pan (I like stainless steel) for about 10-20 minutes until they begin to caramelize (stir often).

When the onions are caramelized, drain off any excess oil and add to the egg mixture.

When the potatoes have been frying 20 minutes, remove them with a slotted spoon into a strainer and allow to cool off while any excess oil drips away.

After a few minutes, add the potatoes to the egg mixture and stir well.

Let the egg mixture sit for about 20 minutes.

In the same pan where you fried the potatoes, remove all the oil (you can reuse it!) and over a medium low heat add the egg mixture.

Over medium-low heat, cook the tortilla for about 6-8 minutes per side. Make sure the heat is low enough or the tortilla will cook too quickly and be rubbery. You can run a rubber spatula along the edges to make sure the tortilla isn't sticking.

When you are sure that the bottom is cooked and you want to flip the tortilla, take a large plate and put it over the pan and flip quickly! Some egg will likely slip out-- it'll be messy-- but that's okay!

Finally, slide out of the pan onto a serving plate and let cool a little before diving in.
Nutrition
Calories:
360.28
kcal
Carbohydrates:
46.88
g
Protein:
16.4
g
Fat:
12.12
g
Saturated Fat:
3.31
g
Cholesterol:
327.36
mg
Sodium:
213.8
mg
Potassium:
1214.09
mg
Fiber:
5.97
g
Sugar:
3.44
g
Vitamin A:
475.2
IU
Vitamin C:
51.28
mg
Calcium:
85.61
mg
Iron:
3.55
mg
Did You Make This Recipe?
Tag @spanishsabores on Instagram and share your results!
So that is it! Remember my top tips are to cook the Spanish omelet at a low heat (that way it won't burn) and experiment the first few times with different cook times until you get it right. Also, I prefer to slice the potatoes thin so that they do break apart, and I prefer to caramelize the onions quite a bit… yum!
Lastly *super tip*– it is easier to make mini tortillas in the tiny single egg frying pans they sell. Mine come out perfect every time!
Let me know if you try making this authentic Spanish tortilla— I'm curious to see how it goes for others! To learn more about the history of Spanish omelet, you can read more here.
What do you think– are the best Spanish omelets are made with onions or not? Caramelized? Runny in the middle or cooked through?
Pin me!