The first time I laughed was at the dinner table.
I was only a couple months old, and my Italian American family was crowded into a small Brooklyn apartment, on the seventh course of Christmas Eve dinner. My great Aunt Carmela slammed her hand down on the table, and I began to giggle. I like to think of that moment as the beginning of my lifelong love affair with food.
Food fascinates me because it transcends our simple need for nourishment. Eating is so much more– it's family, memories, and comfort. Food is both essential and emotional, and that combination is a beautiful thing.
When I was 12 years old I considered attending culinary arts school, but was quickly convinced I needed a liberal arts education instead. And while I loved my literature and history classes, I always felt there was something missing.
So I started working at restaurants in high school and affirmed my love for the industry. I was lucky to work with some very creative chefs and bartenders, and quickly knew I belonged in that world. I worked my way up and traded studying International Relations in downtown Washington DC to Hospitality and Tourism Management in rural Western Massachusetts.
After graduating I couldn't imagine working with anything besides food. So I left everything I knew behind and bought a one-way plane ticket to Spain— officially to teach English, but really to discover the country's amazing cuisine.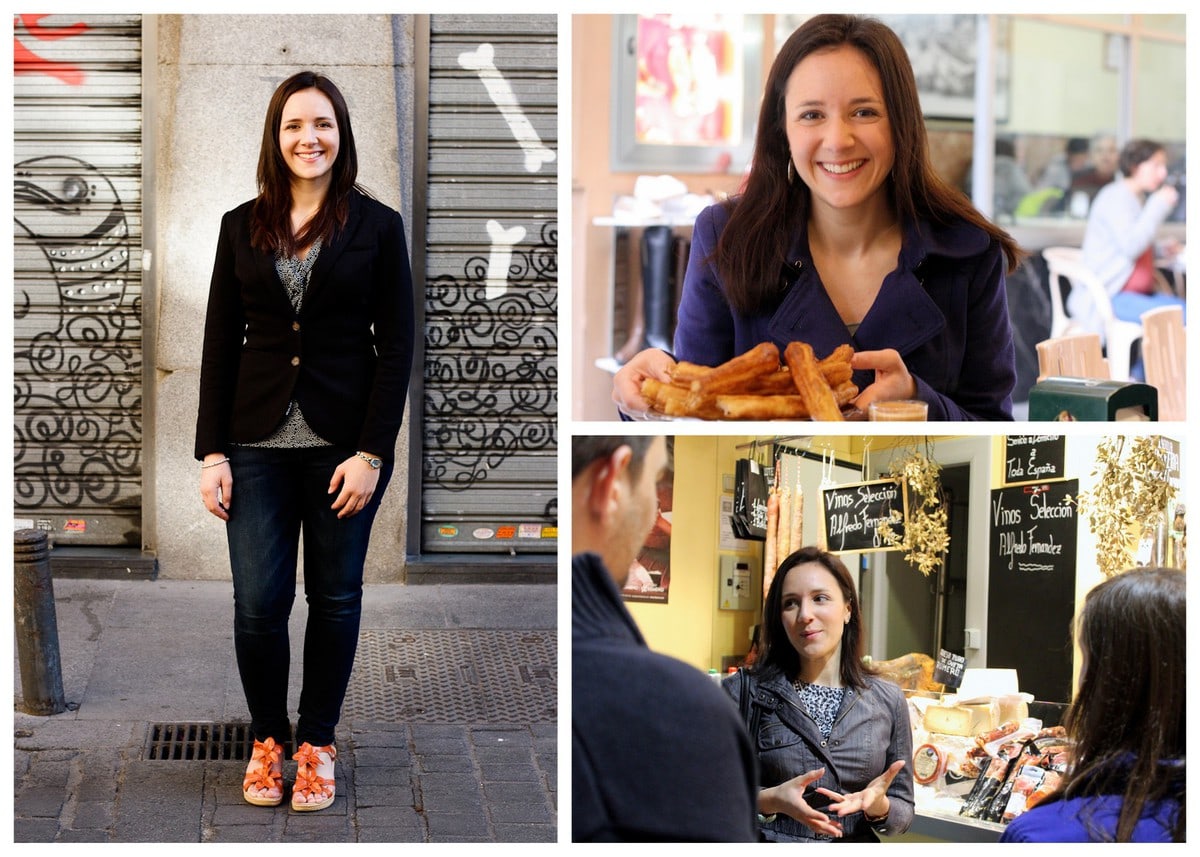 Since 2009 I have lived and breathed Spanish food. And that doesn't mean I've simply eaten out a lot! I've traveled the country in search of local food and farmers. I've met the families behind the food and heard their stories. I've learned to cook the most authentic Spanish recipes and started this Spanish food blog. I've also traveled around Europe (and beyond) writing about the local food scene in places like Paris, Rome, Lisbon, Amsterdam, Munich, Athens, New Orleans, and Poland.
Starting My Business
In 2012 I embarked on the biggest challenge of my life thus far. I started a small food tour company called Madrid Food Tour. Starting a business in Spain wasn't easy, and I'm proud to say that my company has grown to become an award-winning tour operator called Devour Tours.
The Devour Tours mission is to connect curious travelers to small, family-run food businesses and to share each city's unique gastronomy and local history with visitors. We aim to help local culture thrive, and our expert guides give our guests an insider's perspective of each city, complete with the story of what we're eating and why.
We currently offer daily food tours in Madrid, Barcelona, Seville, San Sebastian, Paris, Rome, and Lisbon— and we're growing! We've had over 100,000 guests join us since my first tour in 2012.
Are you a Devourer?
We're currently expanding Devour Tours to new delicious cities, and can't wait to share more of the world's food stories through the Devour lens. If you're interested in joining us on this exciting adventure, please get in touch. And if you're visiting a Devour city we'd love to have you join us!
Spanish Sabores Blog
So if you like food, travel, and stories– you're in the right place. This is where I share my love for Spanish cuisine and culinary tourism.
Spanish Recipes
Hungry yet? These are the top recipes on Spanish Sabores– for more check the whole Spanish recipe blog section:
City Food Guides
These are my city gastro guides, free food guides for travelers to my favorite cities in the world (more guides coming soon!)
Hotel Guides
My hotel guides are written with fellow foodies in mind — and include tips for where to eat nearby!
Tapas Tours & Food Tours in Spain
Coming to Spain? These are my company's food tours and tapas tours in Spain!
Spain Off the Beaten Path
If you like going off the beaten path like I do, here are my favorite Spanish destinations that aren't as popular as they should be– yet!
Spanish Ingredient Guide
On Video
I sometimes appear in videos for Devour Tours YouTube channels. Check me out below!




Contact Me
I can be contacted by email for advertising or speaking engagement inquiries.
Please join me on Facebook, Twitter, Pinterest and Instagram too!