Today David brings us a fall and winter treat — thick, rich Spanish hot chocolate. His authentic Spanish hot chocolate recipe is the real deal, and easy to whip up any day of the week!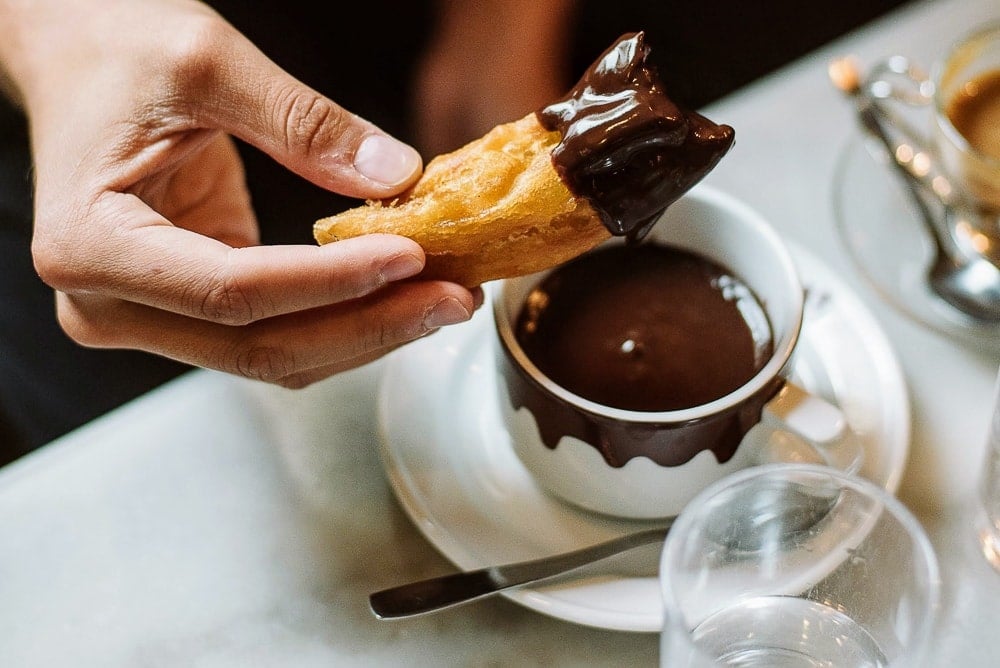 Newcomers to Spain never fail to be surprised by breakfast. You won't find bacon, eggs, pancakes, or waffles here. You might not even find cereal!
Most days, most Spaniards hit their local café or bar and chow down on a simple tostada—a piece or two of rustic bread generously doused in olive oil, spread with tomato, ham, or marmalade. But on special days (or any day of the week that deserves a treat), the order is chocolate con churros.
Read more: Learn all about Spanish breakfast here
A cup of thick, hot chocolate, alongside a plate of golden and crispy churros. This is the stuff that dreams are made of!
Not Your Average Hot Chocolate
What makes Spanish hot chocolate so special?
Firstly, it's not just a drink.
Sure, you can sip your hot chocolate next to a fireplace and keep winter at bay. But Spanish hot chocolate is also a dipping sauce! At churrerías throughout the country, patrons lovingly dunk their crispy churros into their tazas full of chocolate.
Get the recipe: Homemade churros
Since churros tend not to be made with sugar, the chocolate sweetens them up. Closer to Christmas, the chocolate is also a great dunking companion to buñuelos (Spanish donuts).
The reason it works so well as a dunking device is it tends to be thicker than normal hot chocolate. Authentic Spanish hot chocolate recipes include a pinch or two of cornstarch to thicken it up. It also gives the drink a rich and velvety texture that will keep you coming back for another sip.
Lastly, Spanish hot chocolate is flexible. While I've given you the foundation for the traditional version, you can definitely spice it up!
When you're using dark chocolate, the base drink isn't too sweet. You can sweeten it up with sugar, spice it with cinnamon or cayenne pepper, or any other variation you can think of.
Feel free to use my recipe as a base to develop your own signature flavors.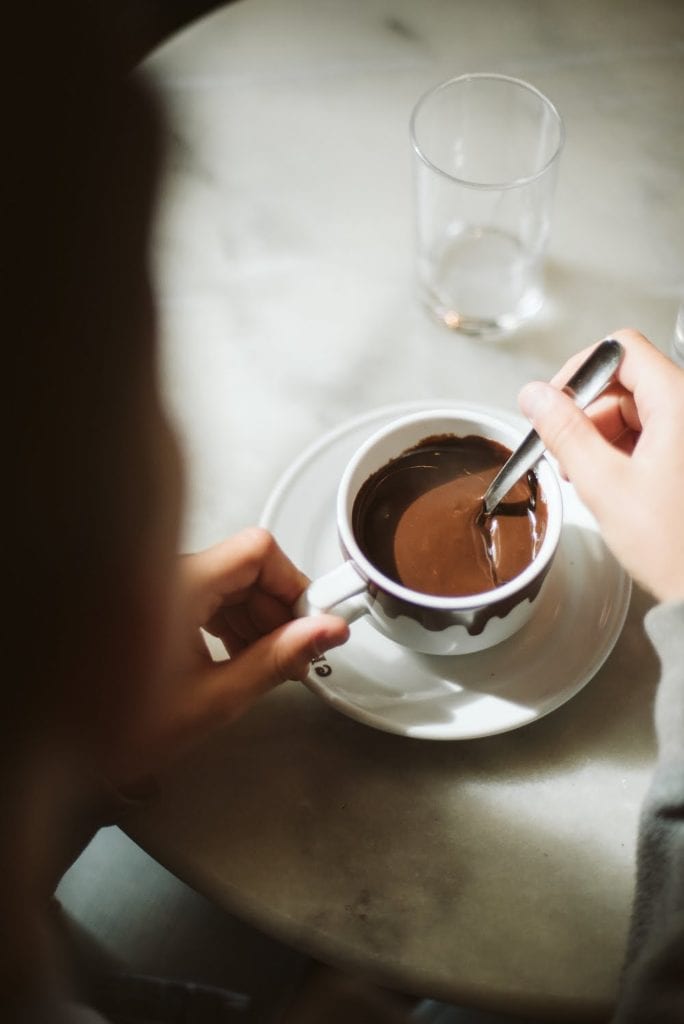 Your Spanish Hot Chocolate Recipe
Authentic Spanish Hot Chocolate Recipe
This thick and gooey Spanish hot chocolate recipe is the perfect way to combat winter chills! It's easy, tasty, and oh so cozy.
Print (images optional)
Pin
Rate
Ingredients
2

cups

whole milk

6

oz

dark chocolate

2/3

tsp

cornstarch

2

tsp

white sugar

(optional)

1/2

tsp

cayenne pepper

(optional)
Instructions
Chop the chocolate into half-squares.

Pour the milk into a medium saucepan and add the cornstarch. Whisk until the cornstarch is dissolved. If you want a sweeter hot chocolate (using dark chocolate means the final drink won't be super sweet), now is the time to add sugar. I find that 2 teaspoons is enough to make it pleasantly sweet, but adjust to your liking. Whisk until dissolved.

Put the saucepan over medium heat until it starts to boil, stirring frequently. Remove from heat.

Add the chocolate to the saucepan and stir until completely melted. If the milk cools too soon, return it to the heat. Be careful not to keep over the heat too long, as the mixture will thin.

If you want to add a kick of spice to your hot chocolate, add the cayenne pepper and whisk to combine.

Taste for sweetness and spice and adjust if necessary.

Pour or ladle into cups straight away and serve immediately (ideally with churros!).
What do you think? Will you stick with the classic version, or spice yours up?
Pin me!