Today David takes on a controversial dish with this Spanish seafood paella recipe! Read on to discover how to make the perfect paella for seafood lovers.
When I talk to travelers visiting Spain for the first time, they always ask the same thing.
"Where's the best paella in town?".
No dish is as synonymous with Spanish cuisine as this big plate of fragrant, saffron-infused rice served up at tables around the country. But unfortunately, a good paella is hard to find! That answer always leads to confused stares and even a handful of tears.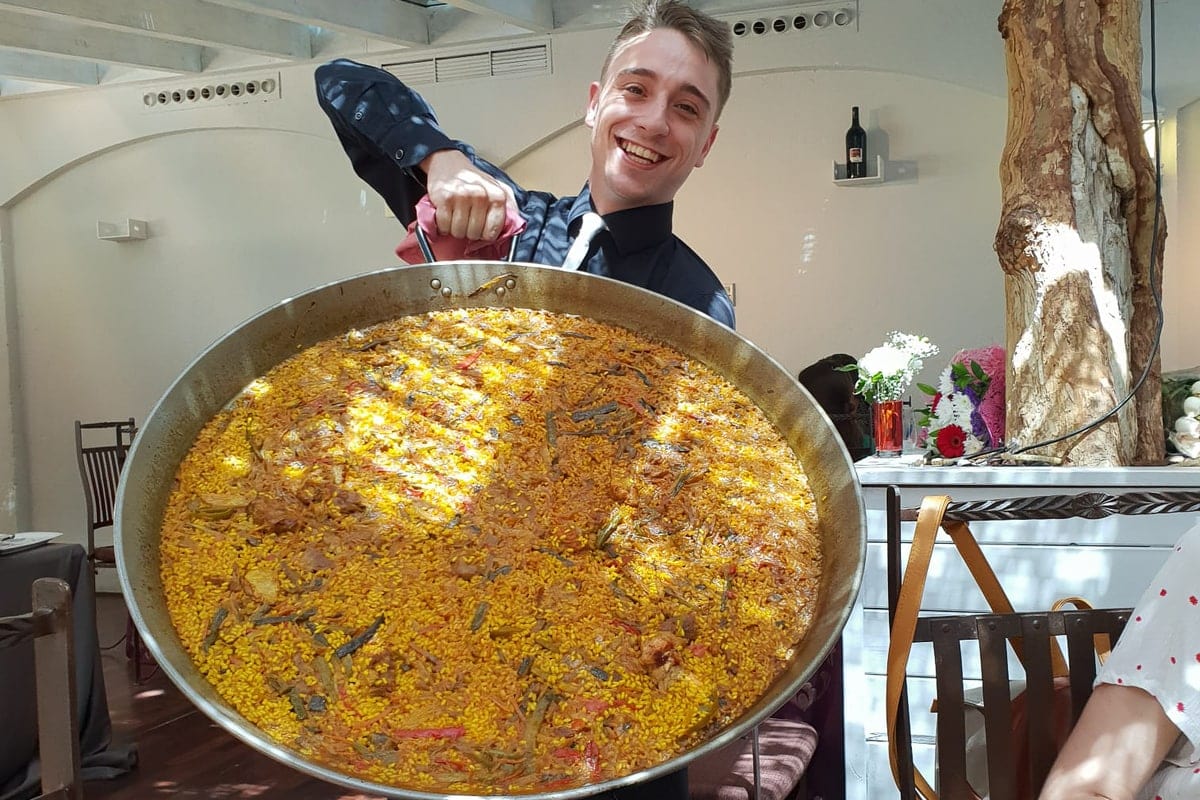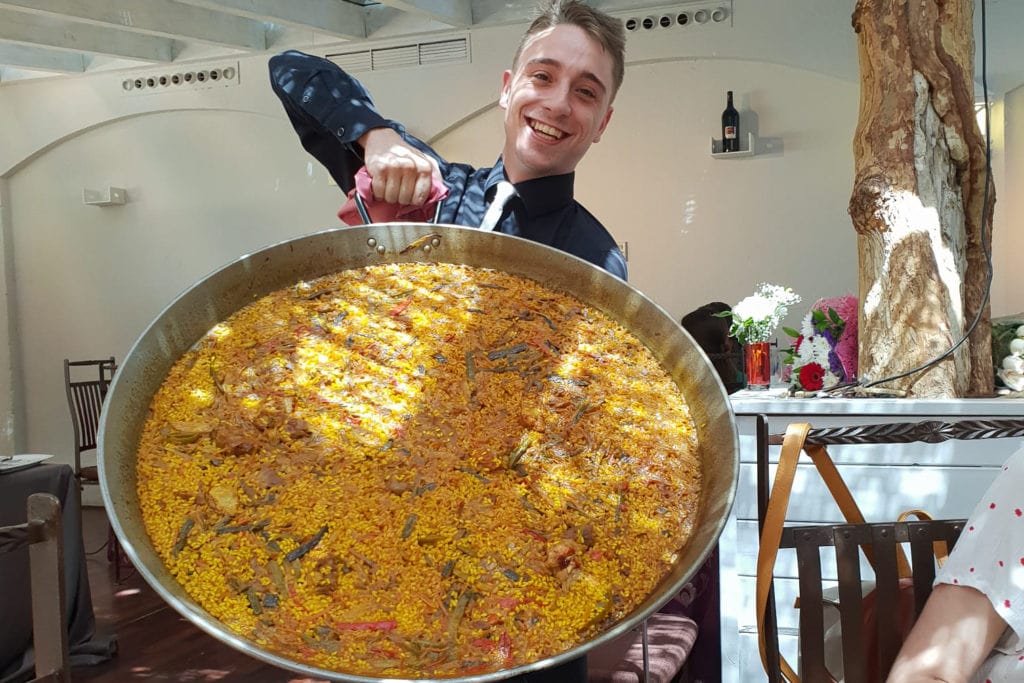 But it's true! In many Spanish cities, you're going to find it hard to find a seriously tasty paella. Why?
Where is paella from?
Let's get one thing straight. Paella is only from a small part of Spain.
Purists argue about its exact origins; debating all up and down the east coast of Spain. It's true that the paella Valenciana is the most traditional version, but it tends to not be the one visitors to the country want to eat.
Owing to the history of paella as a peasant field dish, the classic recipe is full of meats like chicken, rabbit, eel, and even snails!
Read More about paella's history: Paella 101
Luckily for us, the most famous version is the seafood paella.
Seafood paella became popular on the sunny beaches of Valencia and Barcelona. This is the pan of rice that the world fell in love with. Apart from beautifully fresh fish, shrimp, squid, mussels, and clams, the real treasure of seafood paella is the rice.
Plumped up with a delicious, saffron, and seafood broth, the rice is a taste sensation all on its own!
It's All About the Socarrat
The mark of any decent paella is the socarrat.
This is the dark, crispy underbelly of the rice, the layer on the bottom that almost burns as the stock evaporates from the pan.
Unlike risotto, paella doesn't need stirring while it's cooking. You're looking for individual grains of rice, not a creamy conglomerate. This means that as the pan (called, confusingly, a paella) dries out, the lowest layer of rice will go black and crunchy.
If a waiter serves you blackened rice when you order paella, don't complain. In fact, thank him! This is the best part of the dish, the bit that gives texture and rich caramelized flavor.
How to Make the Perfect Seafood Paella
To make this seafood paella, make sure to start with the right kind of rice. Bomba rice is the grain of choice for most Spaniards, but it can be hard to find in other countries. If you can't get hold of it, don't worry; any short-grain rice will be acceptable.
Since the flavor of the rice is going to come from the broth, it's best to make your own if you have time. If you can't, just buy the best seafood broth available that fits your budget.
Lastly, let's talk about saffron.
Yes, it costs more than any of the other ingredients in this recipe. Yes, it's hard to find. But it really is the thing that takes your paella to the next level!
Aside from the taste and aroma, it will give your rice that beautiful golden glow that you just can't replicate with food coloring (no matter what the cheap tapas bars on the Costa del Sol tell you).
You can also pre-prepare your sofrito (the base of the dish) in advance. I like to whip up a big batch of sofrito and use it throughout the week in a variety of Spanish dishes. See my standalone sofrito recipe here!
Now let's get to your classic Spanish seafood paella recipe.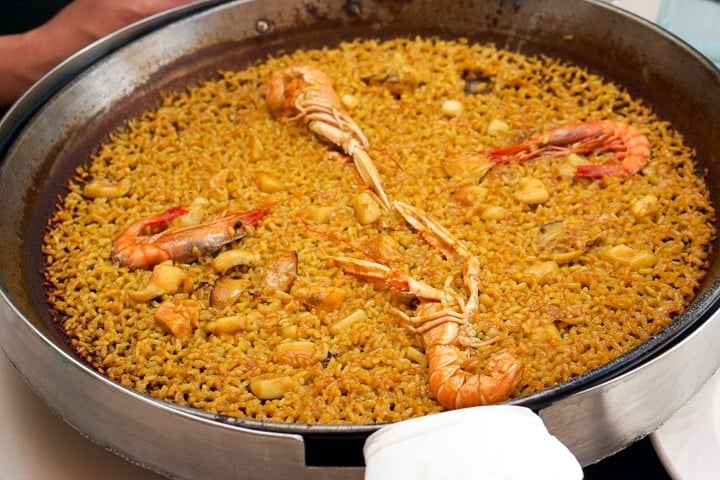 Traditional Seafood Paella Recipe
Traditional Spanish Seafood Paella Recipe
This classic Spanish seafood paella recipe will get you a plate of rice every bit as delicious as the stuff served in tapas bars from Barcelona to Valencia! Just make sure to bring an empty stomach.
Print (images optional)
Pin
Rate
Ingredients
1/3

cup

olive oil

1

large onion

finely diced

2

garlic cloves

chopped

2

medium tomatoes

peeled and diced

1.5

teaspoons

sweet paprika

1

pinch

saffron threads

2

large squid

cleaned and sliced into 1/4-inch rings, tentacles left whole

2

cups

rice

see notes

1

cup

white wine

3

cups

of seafood stock

12

prawns

jumbo shrimp, shells on

12

mussels
Instructions
In a large saucepan over high heat, bring the white wine and seafood stock to a simmer. Add a pinch of saffron threads and keep warm.

Meanwhile, put a large (16-inch) paella pan (see notes) over medium-high heat and add the olive oil. When hot, add the onion to the pan and saute until translucent, stirring often.

Add the garlic and cook until aromatic (about 1-2 minutes). Before it starts to brown, add the tomato and stir, adding in the paprika and a pinch of salt. Continue to stir and saute until the tomatoes are reduced and the oil is sizzling.

Gently add the squid to the pan and stir to coat in the tomato mixture. Saute for about a minute, to give some color to the squid.

Next, add the rice and stir to combine. After a minute of sauteing, spread the rice evenly across the pan (don't worry if it looks like a thin layer, it will puff up).

Gently add the simmering white wine and stock to the pan, all in one go. Reduce the heat to low, and cook, without stirring, for 10 minutes. Carefully lay the prawns/shrimp in a circle on top of the rice and cook for a further 10 minutes, turning the shrimp over as they start to turn pink. If the rice starts to dry out before the shrimp is cooked, you can top it up with a bit more hot stock, half a cup at a time.

Meanwhile, steam the mussels by putting them in a large skillet with a tight-fitting lid in half an inch of water. When the shells open, they are cooked! (Discard any that do not open).

When the stock in the paella pan fully evaporates, you will hear a faint cracking from the bottom of the pan as the socarrat starts to form. If you don't hear anything, you can raise the heat to medium for a short burst!

When the rice is ready, remove the pan from the heat and arrange the mussels on top of the rice. Serve from the pan, with wedges of fresh lemon.
Notes
1. The ideal rice for paella is "Bomba" rice, but if you can't find it, any short-grain rice will do.
2. A paella pan is a special frying pan for making paella. If you don't have one (very likely if you don't live in Spain), use your largest, flattest skillet.
Nutrition
Calories:
620.73
kcal
|
Carbohydrates:
84.56
g
|
Protein:
14.35
g
|
Fat:
19.66
g
|
Saturated Fat:
2.84
g
|
Cholesterol:
53.38
mg
|
Sodium:
928.04
mg
|
Potassium:
444.71
mg
|
Fiber:
2.67
g
|
Sugar:
5.06
g
|
Vitamin A:
1296.28
IU
|
Vitamin C:
13.62
mg
|
Calcium:
78.95
mg
|
Iron:
2.73
mg
More delicious rice and paella recipes
Want help making this delicious dish?
Join our new Online Paella Cooking Class!
You'll join a Spanish home chef over Zoom for an hour of cooking and conversation about Spanish food and culture. And you'll end up with the perfect paella of course! Classes are only 19€ per screen (so bring the whole family) and offered in English several days a week. Private classes are also available if you'd like to host a group of friends or family members!
What's your favorite type of paella? Do you prefer the trendy seafood version or the classic, snail-filled paella Valenciana? Let me know in the comments below!
Pin me!