There is no dish more famous than this Spanish seafood paella. Fortunately, it's easier than you might think to make this mouthwatering dish from scratch in under an hour! I'll show you all my tips for making an authentic seafood paella that's better tasting than many that you'll find in a Spanish restaurant.
If you love paella, you'll definitely want to try my recipes for black paella, vegetable paella, and prawn and chorizo paella (my mother-in-law's favorite).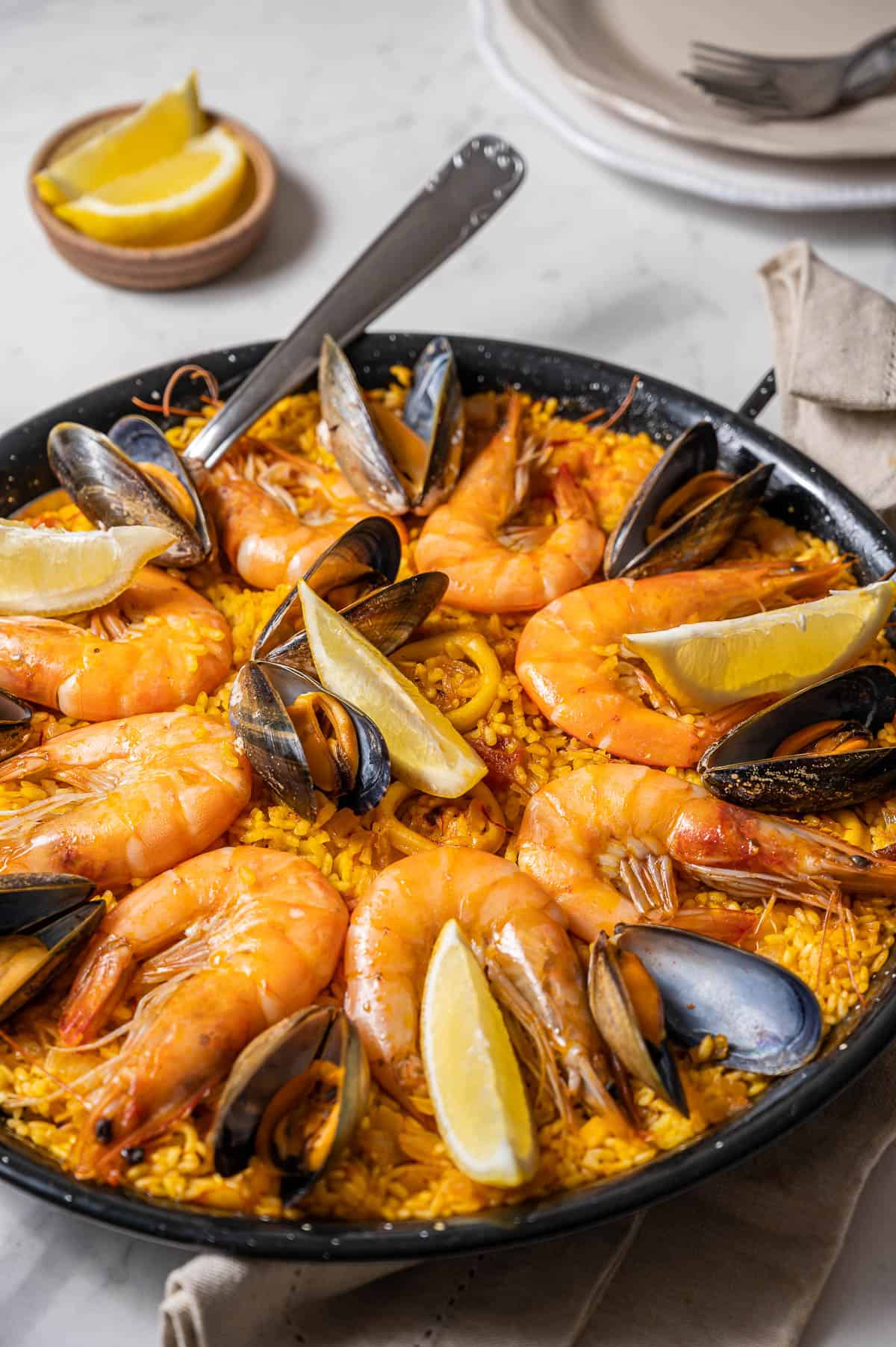 Jump to:
Introduction
When I talk to travelers visiting Spain for the first time, they always ask the same thing: "Where's the best paella in town?"
Even though this big plate of fragrant, saffron-infused rice is one of the most famous Spanish dishes, a good paella is often hard to find! That answer always leads to confused stares, but it's true.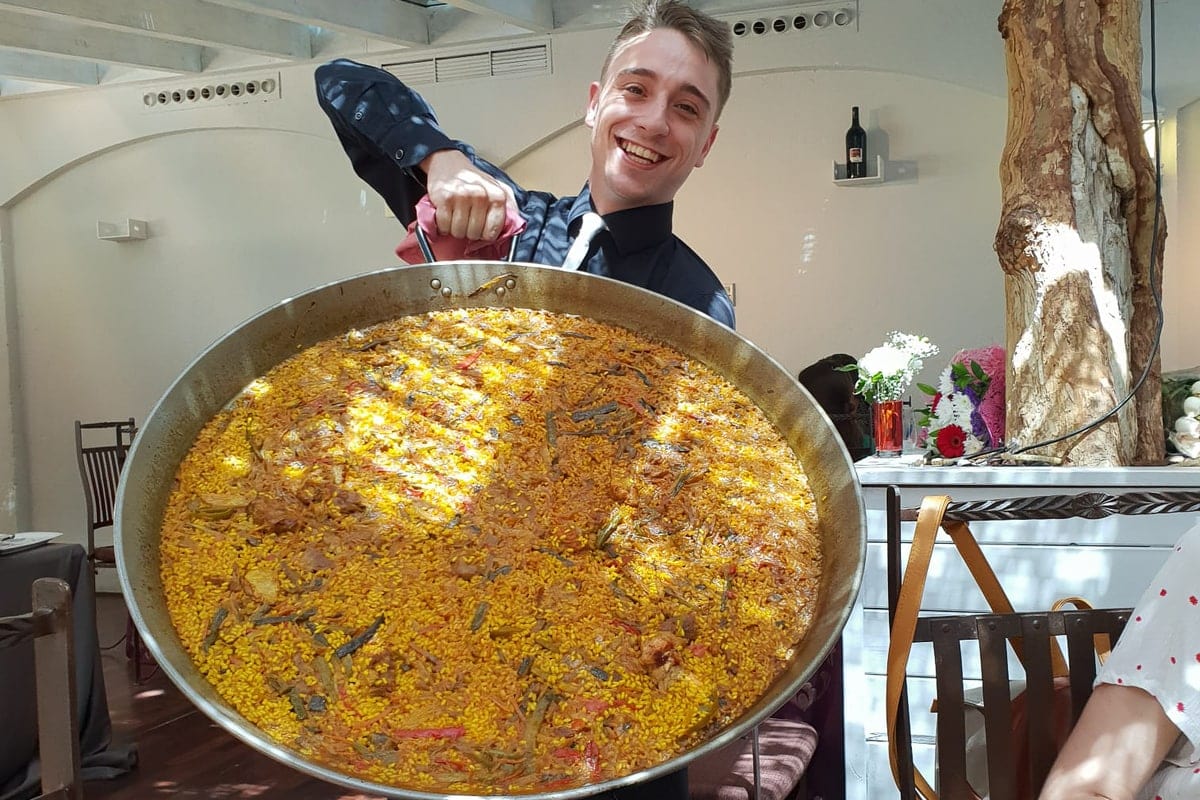 This is because paella originated as a peasant food in a small part of Spain called Valencia, and not every town in Spain can make a good rendition of this classic dish. Traditional paella, called paella Valenciana, isn't usually requested by tourists, as it can contain an unusual variety of meats such as chicken, rabbit, eel, and snails. You can read more about the history of paella if you're curious.
The most popular version of paella is this seafood paella, or paella de marisco. It became popular on the sunny beaches of Valencia and Barcelona with visitors from around the world. This variation of paella is packed with fresh fish, shrimp, squid, mussels, and clams, but the real treasure is the rice. Cooked with saffron and seafood broth, the rice is a sensation all on its own!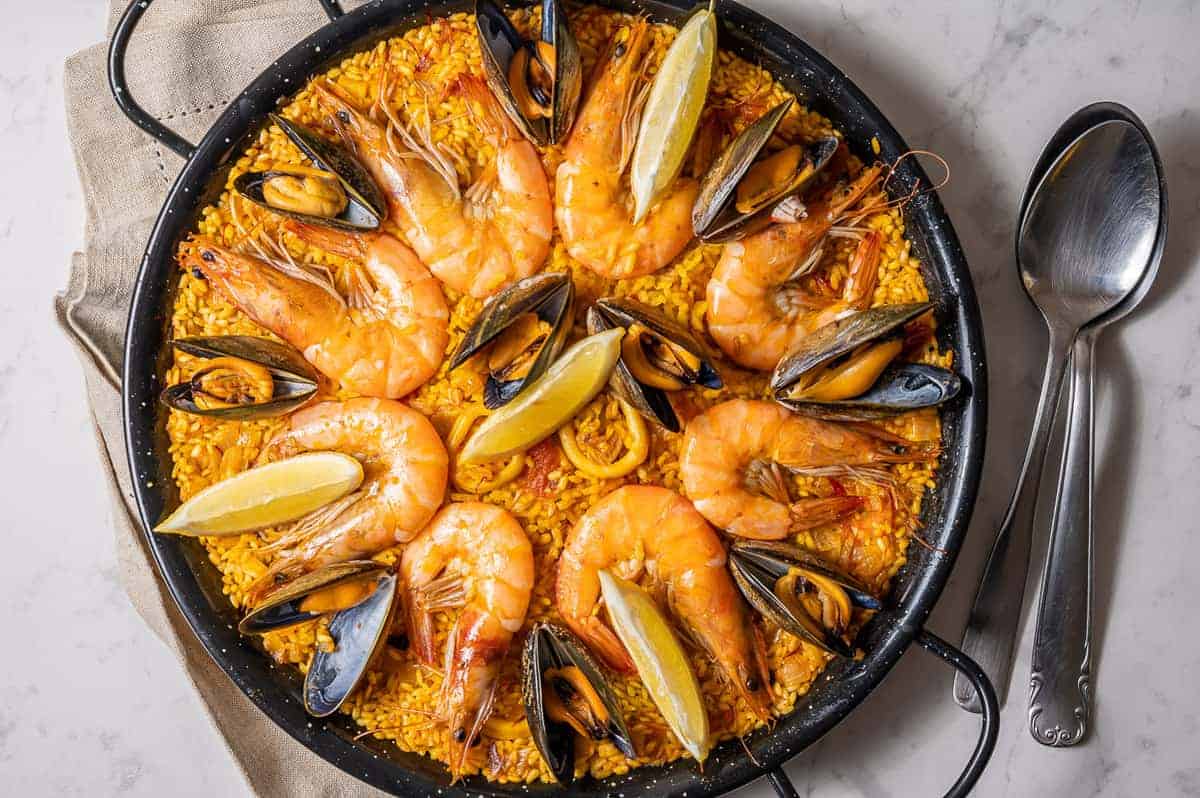 Why This Recipe Works
It has the perfect socarrat. This is the dark, crispy layer of rice at the bottom that almost burns as the stock evaporates from the pan. This is a sign of a well-made paella, as it's the best part of the dish! You'll love its texture and rich, caramelized flavor.
It uses the right type of rice. Spaniards typically choose bomba rice, (and similar varieties) because it can absorb 3x the liquid of long grain rice without breaking down and getting mushy. So try to find it -- or order it in advance if you can! In a pinch, any short-grain rice or arborio rice will also work.
It uses homemade stock. Most of the flavor in paella comes from the broth, so making your own seafood stock will take your paella to the next level!
It uses homemade sofrito. This flavorful sauce is the base of paella, and making your own adds extra flavor to your paella. Fortunately, it can be made in advance to speed up the cooking process.
It uses real saffron, not food coloring. Even though it can be expensive and hard to find, saffron adds an inimitable color and flavor to the rice, and it's absolutely worth using in this dish!
Ingredients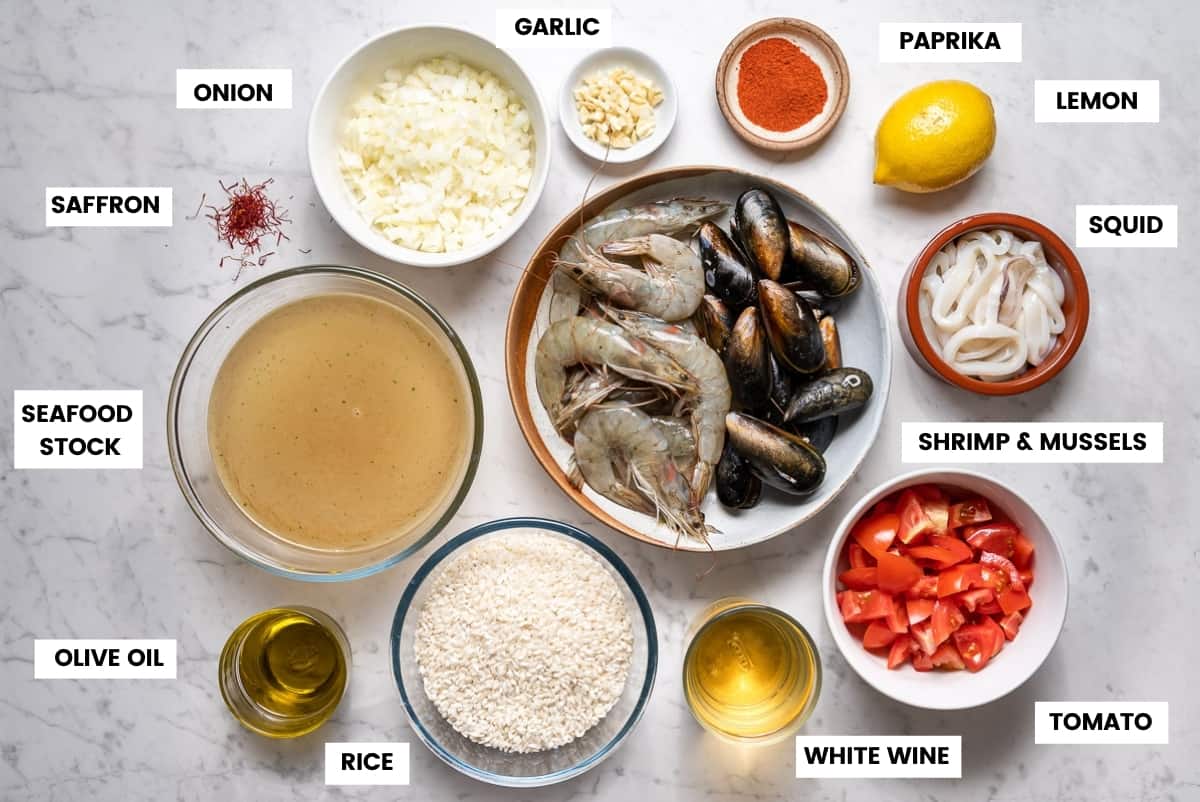 Wondering what you need to make your own seafood paella? Let's talk about the key ingredients!
Rice: The perfect paella rice is a short/medium grain round variety. Here in Spain, Bomba rice is most commonly used, although other similar varieties like Calasparra or Senia are also popular.
Seafood: Everyone's seafood paella recipe is a bit different, but usually, it will include squid or cuttlefish, shrimp or prawns, and shellfish such as clams and/or mussels. You can experiment with your favorite seafood or with what you have available.
Stock: While some traditional paellas are made using only water, your seafood paella will be extra special if you use a good seafood stock. I like to make batches of homemade shrimp and shellfish stock for my paellas (lobster stock would also be amazing).
Saffron: This gives the paella its distinct color and adds a mild flavor.
See recipe card for full information on ingredients and quantities.
Substitutions
Rice: If you can't find Spanish rice where you live, you can try another short-grain rice like Arborio, although the results will be different.
Seafood Stock: Sometimes, you don't have time to make your stock--and a good quality boxed stock is the best substitute.
Saffron: If you can't find saffron or it's cost-prohibitive, you can use a pinch of turmeric for color or simply omit it.
How to Make
If you'd like to see the full ingredients and instructions, scroll to the bottom of the post for the printable recipe card.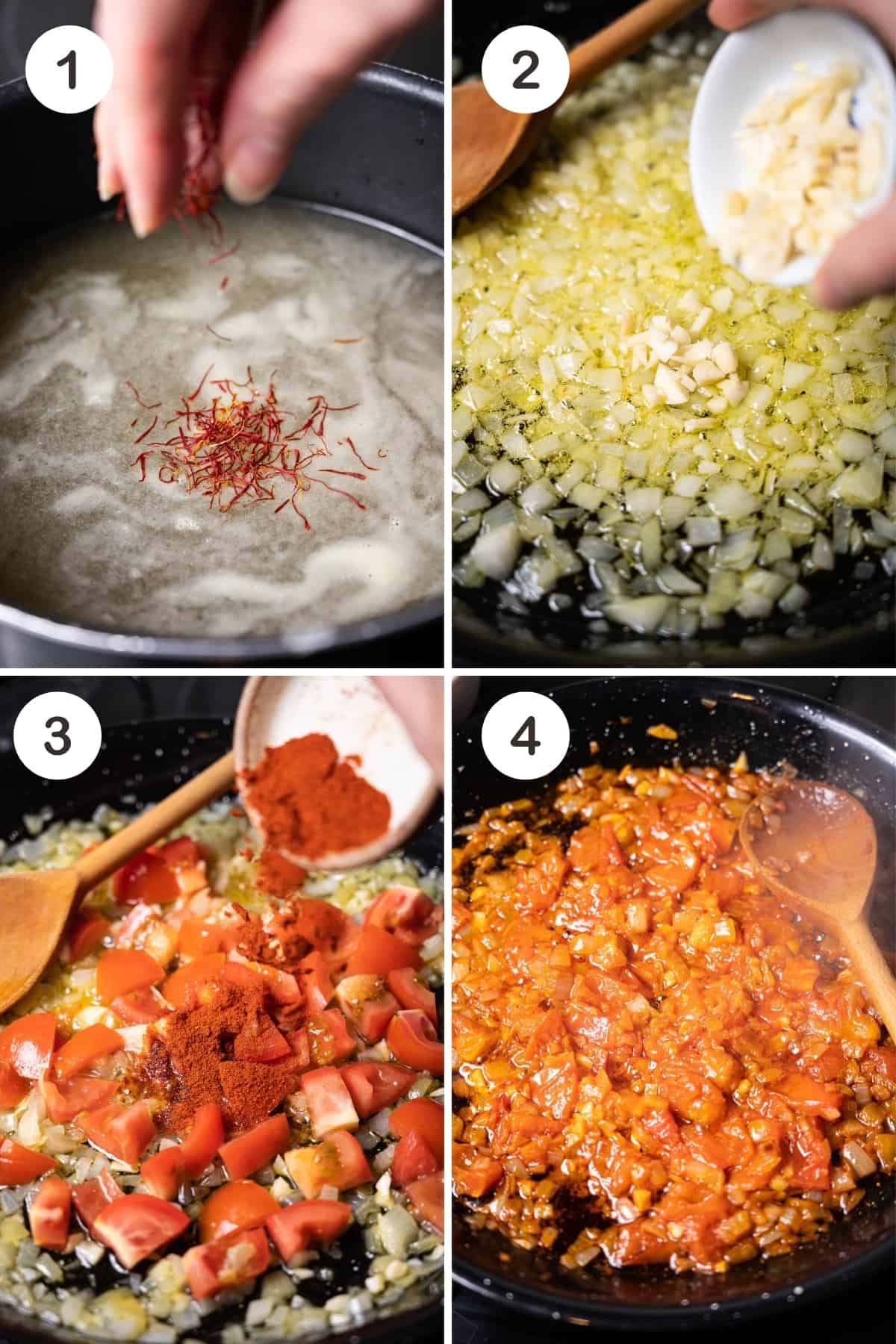 Heat the seafood stock and white wine with a pinch of saffron in a pot. Keep this warm until you need it later; the saffron will infuse into the broth.
Add olive oil to a large paella pan and start making the sofrito. Sauté the diced onion until translucent, and then add the minced garlic and sauté for a few more minutes.
Next, add the diced tomatoes, paprika, and a pinch of salt. (If you are using a salty seafood stock, you may want to omit the salt.)
Stir and cook the sofrito until it has a jam-like texture. The secret to a good sofrito is a bit of time!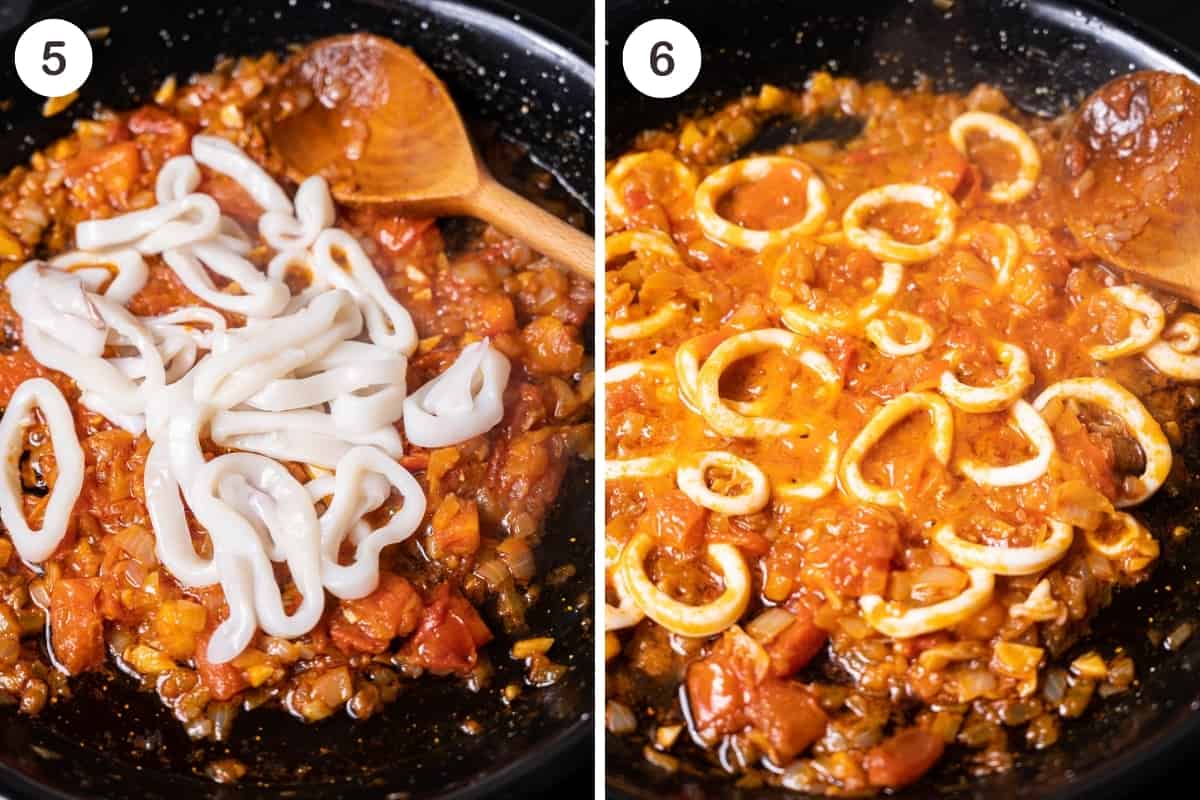 5. Next, add the squid (calamari). It can be cut into rings or chunks, depending on your preference.
6. Coat the calamari in the sofrito and sauté for one minute.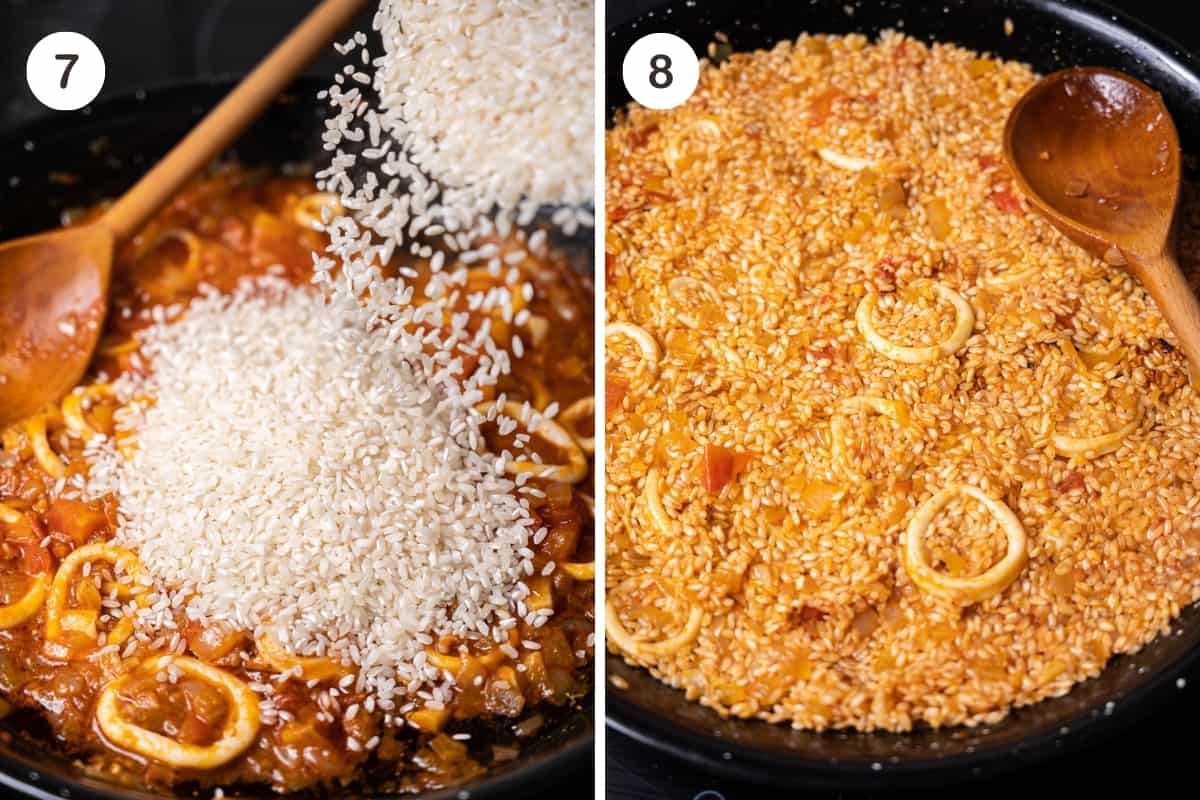 7. Now we add the rice!
8. There are different opinions on the best method here, but I like to mix it into the sauce and cook it for a minute or so.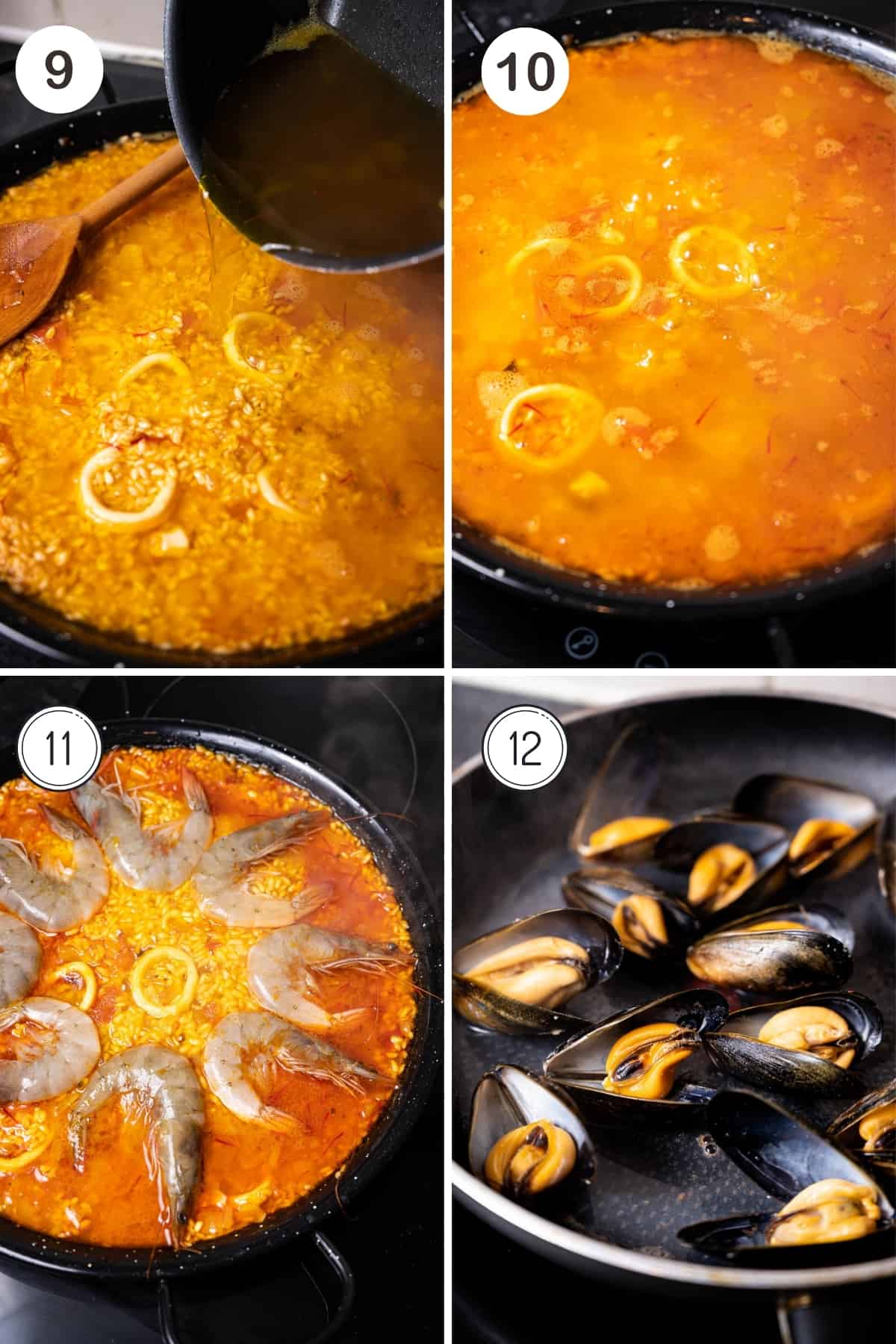 9. Add the broth mixture to the pan, and don't stir! This is key: once the broth is in, no stirring is allowed.
10. Simmer on low for 10 minutes.
11. Add the shrimp or prawns on top, and cook for another 10 minutes. If needed, flip the shrimp after 5 minutes to make sure they're pink and cooked fully on both sides.
12. In the meantime, steam the mussels in a pot. Simmer a little water or wine, then add the closed mussels and cover. After a few minutes, the mussels will open. If any stay shut, simply discard.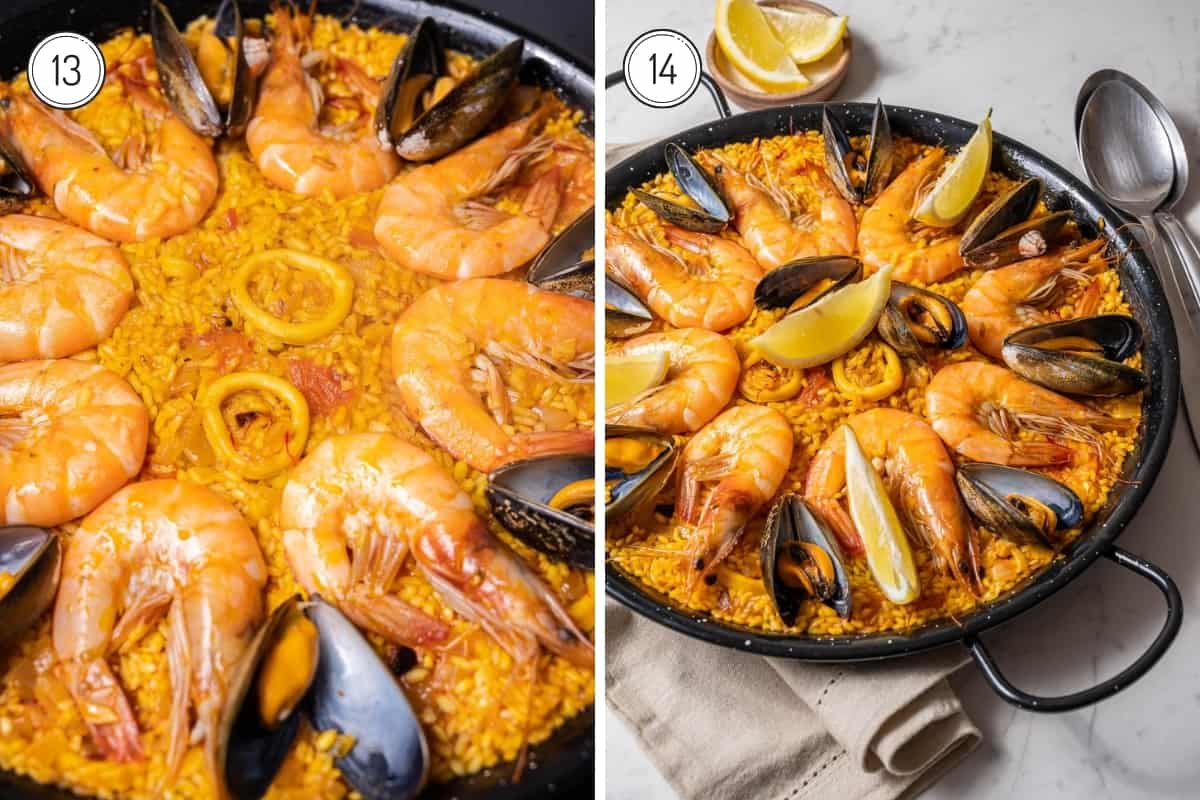 13. Place the cooked mussels on the paella in a decorative way. When the rice has cooked for 18-20 minutes total, it should be done.
14. Remove from the heat, cover with a dish towel, and let stand for 3 minutes. Serve with sliced lemon wedges.
To get the perfect crispy bottom (socarrat), put it back on medium-high heat after the 3-minute rest. As soon as you hear crackling (some say it sounds like rain), remove it from the heat. This means you'll have a crispy socarrat on your seafood paella!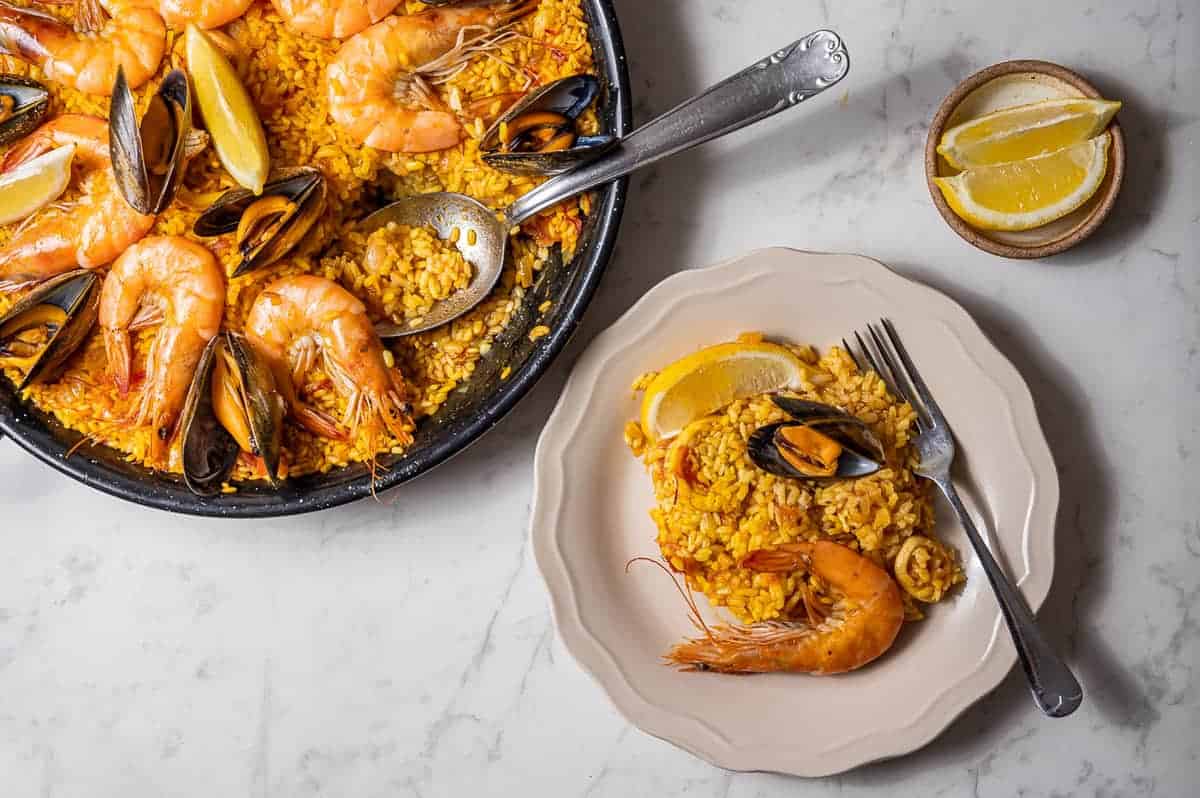 Recipe Tips & FAQs
What are most popular types of paella?
There are countless types of paella in Spain but the most common are paella valenciana (Valencian), paella de marisco (seafood), and paella mixta (mixed). Paella valenciana is made with a variety of ingredients, such as chicken and snails, while paella de marisco is made with shrimp/prawns, mussels, fish, and other seafood. Although not a traditional Valencian creation, paella mixta is a popular version made with chicken, vegetables, and seafood.
What is special about paella rice?
Paella is made using short to medium grain Spanish rice varieties such as Bomba or Calasparra. These rice grains absorb 3x more liquid than long-grain rice! This means this special rice gets full of flavor without turning mushy or gummy.
What is the secret ingredient in paella?
The secret ingredients in a great paella are using homemade sofrito, using real saffron instead of food coloring, and using homemade seafood stock instead of plain water to add extra flavor. There's also a special cooking technique you can use to make the perfect socarrat (crispy rice on the bottom), as well!
What fish is in seafood paella?
My recipe for seafood paella doesn't contain fish; I prefer to use squid (calamari) instead in addition to prawns and mussels. However, you can use any type of firm fish that you'd like, such as monkfish.
Serve
How many does this recipe serve? This seafood paella recipe serves 4 people as a main dish, or 6 as a starter. You can plate in advance, or (what I prefer) is bringing the whole pan to the table and serving it family style.
How is paella served in Spain? We usually enjoy paella as the main dish at a rice restaurant (arrocería). We order a paella for the table (prices are usually per person) and a bunch of tapas to eat while we wait for the rice to be prepared.
If you order a menú del día (a fixed price lunch menu) during the week, paella is usually served as the first course, with either meat or fish to follow as the main. In this case, you get a small portion of a large paella they've made in the kitchen and not a whole pan at your table.
What tapas go well with paella? Typical tapas served with paella include cold soups (gazpacho or salmorejo), fried foods (croquettes or patatas bravas), or salads (ensalada mixta or ensaladilla rusa). Check out my other tapas recipes for other ideas.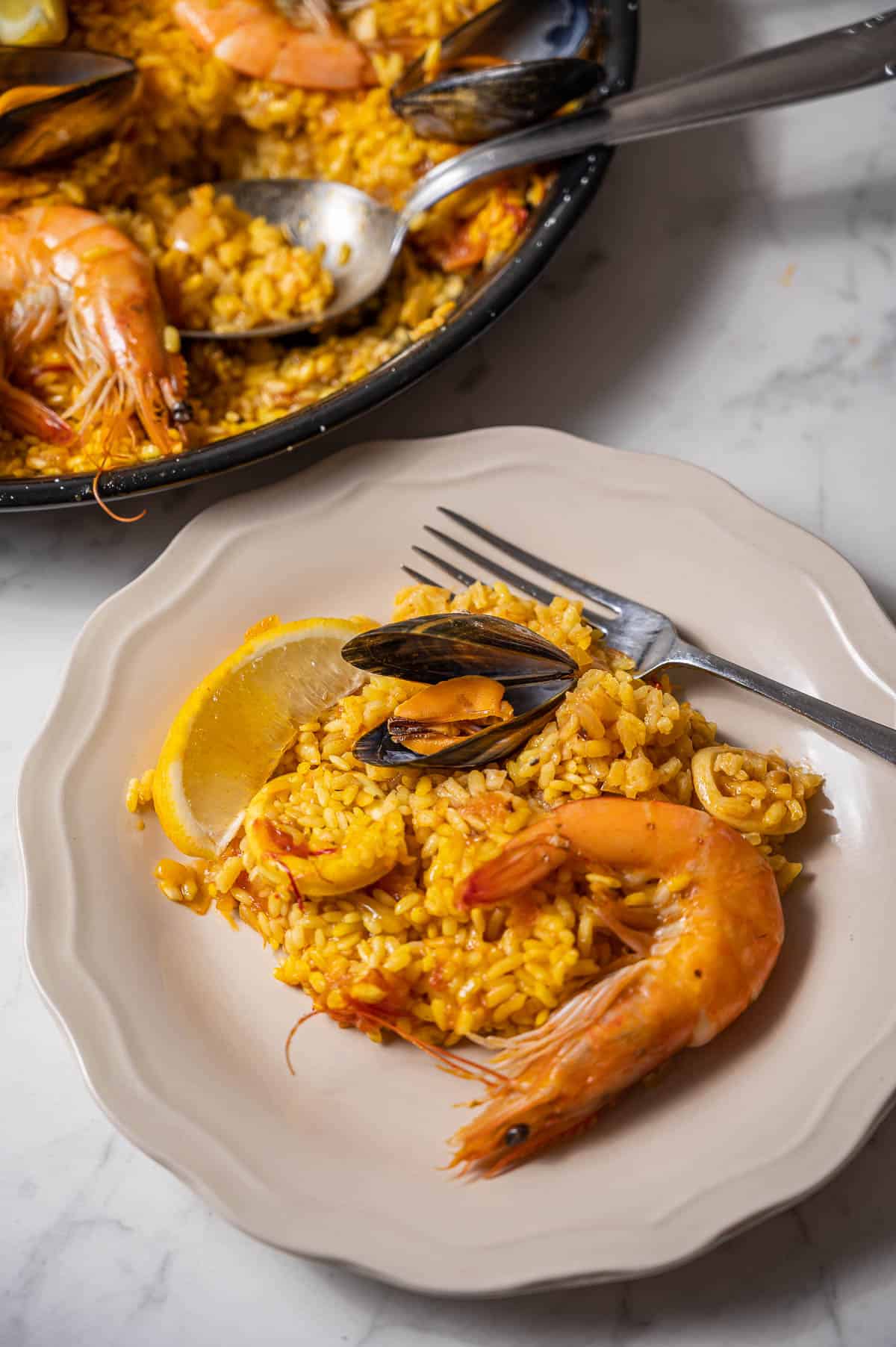 Store
Make Ahead: You can prepare the sofrito for seafood paella in advance, but I don't recommend preparing the entire paella. If not eaten immediately, it is easy for the rice to become overcooked and soft. Paella is best enjoyed immediately after making.
Leftovers: Store any leftover paella in the fridge in an airtight container for 1-2 days.
Reheating: Heat up leftover paella on the stove or in the microwave. I recommend taking it out of the fridge about 30 minutes before reheating, then put some olive oil in a frying pan and gently stir fry the paella until warmed through.
Freezing: I don't recommend freezing paella. It's best to make a smaller serving that you can eat within 2 days.
Expert Tips
The ideal paella rice is a short/medium grain round variety such as Bomba rice. If necessary, you can substitute Arborio. You can also order it in advance if you can!
Substitute the seafood based on your preferences. Great options include clams, scallops, hearty white fish, and lobster.
If you can't find saffron or it is cost-prohibitive, you can use a pinch of turmeric for color or simply omit it.
Pressed for time? Make the sofrito and seafood stock in advance, or use a good quality boxed stock.
You don't need a paella (large, shallow pan) to cook this dish; any wide, shallow pan will work. To prepare it traditionally, use a paella over an open flame, as this large dish won't fit on a stovetop burner. This paella kit comes with the tools to make it outdoors.
More Spanish Rice & Paella Recipes
If you liked this recipe, please share it with others!
Follow Spanish Sabores on Facebook, Twitter, Pinterest, and Instagram for more recipes and travel tips.
If you've made and enjoyed this recipe, please leave a 5-star review!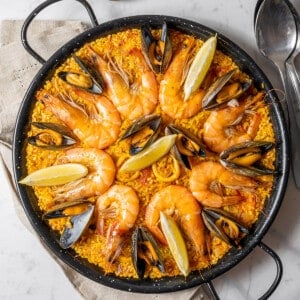 Traditional Spanish Seafood Paella Recipe
This easy seafood paella recipe will get you a plate of rice every bit as delicious as the stuff served in tapas bars from Barcelona to Valencia! Just make sure to bring an empty stomach.
Print (images optional)
Pin
Rate
Ingredients
⅓

cup

olive oil

1

large onion

finely diced

2

garlic cloves

minced

2

medium tomatoes

peeled and diced

1.5

teaspoons

sweet paprika

such as Pimentón de la Vera (dulce)

1

pinch

saffron threads

2

large squid

cleaned and sliced into ¼-inch rings (tentacles not used in this dish)

2

cups

short grain rice

such as Bomba or Calasparra

1

cup

white wine

3

cups

seafood stock

12

prawns or jumbo shrimp

shells on if possible for extra flavor

12

mussels
Instructions
Bring the white wine and seafood stock to a simmer in a large saucepan over high heat. Add a pinch of saffron threads and keep gently simmering over low heat.

Put a large, shallow frying pan (such as a 10-inch cast iron skillet or 16-inch paella) over medium-high heat and add the olive oil. When hot, add the onion to the pan and sauté until translucent, stirring frequently.

Add the garlic and cook until fragrant, about 1-2 minutes. Before it starts to brown, stir in the tomato, paprika, and a pinch of salt. Continue to cook, stirring occasionally, until the tomatoes are reduced and the oil is sizzling.

Gently add the squid to the pan and stir to coat in the tomato mixture. Sauté for about a minute to give some color to the squid.

Next, stir in the rice and cook for 1 minute, then spread the rice evenly across the pan. If it looks like a thin layer, don't worry; it will puff up as it absorbs the liquid.

Pour in the simmering wine mixture all at once, then reduce the heat to low, and cook, without stirring, for 10 minutes. Carefully lay the prawns/shrimp in a circle on top of the rice and cook for a further 10 minutes, turning the shrimp over as they start to turn pink. If the rice starts to dry out before the shrimp is cooked, you can top it up with a bit more hot stock, half a cup at a time.

Meanwhile, steam the mussels. Place them in a half-inch of simmering water in a large skillet with a tight-fitting lid. They are cooked when the shells open; be sure to discard any that stay closed. Once the mussels are cooked, arrange them decoratively on the paella.

When the stock in the paella fully evaporates, you will hear a faint crackling from the bottom of the pan as the socarrat starts to form. If you don't hear anything, you can raise the heat to medium for a short burst.

Remove the paella from the heat and cover it with a tea towel for 3 minutes to let it rest. Uncover and serve from the pan with lemon wedges on the side.
Notes
The ideal paella rice is a short/medium grain round variety such as Bomba rice. If necessary, you can substitute Arborio. You can also order it in advance if you can!
A paella is a special shallow pan for making paella. If you don't have one, use your largest, flattest frying pan, such as a 10-inch cast iron skillet.
Substitute the seafood based on your preferences. Great options include clams, scallops, hearty white fish, and lobster.
Use homemade seafood stock when possible. While some traditional paellas are made using only water, this seafood paella will be extra special if you use good quality seafood stock. If I don't have time to make stock, I buy a good quality boxed stock.
If you can't find saffron or it is cost-prohibitive, you can use a pinch of turmeric for color or simply omit it.
Nutrition
Calories:
620.73
kcal
|
Carbohydrates:
84.56
g
|
Protein:
14.35
g
|
Fat:
19.66
g
|
Saturated Fat:
2.84
g
|
Cholesterol:
53.38
mg
|
Sodium:
928.04
mg
|
Potassium:
452.35
mg
|
Fiber:
2.7
g
|
Sugar:
5.06
g
|
Vitamin A:
1297.2
IU
|
Vitamin C:
13.66
mg
|
Calcium:
81.03
mg
|
Iron:
2.76
mg
Photography by Giulia Verdinelli